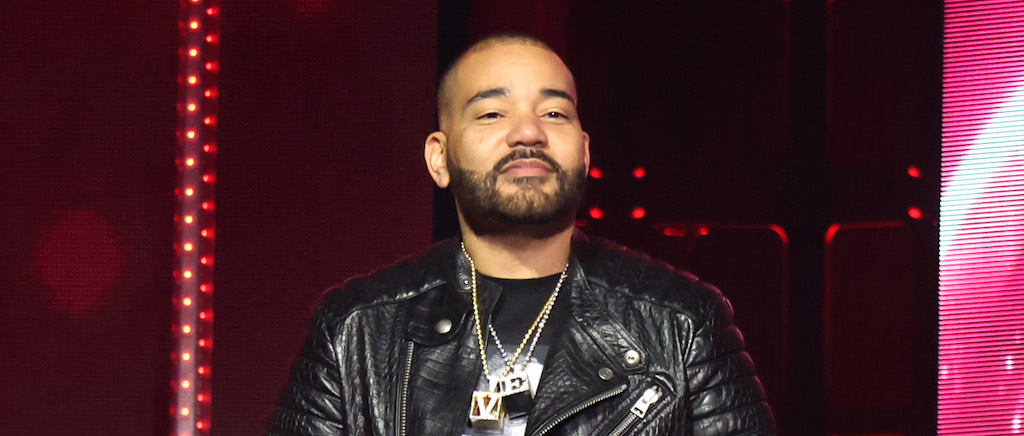 DJ Envy, co-host of The Breakfast Club, generally provides light-hearted commentary, but right now, he's connected to a very serious federal investigation. Cesar Pina, known as a business associate of Envy's and occasional guest on The Breakfast Club, has been arrested and charged by federal prosecutors for "a multi-million-dollar Ponzi-like investment fraud scheme" (as reported by Billboard on October 18). People are giving DJ Envy the side-eye, and Desus Mero wasted no time using it as satirical material as this week's The Daily Show host.
On Wednesday, October 25, People cited court documents regarding DJ Envy's potential involvement in Pina's alleged fraudulent activity.
"Pina partnered with a celebrity disc jockey and radio personality to conduct real estate seminars around the country," the court documents state. "Through these seminars, self-promotional efforts, and other marketing strategies, Pina developed a significant social media following."
People also relayed that Massimo D'Angelo, Envy's attorney, exclusively told the publication that DJ Envy "had no involvement in the alleged scheme, and that he's filed motions to dismiss two lawsuits that named Envy." D'Angelo added, "Envy is a victim and sits in the same place as the other alleged victims are in these schemes."
Meanwhile, Pina addressed the rumors surrounding DJ Envy during an Instagram Live on Tuesday, October 24 (as captured by Billboard), saying, "DJ Envy was never in the room with me. DJ Envy has nothing to do with any of these 20 lawsuits of these people who are suing me. It f*cking sucks, bro. It pisses me off that all these people are bashing DJ Envy."
Billboard also contextualized the complicated legal matter, as excerpted below:
"For months, Pina has faced allegations that he promised dozens of investors big profits on real estate deals in Northern New Jersey, only to return little or nothing. Those accusations started on social media but quickly turned into at least 20 civil lawsuits; one victim attorney estimated that more than 30 investors have come forward, seeking over $40 million from Pina and his wife, Jennifer.

Many of those lawsuits, including one filed by music industry veteran Anthony Martini, name DJ Envy as a co-defendant, citing his close ties with Pina — including Pina's frequent appearances on The Breakfast Club and a series of real estate seminars that the two men co-hosted. Envy has strongly denied the accusations, saying he knew nothing about any foul play and actually lost $500,000 that he invested with Pina."
You can watch what DJ Envy had to say about it on the October 11 episode of The Breakfast Club below.