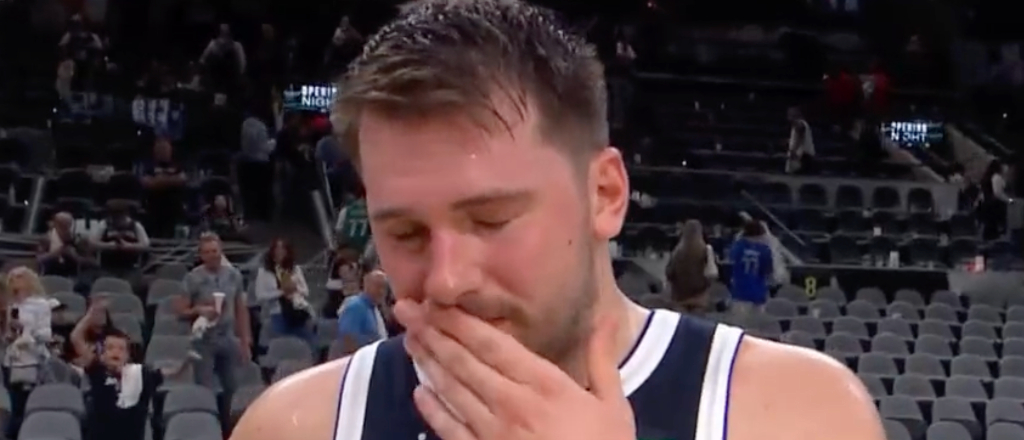 Luka Doncic and the Dallas Mavericks played spoiler on Wednesday night. Doncic led the Mavs into San Antonio to take on the Spurs in a game that marked the first time Victor Wembanyama stepped on an NBA floor. While Wembanyama had a nice night, it was nowhere near enough to overcome Doncic's 33-point triple-double, and as a result, Dallas picked up a 126-119 win.
Wembanyama wasn't the only rookie big man who impressed on the evening. Dereck Lively II, the No. 12 overall pick out of Duke, came off the bench for the Mavericks and was nothing short of brilliant, going for 16 points on 7-for-8 shooting with 10 rebounds, an assist, a steal, and a block in 31 minutes of work off the bench. And after the game, Doncic couldn't help but heap praise onto the youngster, although he forgot that he was on television and dropped an f-bomb.
"Amazing, man," Doncic said of Lively's performance. "I told him, man, he played amazing for the first game. I [never] remember seeing a rookie that played that amazing for first game. I remember my first game, I was nervous, he didn't seem like he was nervous. So, he played f*ucking ama…"
It was at this point that Doncic's voice tailed off because he realized he should not do that on live television. He apologized, and Cassidy Hubbarth said that we're all getting back into the swing of things this early in the season.