Halloween weekend is upon us. And unless you're 12 and reading this while you should be doing kid stuff…. it's pretty likely you'll have a drink in your hand at some point this weekend. So let's make it a great drink, right?
This year's UPROXX Official Halloween Cocktail is a delectable candy riff on a classic — the Chocolate Orange Bourbon Old Fashioned. This is the perfect mix of fall vibes, Halloween candy feels, and classic bourbon flavor notes dialed to 11.
Of course, it's also a play on one of the most longstanding and well-known cocktails of all time, so it might be relatively familiar to you. And this rendition is a pretty easy adjustment, with a few special ingredients that you should be able to get at a good liquor store. Otherwise, this is an easy-to-mix cocktail and a nice change of pace that adds depth to the standard old fashioned.
Let's get stirring!
Also Read: The Top Five Cocktail Recipes of the Last Six Months
Chocolate Orange Bourbon Old Fashioned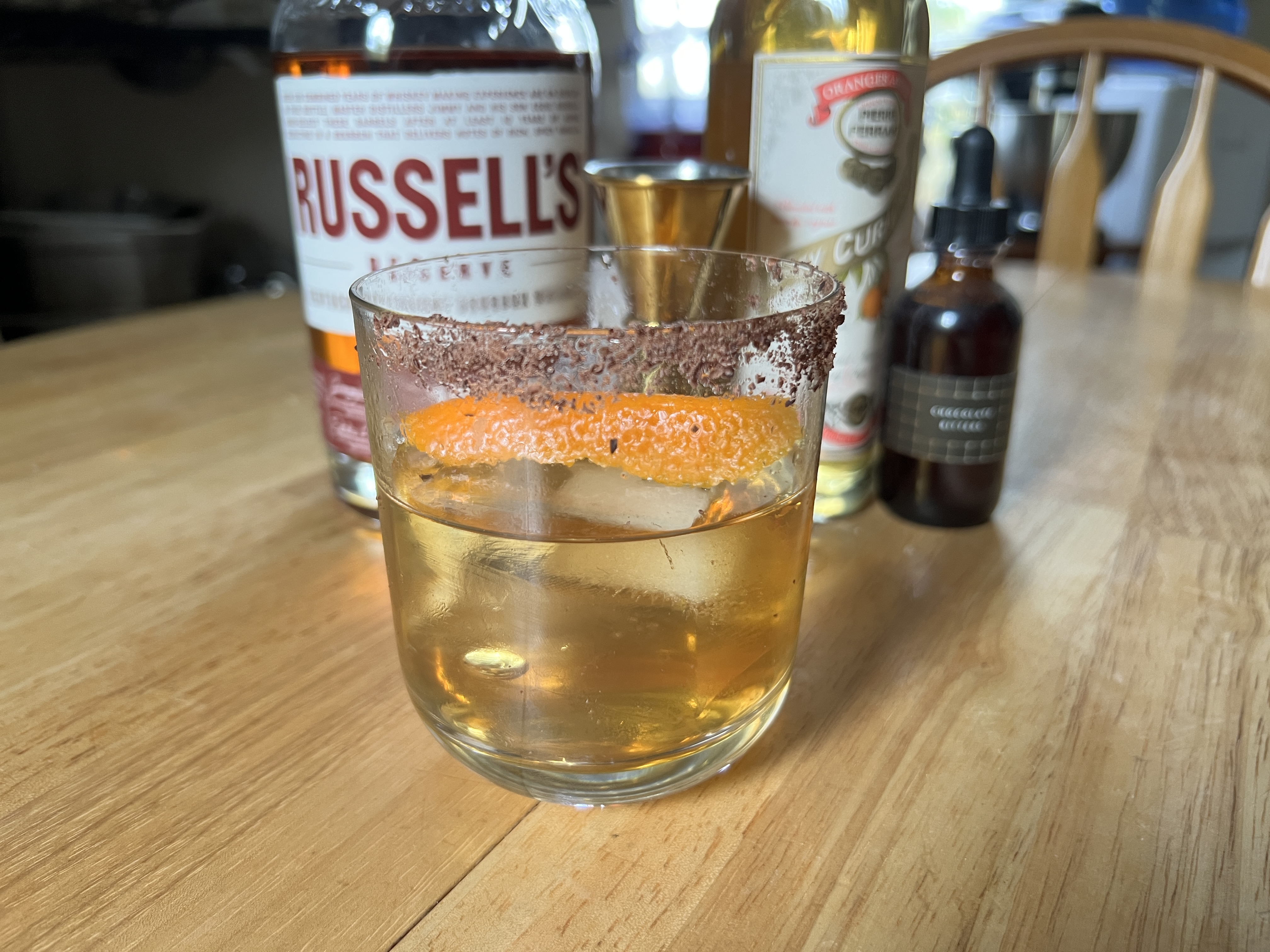 Ingredients:
2 oz. bourbon
0.5 oz. Dry Curaçao
4 dashes of chocolate bitters
Ice
Orange peel
72% dark chocolate bar
Large ice cube
When it comes to the bourbon, I'm using a classic spicy sweet Kentucky bourbon with a nice hint of dark fruit and citrus, Russell's Reserve 10-Year Kentucky Straight Bourbon Whiskey. The best part is that this is a very easily found and very affordable bourbon. It also always makes a killer cocktail.
Next, you want to use Pierre Ferrand Dry Curaçao. It adds a deep orange vibe with an orange blossom feel to it that just works wonders in a cocktail. You can use a triple sec in a pinch, but you won't get the same depth or texture.
Likewise, get a good dark chocolate bar. I'm using Ghirardelli 72% simply because I have one. If you want to go full Chocolate Orange, get the Lindt Intense Orange Dark Chocolate. Or if you really want to go all in, use an actual Chocolate Orange. I like using good dark chocolate to let that meld with the orange oils naturally on the drink.
Lastly, you should be able to find chocolate bitters at any good liquor store.
What You'll Need:
Rocks glass (prechilled)
Cocktail mixing glass
Cocktail strainer
Barspoon
Paring knife
Box grater or microplane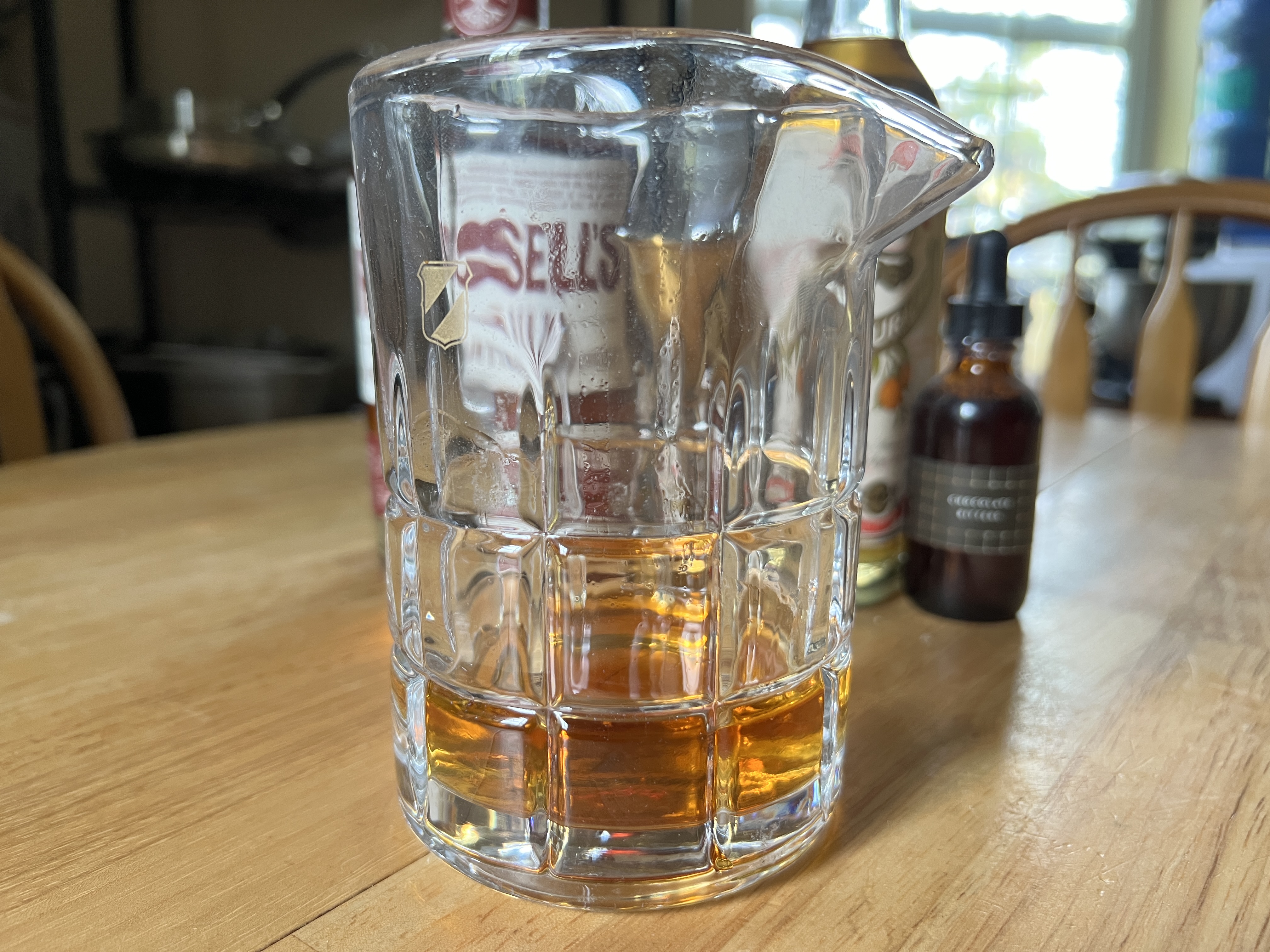 Method:
Prechill the rocks glass in the freezer.
Add the bourbon, Dry Curaçao, and chocolate bitters to the cocktail glass with a large handful of ice. Use the barspoon to stir the cocktail until the glass is ice-cold to touch (about 20-30 seconds).
Finely grate about a tablespoon of the dark chocolate.
Fetch the glass from the freezer. Thinly slice an orange peel from the orange and then slice off the end of the orange. Use the end slice to wet a section of the rocks glass and then drip the wetted edge of the glass into the finely grated dark chocolate. Add the large ice cube to the glass.
Strain the cocktail into the glass. Express the oils from the orange peel over the glass and then drop it into the cocktail. Serve.
Bottom Line on the Chocolate Orange Bourbon Old Fashioned
This is a lush and very tasty sipper. Dry Curaçao adds a wonderfully silken texture to the cocktail that you simply don't get with simple syrup or sugar in old fashioneds. It also adds a deep yet light and airy orange depth that's perfectly accented by the dark chocolate vibes. The bourbon shines through with hints of clove and dark orange rinds next to a hint of nuttiness and vanilla.
This is a great old fashioned and has just the right amount of chocolate candy vibes to feel like Halloween in a glass. That dusting of dark chocolate on the rim helps this feel extra Halloween candy-forward!