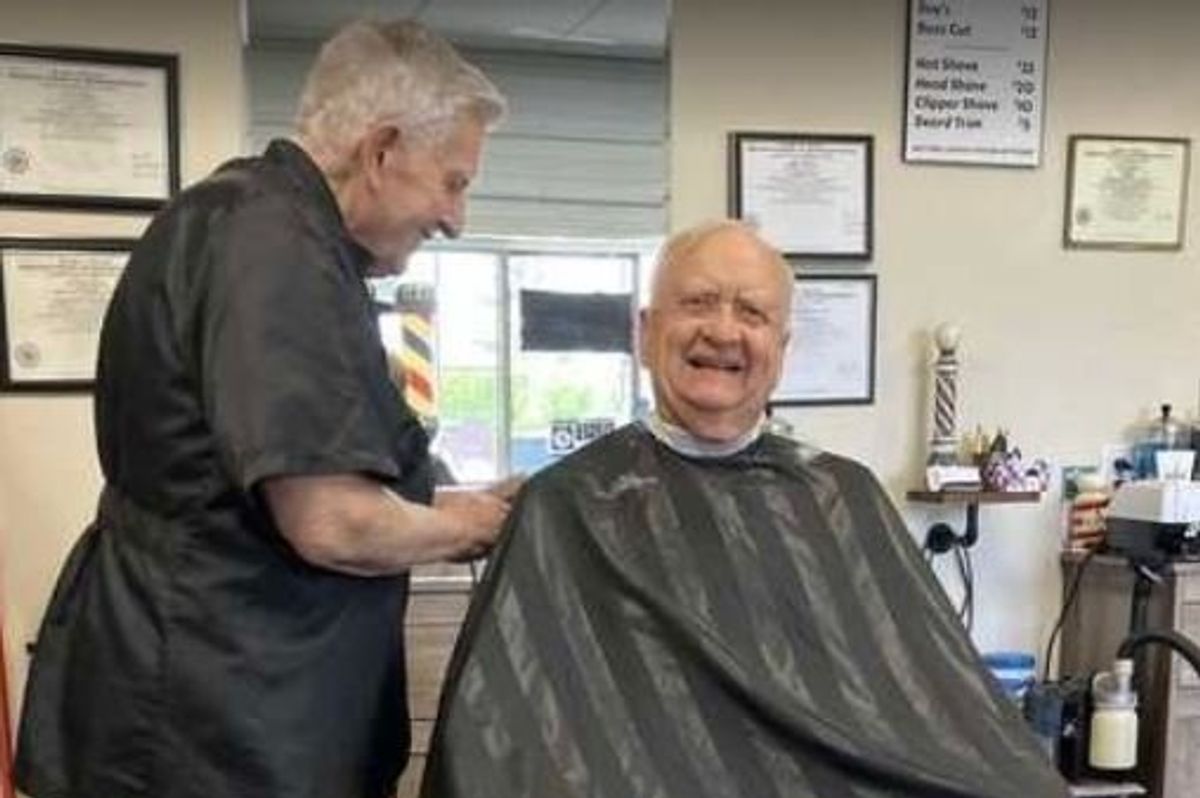 The old saying goes, "Choose a job you love, and you will never have to work a day in your life," and it's true. When you love what you do, a job isn't work at all. It can be as enjoyable as your favorite hobby while making money at the same time.
Loving what you do is also great for your health. Studies show that people who love their work live longer, and those who are constantly stressed at their jobs have a significantly higher risk of heart disease.
Bob Rohloff is a beautiful example of the benefits of having a job you love. At 91, he opened a new business, Bob's Old Fashioned Barbershop, in Hortonville, Wisconsin.
Rohloff started cutting hair in 1948, and 60 years later, he retired with his wife, Marian, in Arizona, but it didn't last long. After a few months, he "unretired" and went back to cutting hair. In 2010, the couple moved back to Wisconsin, and Rohloff cut hair at the Hortonville Family Barbershop.
---
"Retirement isn't that easy," Rohloff told CNBC. "You need to stay active in something, whether it's a hobby or a job, and I happened to enjoy my job very much … it's fun coming into the shop; I like to do it, and I feel good, so why stop?"
Rohloff estimates he's given over 100,000 haircuts in his life.
Fate intervened when 55-year-old Mark Karweick, who had recently returned to Wisconsin from Michigan, was introduced to Rohloff. After talking to each other for 90 minutes, they decided to open up a shop together.
The team's new shop is a throwback to an old-school barbershop, complete with a 100-year-old chair that Rohloff jokes is the only thing in the palace older than him. "There aren't that many old-fashioned shops left in the country, and we're gonna try and keep it that way," Rohloff told Spectrum News. The shop also boasts furniture relocated from an old barber shop in Michigan.
The prices are old-fashioned, too. A standard cut is just $14 and $12 for seniors.
Rohloff is a true believer in the idea that the key to good health and longevity is to keep doing what you love. "Sitting in a La-Z-Boy, that's no way to live. Most people got their health issues, and they either give up, or they think they can't do anything after a certain age, but they can," Karweick said.
There's a lot of truth to Rohloff's philosophy. Colin Milner, founder and CEO of the International Council on Active Aging, tells Fortune that following the principles of Active Aging can extend longevity and quality of life.
"Physical activity is just one of the many elements that makes up a person," Milner says. "It's just as important that we are socially connected and that we are intellectually active." The keys to being an "active ager" are to stay positive, socially connected, involved with community groups, curious and calm. It's also important to eat right and stay away from tobacco.
When asked about his advice for living a long, happy life, Rohloff believes in the importance of being active as well. "Don't quit. I don't think you will enjoy yourselves. Stay active in something, whether it's a hobby or a job, but you got to stay active," Rohloff said.