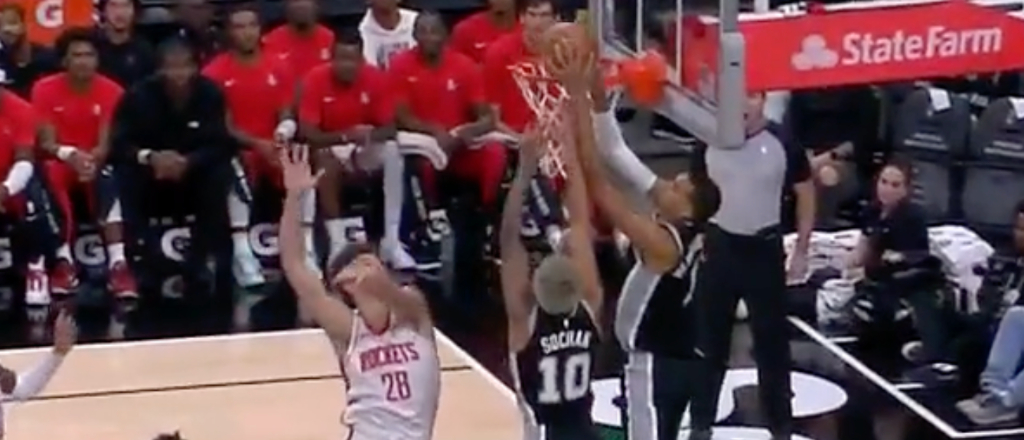 It's very hard for Victor Wembanyama to play a basketball game and not do something we've never seen before. He's one of the most uniquely skilled players we've ever seen, as he's 7'3 and can look like a guard on offense right after he erases mistakes on defense.
But sometimes, when you're that tall and your arms are that long, your highlights are simply you doing things that look far too easy because of your size. That happened on Friday night as the San Antonio Spurs hosted the Houston Rockets in a matchup between Wembanyama and the No. 4 pick in the 2023 NBA Draft, Amen Thompson. Early on in the first quarter, Keldon Johnson tried to throw a lob up for Wembanyama, but it couldn't quite get there, so Jeremy Sochan attempted to corral it.
Sochan got it in his hands, but Wembanyama was in position to dunk, so he just took it away from him in mid-air and dunked.
DOUBLE ALLEY-OOP!! @JeremySochan @wemby@spurs | #PorVida | :BSSW pic.twitter.com/irAjOjMuv4

— Bally Sports San Antonio (@BallySportsSA) October 28, 2023
It's rare for a guy to dunk on his own teammate, but Wembanyama managed to do that here, all while plucking the ball out of Sochan's hands like he is a wide receiver making a play over a defensive back. Even Gregg Popovich smiled at this one, presumably because it was extremely cool.