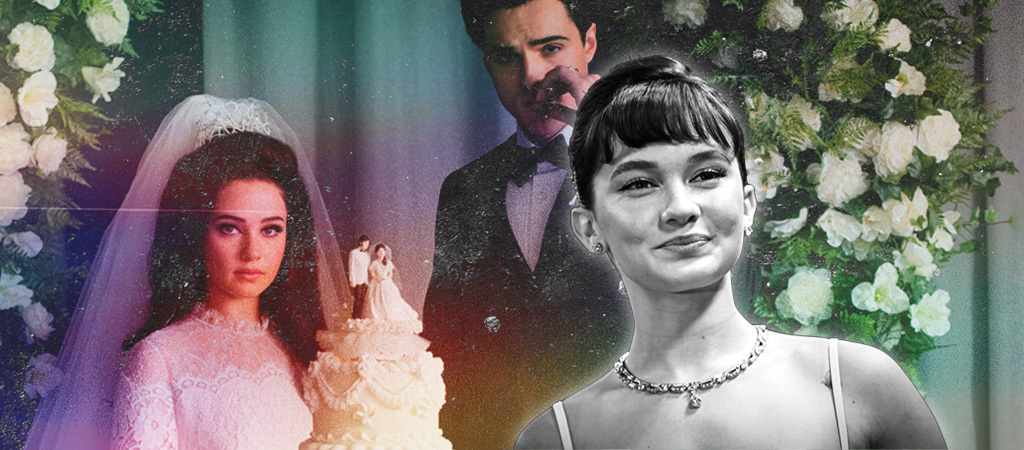 In Sofia Coppola's Priscilla, Cailee Spaeny gives a haunting performance as Priscilla Presley. In a film spanning around 15 years of Presley's life, we first meet her when she's 14, living in Germany where both her father and Elvis are stationed while serving in the military. Spaeney has the task of bringing Priscilla Presley's point of view to life, first through the adoring eyes of a teenager, then as a world weary adult just south of 30.
Spaeny already has credits ranging from Pacific Rim: Uprising to Mare of Easttown, but her performance in Priscilla is going to be a giant leap for the actor, pushing her into the limelight. It's interesting, because she talks about growing up in Springfield, Missouri and contrasting that to this life she's living now. (As someone who happened to go to junior high school in Springfield, Missouri, I'm in a unique position to be able to definitively say, yes, I see her point here.)
I spoke to Spaeny early on a Saturday morning over Zoom. When she appeared on screen she was wearing a Kansas City Chiefs sweatshirt (um, so, yes, I am a fan of that particular sports franchise), which I will admit endeared herself to me in a way that probably wouldn't have happened if she was wearing, say, a Bills or Bengals sweatshirt. As we started, I debated asking something I was wondering. For some reason, I was really curious if, for research, Spaeny watched the Naked Gun movies, which could have easily been answered, "What does that have to do with her time with Elvis?," which would be a very fair point. Anyway, it turns out I'm glad I asked.
You grew up in Springfield, Missouri? I went to junior high there…
No way!
Oh, you're wearing a Chiefs shirt? I'm a huge Chiefs fan.
Oh, my gosh. The world's colliding right now. Where'd you go?
Hickory Hills.
Oh, my God. Then you went to Kansas City?
Yeah. I went to high school in Kansas City.
What'd you think of Springfield?
It was a nice place to go to junior high. It was right around when Brad Pitt was starting to pop up in stuff and people were excited. I think he went to Kickapoo High School?
Yes, I know.
You know what, people are going to love this interview…
Springfield will love it. Missouri will love it.
Yes, they will. Springfield is also the home of Kathleen Turner.
Yeah, it's true. Who else do we have? There are actually some really good young musicians that are coming out of Springfield. But Kansas City is the place right now.
I know, and they have a new airport!
I love the Springfield-Branson Airport so much because it's like a hallway. It's great.
Branson … Silver Dollar City.
I worked there for seven years!
What?
I worked there every Christmas — Dickens' A Christmas Carol for seven years. I knew that place like the back of my hand. I went through all the back doors, ate funnel cakes every lunch. Oh, my God. It was honestly one of the best ways for a child… that's how I grew up, was at a theme park. I grew up at a theme park. It was the best experience. But Branson, I need to go back. What a funny place. Oh, my gosh. And it's so hard to describe places like that unless you've been there.
I don't know why I kept thinking this when I was watching Priscilla, but I'm curious if you ever watch Priscilla Presley in the Naked Gun movies?
I hadn't. When I dove into the work and the book and also talking to Priscilla herself, I was like, do I need to watch these Naked Gun movies for prep? And I'm like, yeah, I'm going to do it. I watched her in it and I remember I called her. I was like, "Oh, my God, Priscilla, you've lived so many lives and you're so full of surprises." Her comedy in those movies is amazing.
She's really funny in those movies.
Her timing is incredible. She's hilarious and it just speaks to her. She's so unexpected and layered and really highly intelligent and has always been an old soul. I think because she's always been so observant. She doesn't speak that much. When she's in a public place you can tell she watches everything like a hawk, but she doesn't speak that much. But when she went into those roles? I also watched some episodes of Dallas too, which was fascinating.
Oh, wow, you really went for it. You went back to Dallas.
There's not a ton of footage of her online, so I would just go to sleep listening to interviews or anything I could get my hands on to try to get little nuggets of information. But she is extraordinary. She's tricky to put your finger on. The second you feel like, I got her, I know exactly who this person is, then you watch her in Naked Gun and you're like, oh.
I think there's a whole generation that only knows her from Naked Gun.
That has to be true.
Well, I'm talking about myself basically. I, of course, realize she was married to Elvis, but she's the star of the Naked Gun movies.
Well, that's what's so interesting is because I grew up, coming from the southern Midwest, I was born in Tennessee, raised in the southern Midwest. Elvis is a huge icon in America. But for the South he is this God. And my mom was such a huge Elvis fan. She collected memorabilia and we went to Graceland growing up on vacation. And it is funny that you say that, that was my first introduction to her because, growing up an Elvis fan, I obviously knew who Priscilla was, but I didn't know her stories or her side of the story at all. And I was shocked by that because we were big Elvis fans. He was talked about and his music was playing a lot growing up. Whenever this project came my way and I read the book for the first time, it was shocking. Not only the facts from the book and her perspective on that side of the story, but also the fact that I had no idea, her experience.
At what point in the process do you first meet her and what's that like?
Well, I got the book and the script and Sophia said, "I'm passing you her information and you can reach out and see if she's open to meeting."
Oh.
Yeah.
That's intimidating. It's left up to you.
Very intimidating. But obviously of course I had to meet her. But so strange to take that on. I remember we met for lunch and she was walking towards the table and I got so nervous and words just couldn't come out of my mouth. And I remember she sat down and there was this awkward silence. And she had to say, "Are there any questions you want to ask me?"
Wow.
"Oh right, yes." I also wanted to be respectful of her and her telling the story over and over again. I wanted her to feel safe and I didn't want her to feel like I was just interviewing her. I wanted her to feel comfortable with me and only tell me what she felt like she wanted to relive again. But once we started talking, I think we ended up talking for three or four hours the first time we met. She was very gracious with her time. And sometimes we'd talk about Elvis and there were little nuggets of gold in there of specific feelings and emotions.
For example, on the night she first met him. And then sometimes we'd start talking about something completely random like her animal activism. But just being in front of her and taking her presence in and how she holds herself because she's a different generation of woman. The way that she still presents in a way and she always looks very nice and has high heels on. It's not only playing her, but also playing a woman from that time. Just being around her and getting to sit down with her and taking time was really a vital piece of the puzzle of putting together how I was going to portray her, my own version of her.
I know it doesn't work like this, but it is weird that the Elvis movie came out last year. And now Priscilla does feel like her being able to say, okay, wait a second, here's my version of what happened. Do you think about that?
Yeah, sure. In the sense of that it's coming back around to … we've heard the Elvis story so many times. I haven't seen that movie actually, but people loved it and the family is really supportive of it. But in terms of not knowing her side of the story, it is, I think, an interesting… they are completely different films.
Oh, yes, that's true.
They're told in such different styles. But I think it is strange that we don't know her side of the story. And I think I found it fascinating to dive into that world. And what were the big questions she was asking herself and how did she find her way out of that life with him? I think, it's hard to wrap your head around when she was living every girl's dream fantasy. But what was happening behind closed doors and what was the human side of that story? Hopefully people are interested in that and they are moved by the story.
I think they will be. Also, it was fun meeting someone else who lived in Springfield…
Well, I think without having to tell you my story and journey, you already get the base level of what that was like, going from Springfield to this life I'm in now.
You can contact Mike Ryan directly on Twitter.