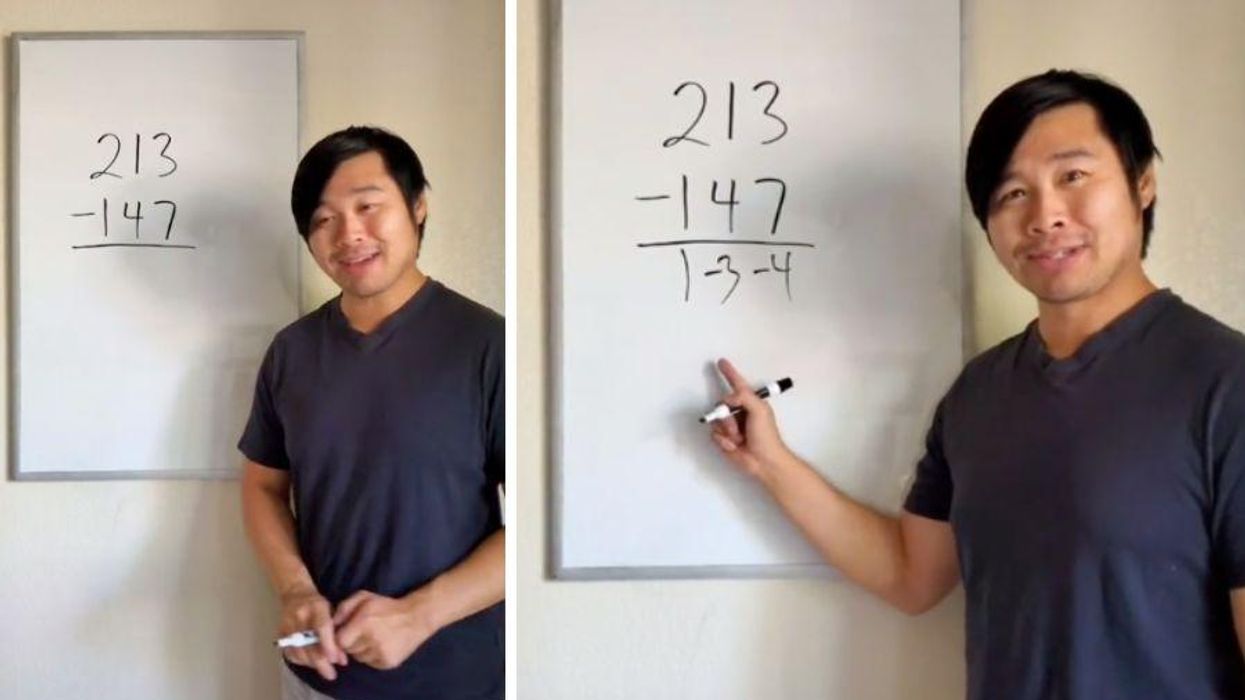 Math is weird.
On the one hand, it's consistent—the solutions to basic math problems are the same in every country in the world. On the other hand, there are multiple strategies to get to those solutions, and it seems like people are still coming up with new ones (much to the chagrin of parents whose kids need help with homework using methods they've never learned).
Math professor Howie Hua shares math strategies that make math easier on social media, and his videos are fascinating. Hua, who teaches math to future elementary school teachers at Fresno State, demonstrates all kinds of mental math tricks that feel like magic when you try them.
---
For instance, Hua has two videos showing how easy and quick it is to add multidigit numbers left to right instead of right to left, and it's genuinely mind-blowing.
Check out how he explains why adding left to right is "underrated."
u201cNew TikTok video: Adding left to right is underratedu201d

— Howie Hua (@Howie Hua)
1665353677
OK, seriously. That is way easier to do in your head. It's basically putting the numbers into expanded form and adding them, which makes it easier to visualize.
Adding this way makes sense, but subtracting is a bit more complicated, right?
Wrong, apparently. Watch Hua work his math sorcery subtracting two and three-digit numbers.
@howie_hua

Did you know you can subtract left to right? #math #mathematics #mathtok #maths #teachersoftiktok #teacher #mathtricks #mathtrick
Holy moly. That's faster than the right-to-left, borrow-from-the-next-column method, isn't it? And again, so much easier to visualize what's actually happening, though I don't know if I could fully do this in my head like I could with the left-to-right addition.
Hua recently shared another cool subtraction trick for problems with minuends that have a lot of zeroes. (The minuend is the first number in a subtraction problem. Don't be too impressed. I had to look it up.)
Check this out:
@howie_hua

An underrated subtraction strategy #math #mathematics #mathtok #maths #teachersoftiktok #teacher #mathtricks #mathtrick
So simple, so time-saving and so something I would never have figured out on my own.
These tips and tricks might come in handy for anyone, but they're especially useful for kids who are having to do these kinds of math problems at school all the time. Even if they're supposed to solve the problem with a different strategy, these methods can be a quick way to check their answers.
Anything that makes math easier, I say. You can watch Hua's videos on TikTok, YouTube and Twitter.
This article originally appeared on 10.12.22