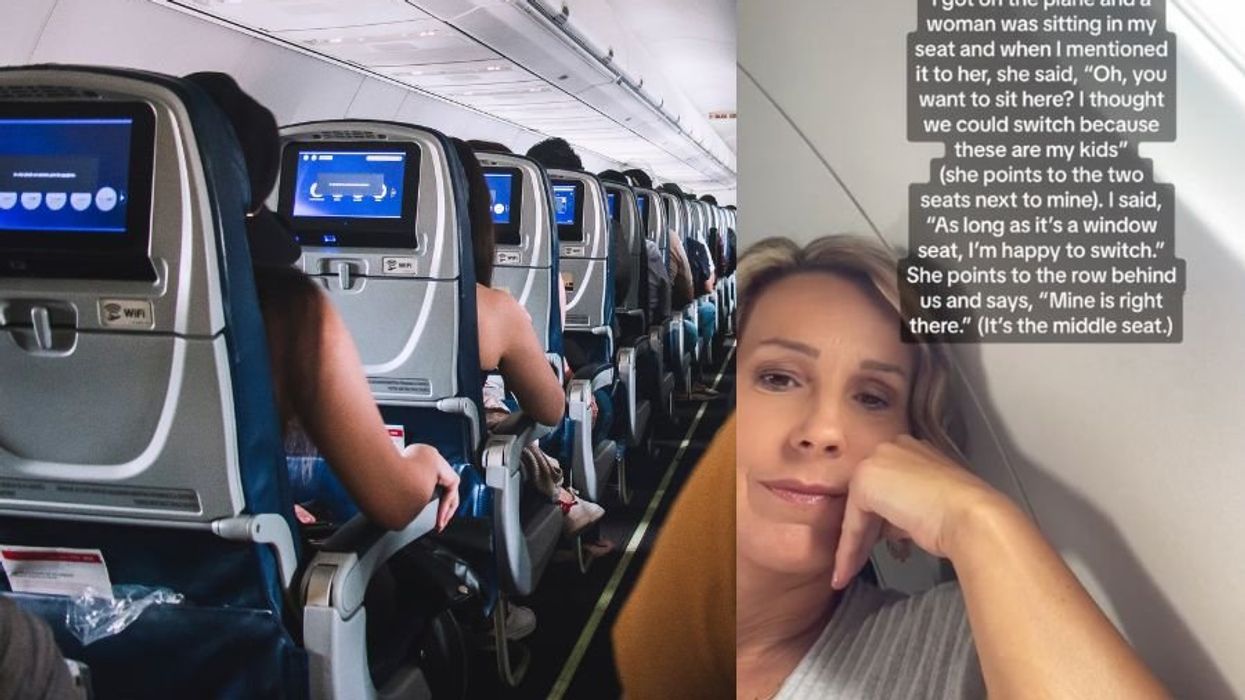 Traveling with preteens and teens is a breeze in comparison to traveling with little ones but as a parent you still want to sit near your kiddos in case they need you for anything. If you've traveled on an airline in the last several years, you know it's much cheaper to chose the basic seats in the main cabin.
There's nothing different about these particular seats other than the airline sort of randomly selects your seat and if you're traveling alone, that's really not a bad deal. The risk gets to be a little higher if you're traveling with a party that you'd like to keep together – like your children. One mom took the risk and banked on a stranger accommodating…that's not quite how it played out.
---
People sit in the wrong seats on planes all the time, usually because they read their ticket wrong or accidentally sit one row ahead. Takes no time to double check your ticket and move along, but when Tammy Nelson did a double take at her ticket after seeing the mom in her window seat, she realized she wasn't mistakenly staring at the wrong row.
This mom boarded the plane with her older children and had taken it upon herself to sit in the same row as her children, essentially commandeering a stranger's seat. Nelson assumed it was a mistake and informed the woman that the seat was in fact hers but the response she received was surprising.
"She said, 'Oh, you want to sit here?'," Nelson tells Good Morning America. "She said, 'Oh, well I just thought I could switch with you because these are my kids.'"
That's an interesting assumption when seats are assigned and many people, like Nelson, pay extra to have the seat they prefer. Now, there's no telling if funds were tight and this was an unplanned trip for the mom and kids which caused her to buy the more budget friendly tickets or if she was simply being frugal and was banking on the kindness of a stranger.
Either way, Nelson specifically paid for a window seat due to motion sickness and though she paid extra, she was willing to sit in the other row if that seat was also a window seat. But it turns out, it was a middle seat.
Surely there's someone out there that loves the middle seat. Maybe a cold natured person that enjoys the body heat of two strangers sitting uncomfortably close. Or perhaps someone that doesn't mind accidentally sleeping on an unsuspecting passenger's shoulder. But that person isn't Nelson, so when the middle seat was offered in exchange for her bought and paid for window seat, she politely but sternly declined.
@myconquering

Having had only 90 minutes of sleep the night before and knowing I had to give a presentation to 500 people, I desperately needed some sleep, so I did not agree to switch seats. 🤷‍♀️ Before anyone comes after me… the kids looked like they were about 11 and 15 years old. And the mom was in arms-reach of both of them from the middle seat in the row behind us. The mom proceeded to complain for at least 15 minutes to the person next to her loud enough for me to hear. But the woman actually defended me – several times. It was so kind and I appreciated it so much because I was feeling really guilty. 🤦‍♀️ ##airplaneseat##seatswitching##airplanekarens
Her refusal to give in to the mom's seemingly entitled request for Nelson's seat has resulted in parents and child-fee people cheering her on after she posted the details on her TikTok page, MyCONQUERing. The video has over 3.4 million views.
"Nope. If it's not an upgrade it's a sacrifice," a commenter writes.
"You did the RIGHT thing. Folks need to plan their travel together. Lack of planning on their part does not constitute an inconvenience on yours," one person says.
"I have 3 kids and have sat in different rows when they were passed toddler age. I agree, book your flight earlier," another writes.
"You were right. As a woman with 3 children, I always pay extra so we're sat together," another mom says.
Nelson is also a mom so she knows how important it is to sit next to kids on flights. But since airlines have made that a luxury, as the parent, you have to plan to pay extra or accept that you likely won't be seated next to your children. Hopefully in the future, this unnamed mom is seated next to her children or pays extra to make sure it happens. In the meantime, people continue to support Nelson standing her ground.
This article originally appeared on 7.28.23