Summer is long gone, and the weather is finally starting to chill in most of the United States, which might lead you to believe that epic mountainous outdoor adventures – outside of snowsports – are on pause for a few months. But then you'd be forgetting about many an avid outdoor lover's favorite time of year — desert season.
The desert comes alive in the spring and fall when the temperatures drop and the crowds diminish. While only about a third of Utah is a true desert, with surprisingly diverse landscapes throughout the state, the draw of the areas with desert climate is a great jumping-off point to tour the state during off-peak times.
With five "major" National Parks — lovingly called the "Mighty Five" — Utah is the perfect place for a National Park road trip. On my first visit, I traveled to all five parks in one trip and subsequently visited them several more times in varying seasons throughout the year on my nearly decade-long quest to visit all major US National Parks solo.
And while I, of course, love all five parks for different reasons, I recommend some over others. So I power-ranked them, viewed through the prism of a desert season visit.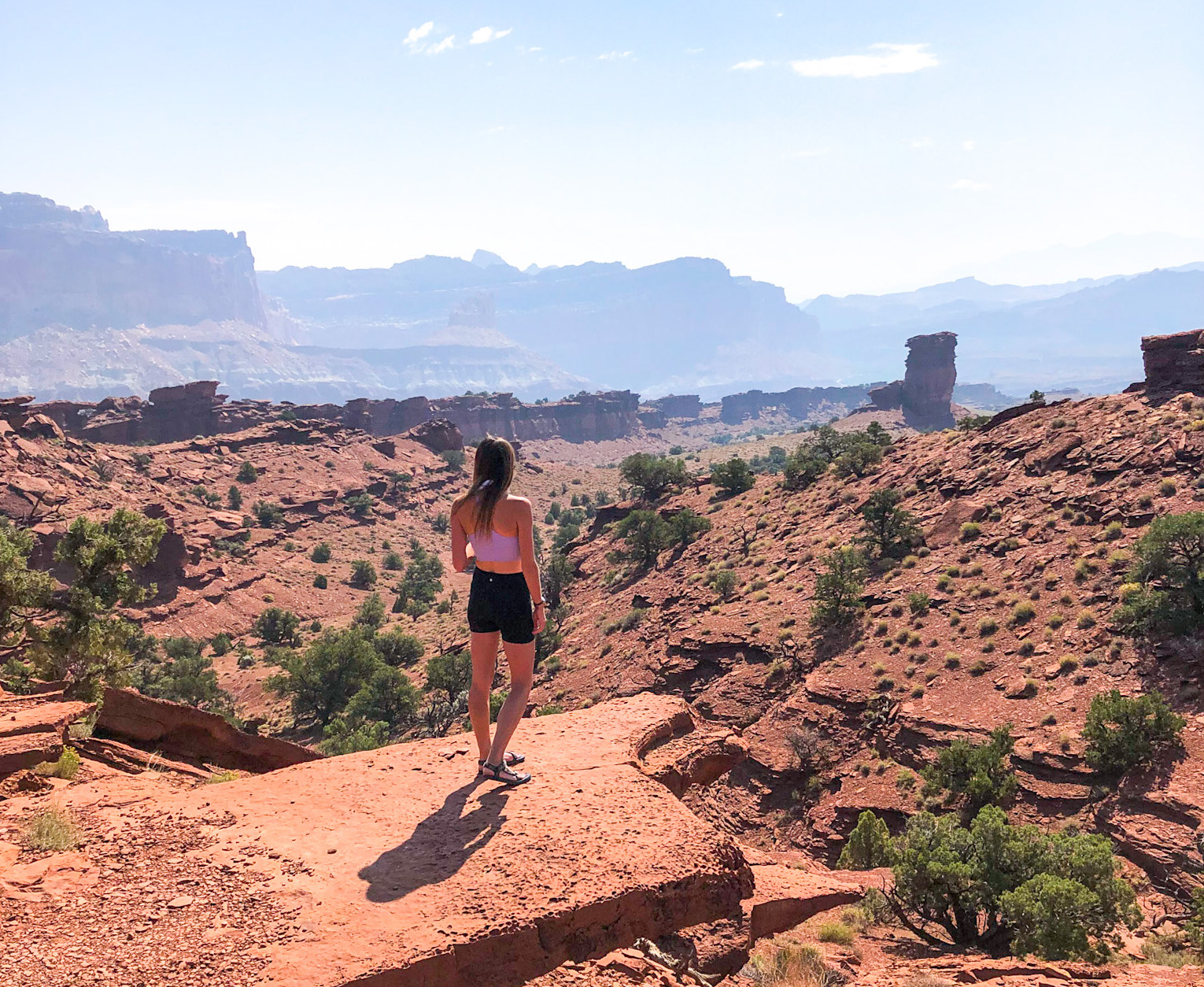 METHODOLOGY:
There were a few things I considered for this ranking other than just my personal preferences.
1 – Accessibility: As mentioned, Utah isn't all – or even a majority desert climate – with some park elevations reaching over 9,000 feet above sea level. While those parks are incredible and accessible in the summer, the conditions can deteriorate quickly in the fall and spring due to snow.
2 – Otherworldliness: One of the ways Utah parks are most often described is as "otherwordly," especially for visitors who do not live in the Mountain West. In the shoulder seasons, some parks take this to another level due to the lessened crowds, fall colors, and opportunities for photos and video, unlike others you've seen from summer travelers.
3 – Crowds: Shoulder season travel will undoubtedly lead to fewer crowds in most places, including most National Parks, but there are still some considerable variations in visitation across the Mighty Five. While crowding may not concern every traveler, I assume those who choose to travel in the "off-season" have this as a concern, so I considered it.
5 – BRYCE CANYON — BRYCE, UT
This one pains me, to be honest, as Bryce Canyon – in the summer – might be my favorite Utah National Park. But with elevations in some areas over 9,000 ft above sea level, visiting in the later fall, winter, or early spring is a gamble. First snow can be as early as September and last well into April, with the snowiest months occurring between December and February. If your goal is only to see the canyon without hiking into it, then seeing the iconic hoodoos juxtaposed with snow is undoubtedly spectacular – but the access will leave you with much less to do.
Even during my last visit in April of this year, the trails along the rim were still covered in feet of snow, with trails and some roads still closed for the season. Therefore, I'd save this park for the summer – but absolutely not miss it entirely – and head to some lower-lying elevations if I had to choose.
WHAT TO DO:
While you may find closures of trials and even roads during an off-season visit, you'll still be able to get to two of my favorite easy jaunts: the Rim Trail and Mossy Cave Trail – the lowest-elevation trail in the park. You're also near the incredible Kodachrome Basin State Park, as well as the enormous Grand Staircase Escalante National Monument.
WHERE TO STAY:
Many surrounding accommodations, including the Lodge At Bryce Canyon within the park and the nearby Yonder Escalante, close seasonally from generally November to March – adding another layer of complexity to an off-season visit. Luckily, one of my favorite nearby accommodations, Stone Canyon Inn in Tropic, is open year-round with well-appointed cottages and guest rooms for rent.
4 – CANYONLANDS NATIONAL PARK – MOAB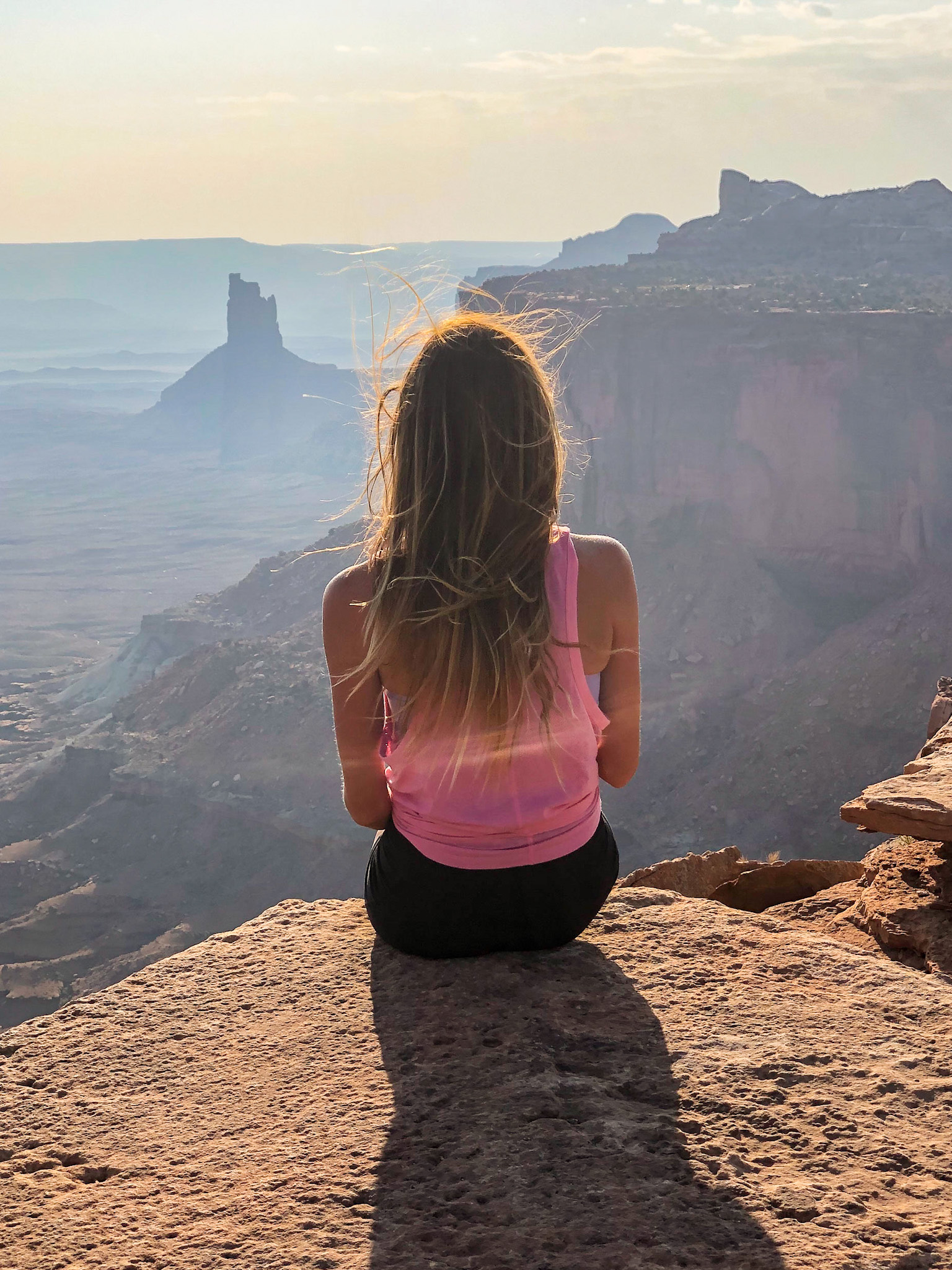 Next on the list is the massive 337,570-acre Canyonlands National Park. Located outside of Moab, it is desolate and rugged, with vast canyons formed by the Colorado River and impressive buttes in all directions. While Canyonlands would score highly on my "hidden gems" power ranking, it's lower here for one main reason: accessibility.
While you'll encounter less snow here than Bryce in the off-season, there are still limited visitor services, and in a park this massive, that can be a little tricky or even dangerous if you're not prepared or experienced. With four distinct districts – three of which require some technical know-how to visit successfully – none of which are connected by roads, this park requires a lot more pre-planning than others and, in my opinion, is not necessarily the best option for an off-season road trip.
WHAT TO DO:
If you're like most visitors, you'll head to the Island In The Sky district (be sure to stop at Dead Horse State Park nearby on the way). If you can get there for sunrise, hike the short Mesa Arch Trail before taking a scenic drive and stopping at some overlooks (there are paved and four-wheel drive-specific roads if you're into that). Then hike Grand View Point Trail or Aztec Butte (both if you've got a little time, they're short).
WHERE TO STAY:
With the Island in the Sky – the park district most accessible to visitors – located just 30 miles from Moab, you have lots of options for lodging regardless of the season. Most lodging will be open year-round with lessened crowds in town and lower room rates. I recommend staying at Gravity Haus – and maybe considering membership at the part-social club-part-hotel group, expanding to nine outposts across Colorado, Utah, California, and Utah.
3 – ARCHES NATIONAL PARK – MOAB
Arches National Park in Moab has always held a special place in my heart. As one of the first destinations I really "solo traveled" to nearly a decade ago, it's somewhere I've come back to countless times. But I promised not to rank based on personal opinion alone, so here it lies squarely in the middle of the pack. Why? A couple of reasons: while reservations to enter end on October 31, November can still be a relatively popular season in the park. Pair that with an already small size (the only Utah park smaller is Bryce Canyon), and your options are not quite as vast in terms of things to do within park boundaries as some other parks on the list.
If your itinerary is full of things to do around Moab, then I'd rank this one higher, but I personally think the parks still to come that are further south offer a better experience during the off-season.
WHAT TO DO:
Arches is on the smaller side, so you can do a lot in just one day. Drive the paved park roads to The Windows Section, Wolfe Ranch, and the Delicate Arch Viewpoint – making plenty of stops at marked viewpoints. Delicate Arch Trail is the most popular for sure (and you'll see it everywhere you go regardless of if you hike it: it's on the Utah license plate) – but it is somewhat strenuous if you're not a hiker. Windows Loop and Double Arch are easier – all with amazing views of some of the over 2,000 documented natural stone arches in the park.
WHERE TO STAY:
Arches is very conveniently located just five miles from Moab – so you have options. I'd recommend staying at Red Cliffs Lodge for the location alone – and even if you opt for another hotel or short-term rental, be sure to drive on Scenic Byway 128, where the lodge is located.
2 – ZION NATIONAL PARK — SPRINGDALE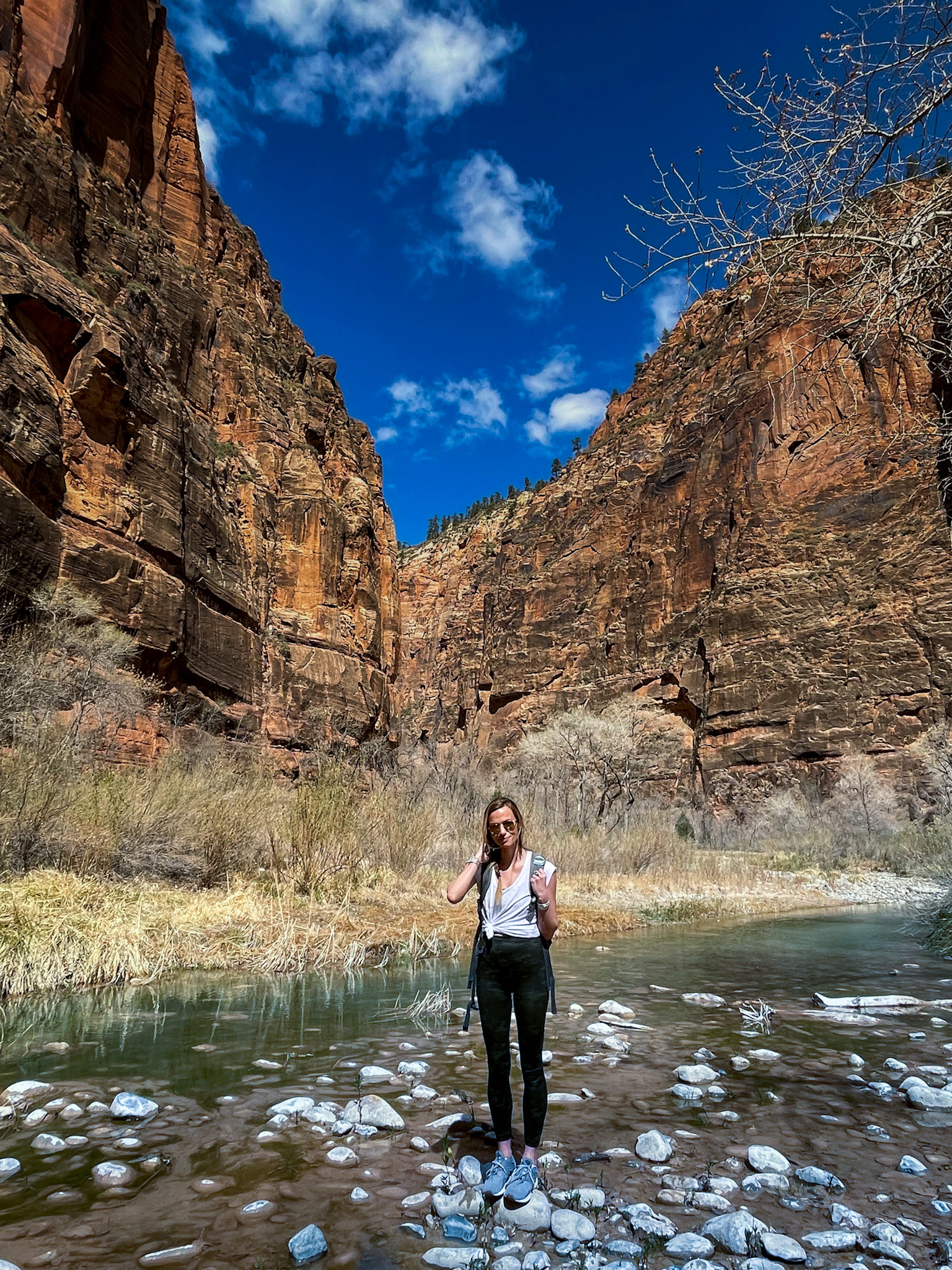 Zion is – by far – the most visited National Park in Utah. With just under 4.7 million visitors in 2022, the park saw more than double the amount of visitors of the next most visited park (nearby Bryce Canyon). Summer is, as you can imagine, a madhouse in this Southern park, so visiting in the shoulder season is ideal (although I wouldn't call it off-season here as it will still have a hefty number of visitors). The weather is mild, the crowds are slightly lessened, and the only downside I can see is that the water of the Virgin River on the infamous Narrows hike will start to become frigid and require specialized gear and expertise.
The park checks all of my completely unscientific ranking boxes: it's otherworldly, to be sure, generally always accessible (although it does snow 2-3 times a year, most will melt quickly), and November – February will be your best bet if crowding is a concern.
WHAT TO DO:
Depending on the weather, you may be able to hike the infamous Narrows in the shoulder season safely (be sure to rent the proper gear first); opt for a run or bike ride on the canyon floor (you can't drive personal vehicles here, you'll need to take a shuttle), secure a permit to hike the epic Angel's Landing, or the slightly less exposed Observation Point via East Mesa Trail.
WHERE TO STAY:
The Zion National Park Lodge is the only lodging inside the park and would be well worth it if you can snag a room. Guests are the only people in the park who can drive on the park road when shuttles are in service (only from the entrance to the lodge). The lodge offers cabins, hotel rooms with balconies or patios, and suites. Nothing is better than staying in the middle of the action at a National Park, ready to take on the day immediately when it begins.
1 – CAPITOL REEF NATIONAL PARK — TORREY
Capitol Reef isn't technically the least visited National Park in Utah (that designation goes to Canyonlands), but it feels like it, ya know? Arches and Canyonlands are near each other geographically, and the same with Bryce and Zion, with an interstate somewhat easily connecting the two couplings. Capitol Reef, on the other hand, feels more remote.
Just 30 miles off Interstate 70 in the southern third of Utah, the drive to the park from any direction is just as magical as the park itself. From lessened crowds, incredible scenic drives, less trafficked trails, fruit orchards, a historic homestead, and some of the best conditions for star gazing – this park still manages to somewhat fly under the radar, likely due to its location.
The park is always accessible at any time of the year (although it does snow, so road closures may happen), the landscapes vary but are nothing if not otherworldly, and there are plenty of places you'll find yourself within the park wondering if you're actually the only one there.
When I think of memorable travel experiences, it's often in places slightly off the beaten path or maybe less Instagrammed than their counterparts. One where I can create my own stories through experience and without layers of expectations existing before I even arrive – and this is the perfect place for it.
WHAT TO DO:
One of the things that makes Capitol Reef uniquely beautiful is the "waterpocket fold" that runs through the park. The 100-mile geological feature is a buckle in the earth's surface, pushing rocks upwards and creating deep canyons. There are three distinct districts in the park: the Waterpocket Fold District, Cathedral Valley, and Fruita Historic District – and you'll want to spend time in them all if you have a high-clearance vehicle. If you don't, you'll spend most of your time in the historic district, where you can pick your own fruit at the orchards and enjoy the legendary pie from Gifford Homestead before enjoying a scenic drive and hikes. I recommend Cassidy Arch Trail and Hickman Bridge.
WHERE TO STAY:
I'm excited to try the new Skyview Hotel in Torrey the next time I visit the park. The hotel offers traditional rooms – some with hot tubs – and glamping domes for a clear view of the dark night sky (Torrey was even named the first International Dark Sky Community by the IDA). The hotel features a rooftop terrace with epic views of the park and surrounding area and custom art installations that mirror the landscape.