Life is too short to be wasting your time, money, or appetite on bad fast food. At its best, it's a delectable indulgence — there are undoubtedly days when nothing slaps like a decadent bacon cheeseburger or a hot and spicy chicken sandwich — but at its worst it's repulsive. And we don't want that for you. Ever.
Point being, f*cking up your fast food order is certainly worse than ordering the wrong thing at a Michelin restaurant, where the standard remains high. So let us steer you away from the dregs and toward the stars of each restaurant's menu.
Last week, we tackled the absolute worst meals in fast food. Yes, that was as harrowing of an experience as it sounds like. But while we were engaging in all that research we were also making note of the best menu items at each restaurant. These orders serve as the "Freebird" entries at our favorite chains. The jams. The classics. The icons.
That way, the next time you have a craving, you won't go wrong. Let's eat!
Arby's — Smokehouse Brisket
Thoughts & Tasting Notes:
I know, I know "what about the Beef & Cheddar?" But just hear me out here — the Beef & Cheddar is undoubtedly a classic dish but the Smokehouse Brisket is next level. F*ck cheddar, here you've got gouda — all creamy and nutty — a layer of fried onion rings, and layers of tender smoked brisket with mayo and BBQ sauce on the bun.
The flavors of this sandwich are sumptuous and smokey, the mouthfeel is excellent, a mix of crunchy and tender texture courtesy of the onions and brisket. The sandwich begins rich and smokey and ends salty with a sweet top note on the aftertaste.
The Bottom Line:
Hands down Arby's best sandwich. You've got smoke, salt, sweetness, crunch — it's a really special dish to find in a drive-thru.
Find your nearest Arby's here.
Burger King — Ghost Pepper Whopper
Thoughts & Tasting Notes:
Can I put "nothing" as an option?
Look, I'm tired of being nice to Burger King. I've tried to give this chain a chance again and again only to be continually burned by the lack of quality in just about every dish they make. When they do have a dish I like, they get rid of it. The Ch'King sandwich was a real winner, but then BK decided the effort they put into it wasn't living up to the sales so they reformulated (dumbed it down) it, and now it's… not good.
Currently, the best menu item is the Ghost Pepper Whopper, a seasonal burger that is set to leave the menu any day now. This burger is great, it's smokey, meaty, and savory, with a lot of vegetal spice courtesy of fried jalapeños with a ghost pepper-based cheese sauce that is creamy, bright, and spicy.
It's a delicious bouquet of spicy sensations that dunks on everything else on the menu. So why isn't it a permanent menu item?
The Bottom Line:
Do more of this Burger King and less of… literally everything else you do.
Find your nearest Burger King here.
Carl's Jr. — Double Western Bacon Cheeseburger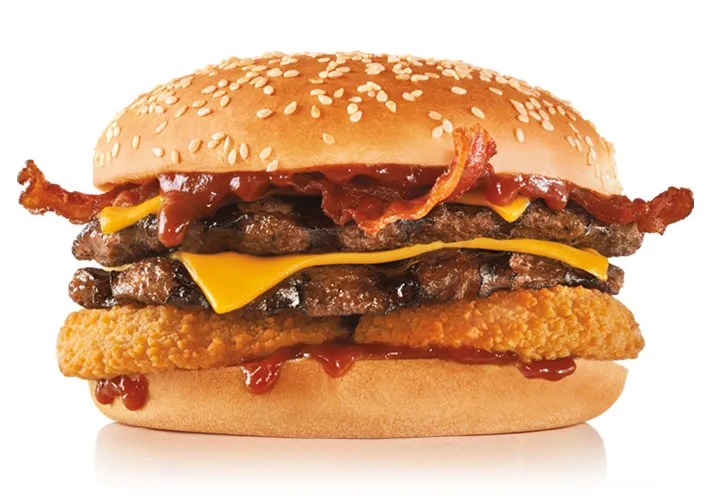 Thoughts & Tasting Notes:
Carl's Jr has a lot of great burgers, but nothing compares to this decadent monster of a burger. On this burger, you get two charbroiled meat patties, a layer of crispy bacon, fried onion rings, and a double dose of American cheese all pulled together by a sweet and smokey BBQ sauce.
The combination of bacon and BBQ creates a sweet, savory, and umami-rich flavor that complements the charred beef. Each bite is smokey and satisfying.
That alone would be a great burger, but Carl's Jr takes it up a level by adding the onion rings which enhance the crunch of the dish, making every bite audible ecstasy.
The Bottom Line:
Sweet, smokey, crispy, and mouthwatering. If you're going to Carl's Jr, the Double Western Bacon Cheeseburger is a no-brainer.
Find your nearest Carl's Jr. here.
Chick-fil-A — Spicy Deluxe with Cheese
Thoughts & Tasting Notes:
The Spicy Deluxe is the Chick-fil-A sandwich, perfected. Instead of the boring stock build of chicken filet + pickles + bun, this sandwich swaps out the OG filet for a spicy version, adds leaf lettuce and juicy tomatoes to the pickles (it's practically a salad), and a thick slice of pepper jack cheese.
While I wouldn't say this sandwich is so spicy you'll start sweating, it has a great sustained heat that gently simmers on the palate between bites. The filet is tender and thick with a delicious breading that combines black pepper, garlic, cayenne pepper, and onion powder.
What I like about this sandwich is it's clean and simple, it's not as overwhelming as Popeyes' and sometimes that's the vibe you're looking for.
The Bottom Line:
A top 5 chicken sandwich in fast food.
Find your nearest Chick-fil-A here.
Chipotle — The "UPROXX Custom"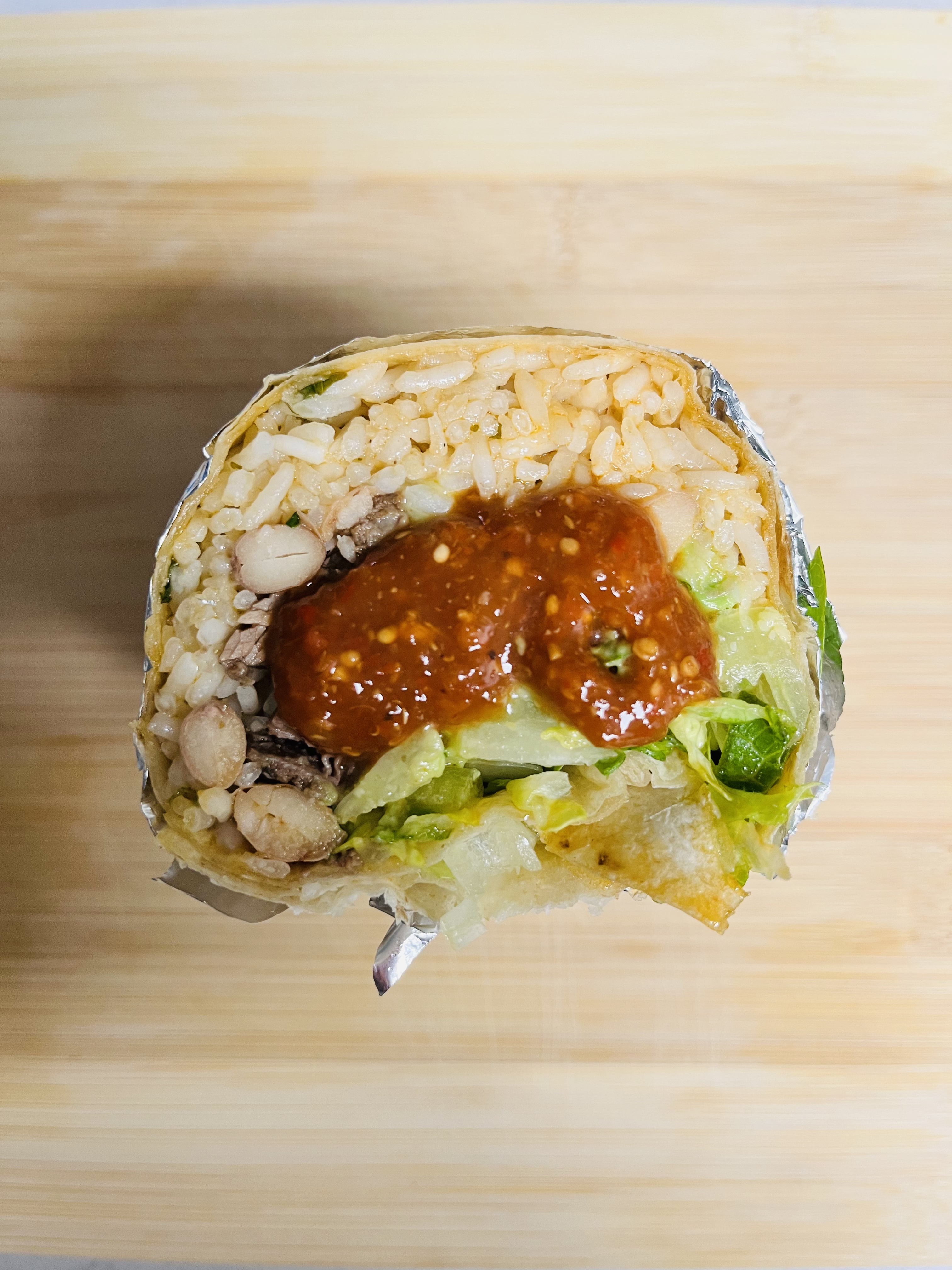 Thoughts & Tasting Notes:
Yup, that's right — we're here to declare that the best thing you can order at Chipotle is our custom burrito build. You can chalk that up to arrogance but you'd be wrong, we actually put a lot of work into constructing the perfect burrito build and I still get emails from people telling me they tried it and loved it.
The build is simple: pinto beans, white rice, barbacoa, the salsa of your choice, cheese, lettuce, and guacamole. Yes, that's all.
If you want to read our reasoning, hit up the full article, but I'll break down what you can expect from this lean and mean build. Each bite has a touch of sweetness with a sizzling burn that ushers in earthy and creamy flavors. Because we didn't add every single ingredient Chipotle offers, the mouthfeel is perfect, it never gets too mushy and it's small enough for a Chipotle employee to easily fold without your tortilla ripping.
The Bottom Line:
A masterclass on how to make a structurally sound burrito. Also, it's tasty AF.
Find your nearest Chipotle here.
Dairy Queen — Chocolate Dipped Cone
Thoughts & Tasting Notes:
If you're rolling up to Dairy Queen, you better be getting dessert. I know your instincts might push you toward the Blizzard, and I'm not here to tell you that Blizzards aren't delicious, but I think there is something great about the simplicity of the chocolate-dipped cone.
It still has that decadent vibe the Blizzard offers thanks to the chocolate shell, but it's not overwhelming and has that winning combination of chocolate and vanilla flavors. You can't go wrong with the dipped cone.
The Bottom Line:
Dairy Queen at its simplest and its best.
Find your nearest Dairy Queen here.
Dave's Hot Chicken — Chicken Strips (Hot)
View this post on Instagram
Thoughts & Tasting Notes:
This year we named Dave's Hot Chicken's Chicken Strips the number one spot in our big chicken strip ranking. Here is why. A single bite of this chicken tender kicks your salivary glands into overdrive as they immediately begin to water and fight against the intense heat.
After the initial burn, subtle sweet notes take over and finish with a gentle smokey aftertaste. The journey of flavors one bite takes you on can't be denied. If you haven't tried Dave's Hot Chicken yet, remedy that sh*t ASAP.
The Bottom Line:
All hail the new king of chicken tenders.
Find your nearest Dave's Hot Chicken here.
Del Taco — Birria Quesadilla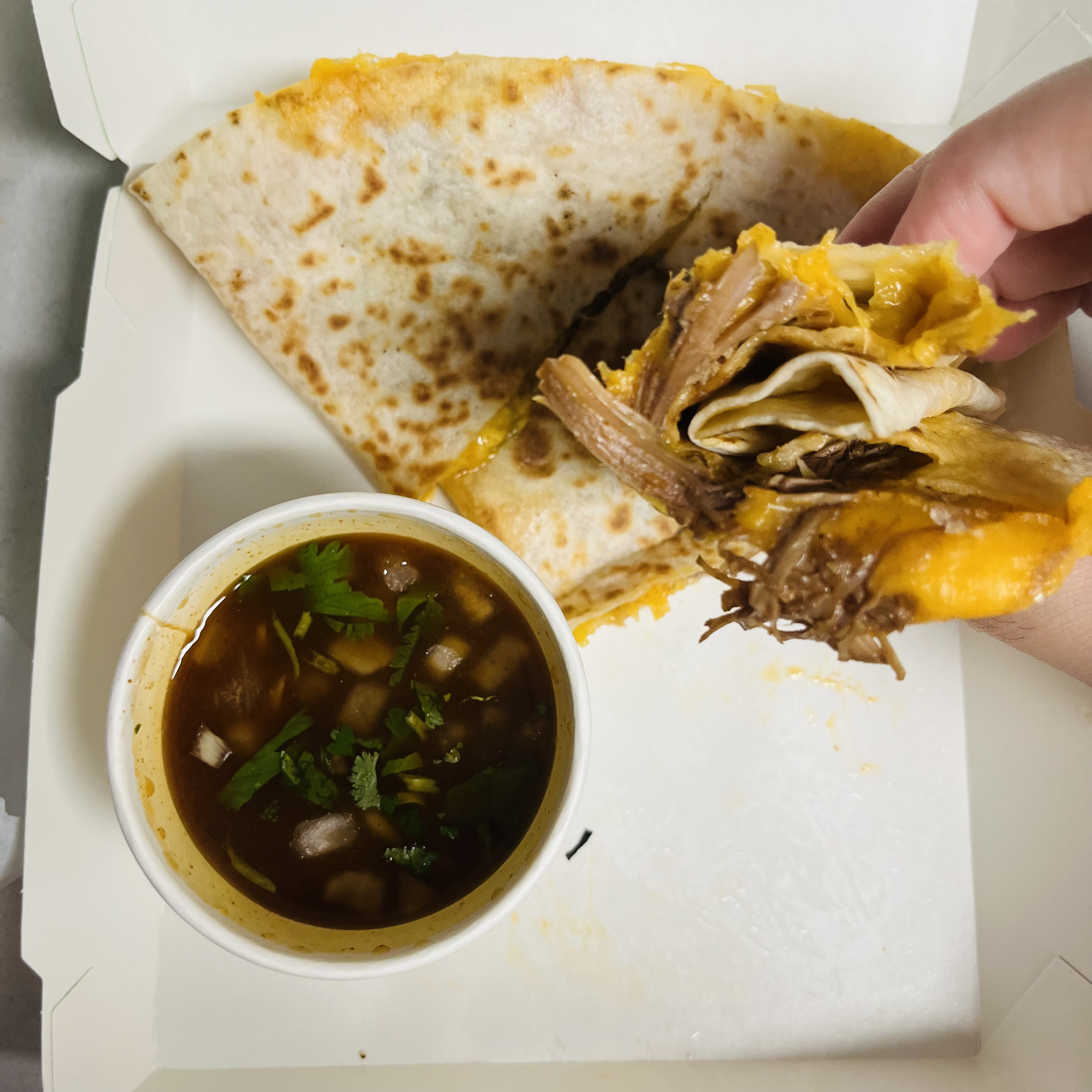 Thoughts & Tasting Notes:
A lot of fast food brands have taken on birria but so far Del Taco has done it best. What makes the Del Taco Birria Quesadilla so good? The quality of all the components.
The shredded beef is tender and beefy, the green sauce adds some mild spice and tang, and the freshly grated cheddar is salty, nutty, and sharp. That alone is a great quesadilla, but add birria consomé to the equation and you have a dish that explodes with beefy chili-backed flavor.
The Bottom Line:
A new must-order menu item and the best birria dish in fast food.
Find your nearest Del Taco here.
Flame Broiler — Korean Spicy Chicken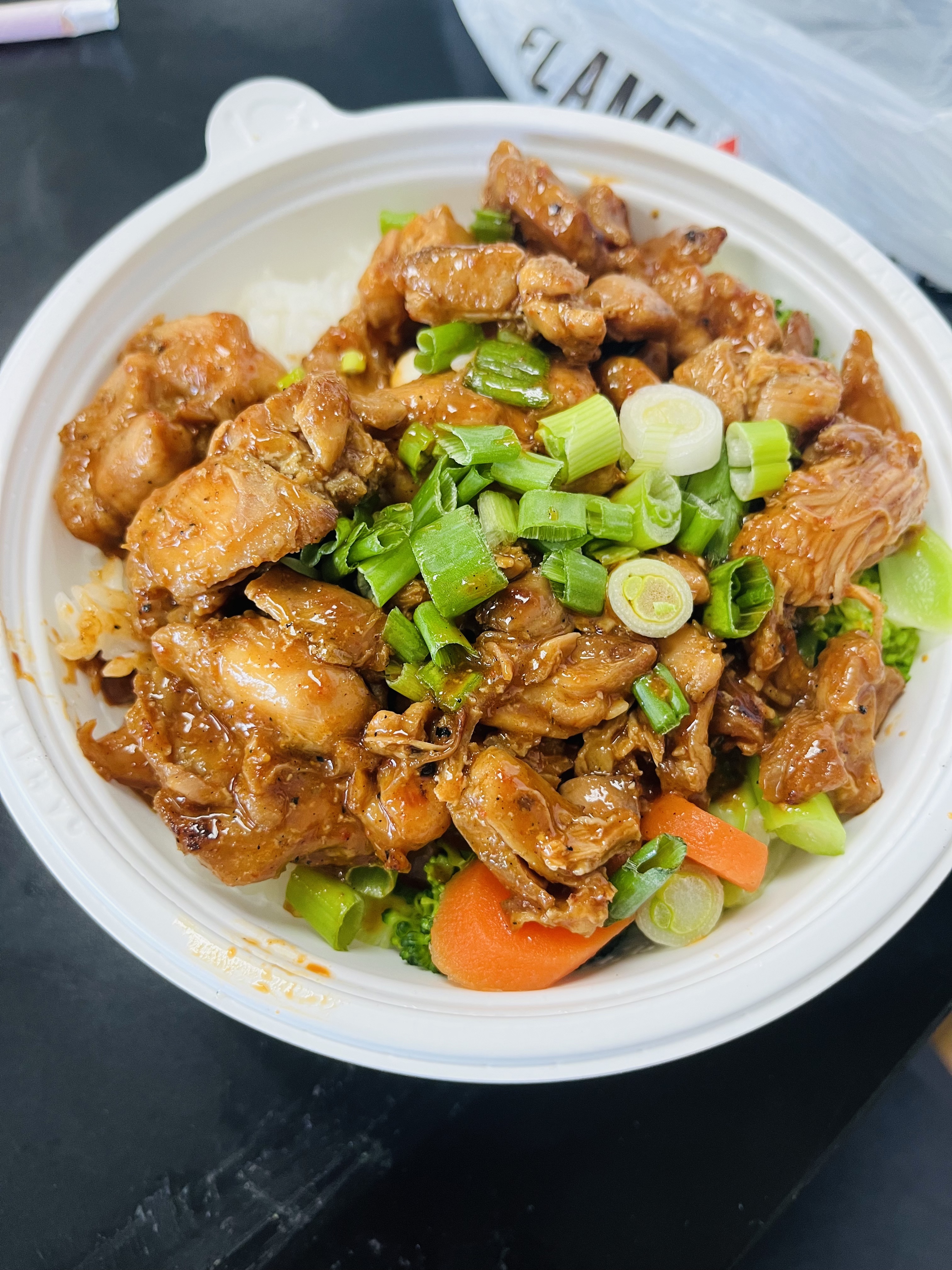 Thoughts & Tasting Notes:
I keep finding ways to promote this new protein option from Flame Broiler and I won't stop — it's that good! The chicken delivers an initial blast of chili spice that morphs into a savory sweet and satisfying flavor.
The chicken is tender but a bit fatty (it's thigh meat) but the real trick is to douse the chicken in Flame Broiler's Magic Sauce, which deepens the sweet and umami flavor of the dish.
The Bottom Line:
Currently, the best cooked-to-order chicken that isn't fried in all of fast food.
Find your nearest Flame Broiler here.
KFC — 2 PC. Chicken Combo
Thoughts & Tasting Notes:
I was originally going to go with the Famous Bowl because it is a greatest hits package of all of KFC's best foods but I have to go with a classic here. No, it's not the most exciting option but it's hard to beat the classic combination of two pieces of chicken of your choice, a side (go for the Secret Recipe Fries, trust us), a biscuit, and a drink.
There is one hard rule here though, get Original Recipe, not Extra Crispy. Original Recipe has more flavor thanks to a combination of thyme, oregano, black pepper, garlic powder, and onion powder. It's the flavor that put KFC on the map.
Extra Crispy is going to give you that crunch, but flavor beats out texture here.
The Bottom Line:
It seems too obvious but the 2 PC Chicken Combo is all you need to walk away from KFC satisfied.
Find your nearest KFC here.
In-N-Out — Double-Double w Grilled Onions
Thoughts & Tasting Notes:
Your options are limited at In-N-Out so it shouldn't be too hard to choose from this simple menu — so let this serve as a reminder that you should order a Double Double every time over a single cheeseburger.
The reason for that is the bread-to-meat ratio. In-N-Out's patties are small and thin, when you get a single burger the bread masks too much of the flavor. A Double-Double allows it so that every bite is full of salty, juicy, and beefy flavors. The grilled onions help to enhance the savoriness and turn this burger from a delicious experience to a mouthwatering one.
If you want to mix it up a bit, ask for chopped chilies on your burger. It'll add a tangy mild heat to the equation.
The Bottom Line:
The Double Double is simply one of the greatest cheeseburgers in fast food.
Find your nearest In-N-Out here.
Jack in the Box — Bacon Ultimate Cheeseburgerk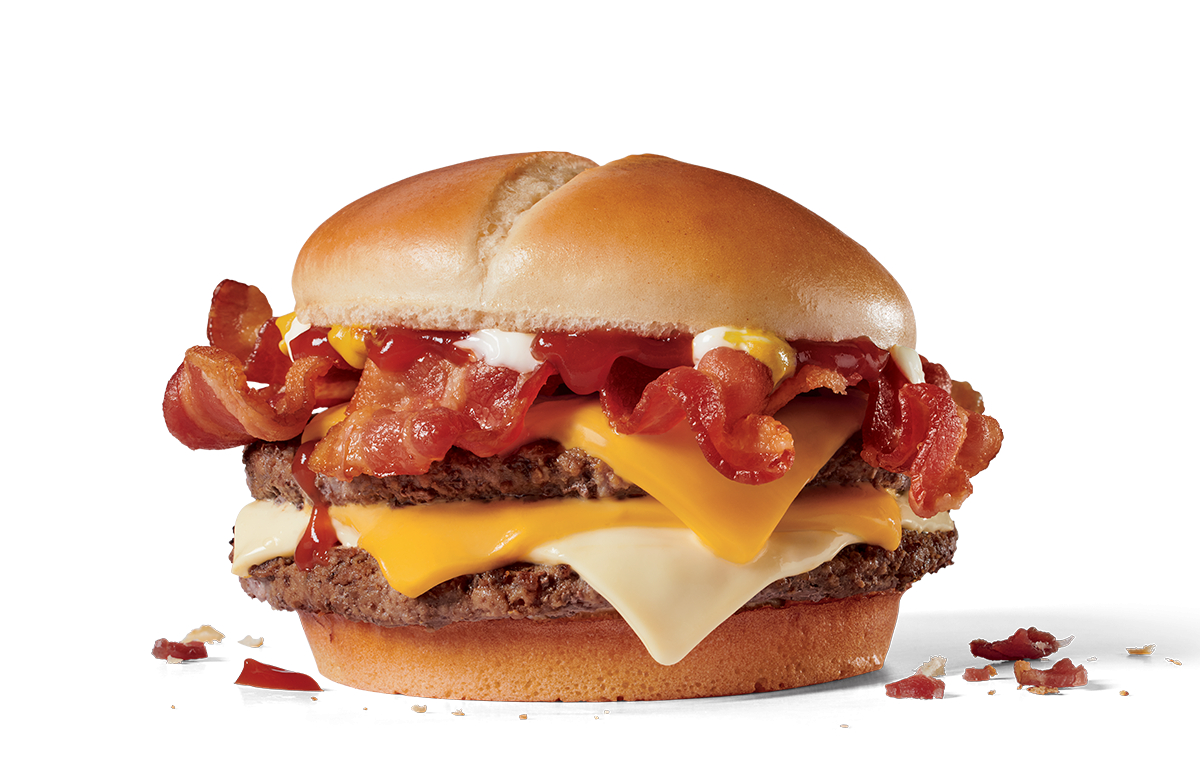 Thoughts & Tasting Notes:
What I love about this burger is the combination of tangy, earthy, and sweet flavors. In this burger, you get American and Swiss cheese which imparts a soft creamy and salty flavor, layers of crunch smokey bacon, and an admittedbly forgettable beef patty.
Hey, we said it was the best menu option, not a great burger. As it stands it's so-so. This and an order of curly fries will get the job done.
The Bottom Line:
The best burger at Jack in the Box, which isn't saying much, but hey, it's something.
Find your nearest Jack in the Box here.
McDonald's — French Fries
Thoughts & Tasting Notes:
It's simple, McDonald's French Fries are the best fast food french fries your money can buy. The best practice is to order this and eat it immediately, don't let these fries rest for any amount of time.
The fries are a combination of salt, buttery potato flavor, and what I'm convinced is the tiniest hint of sugar which pushes the flavor over the edge into absolutely addictive territory.
The other food on the menu isn't even half as good as these fries, so feel free to pair them with whatever is the most nostalgic for you. Be it nuggets, a Double Cheeseburger, or a Quarter Pounder. Or be smart and order a soft serve ice cream and dip your fries into it.
The Bottom Line:
One of the greatest eating experiences in fast food is a piping hot order of McDonald's fries.
Find your nearest McDonald's here.
Popeyes — Spicy Bacon & Cheese Chicken Sandwich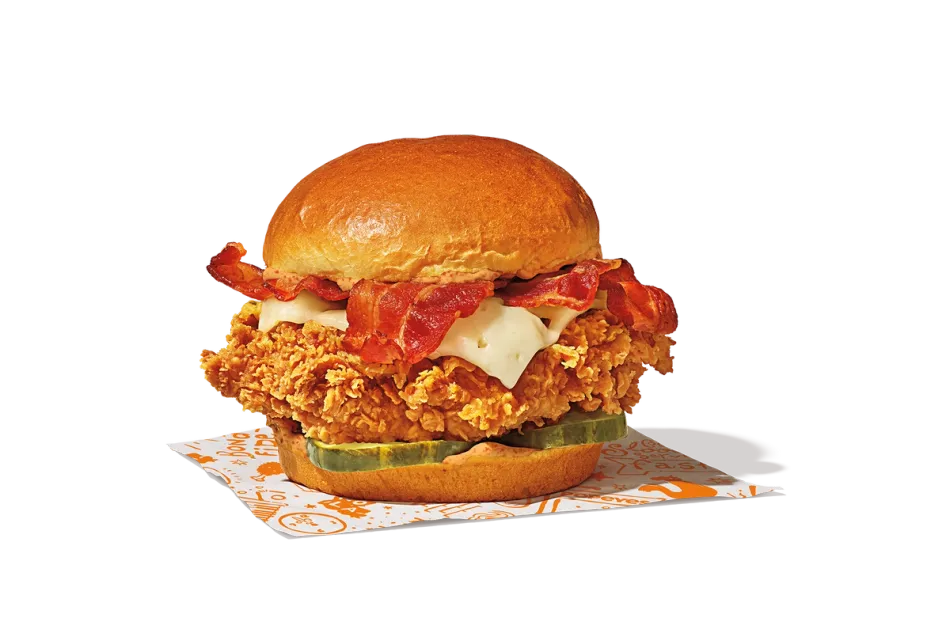 Thoughts & Tasting Notes:
Believe the hype, the Popeyes chicken sandwich is as good as everyone says it is. But ever since it dropped I always thought it could do with some improvements. We got that this year, when Popeyes released the Spicy Bacon & Cheese version.
Biting into this sandwich introduces your tastebuds to a tender and crunchy filet of chicken that is well seasoned with garlic and onion powder with a gentle cayenne-based sauce that brings in some smokey spice, pickles that provide an earthy brine-y tang, smokey bacon, and my favorite detail, Havarti cheese — which ties all the flavors together with some sweetness.
The Bottom Line:
It's not only the best chicken sandwich you can order at Popeyes, it is the best chicken sandwich in all of fast food.
Find your nearest Popeyes here.
Rally's / Checkers — Fries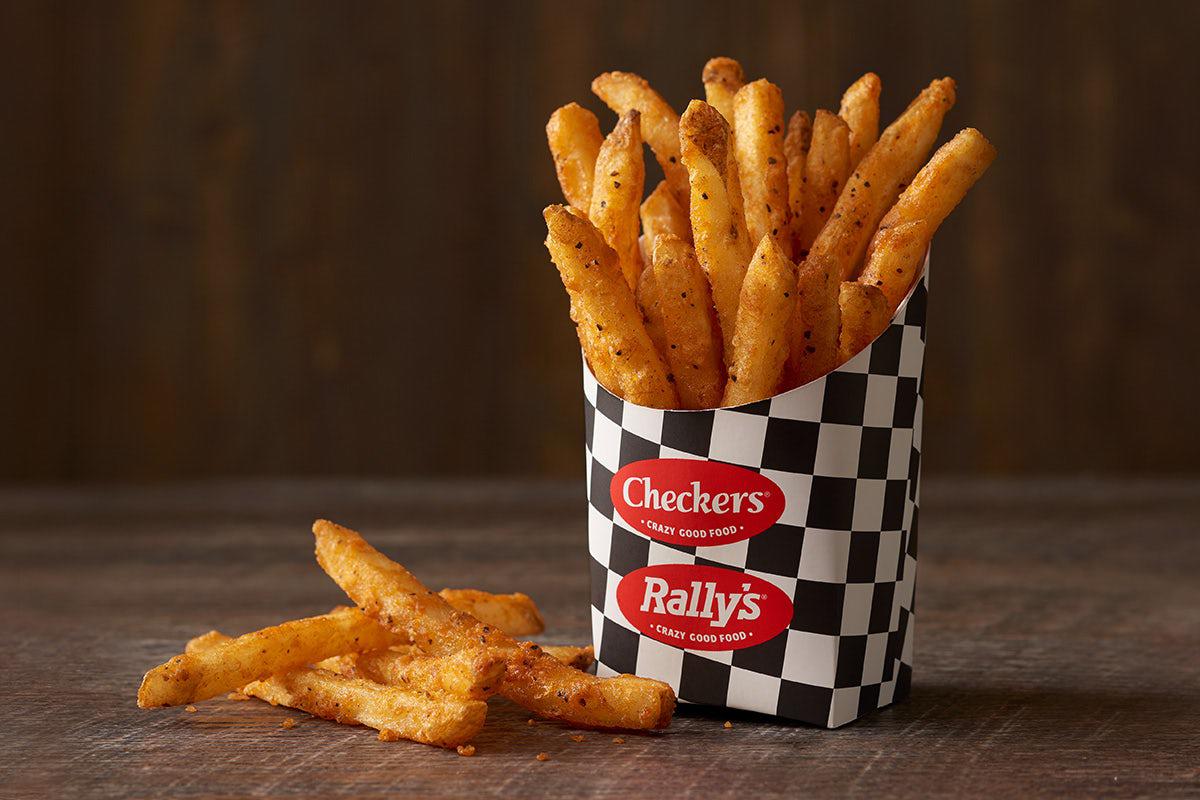 Thoughts & Tasting Notes:
I tried hard not to put "fries" as a choice at more than two places because it feels like a cheap and thoughtless option. But in the case of Rally's and McDonald's, credit where credit is due — the freaking French fries are amazing.
Rally's lightly breads its fries in a mix of garlic, onion powder, paprika, black pepper, and salt, resulting in a french fry that is as tasty as it is crunchy. Even when these fries get soggy, they still hit the spot, which you can't say about McDonald's.
The Bottom Line:
One of the best orders of seasoned fries in the game.
Find your nearest Rally's/Checkers here.
Raising Cane's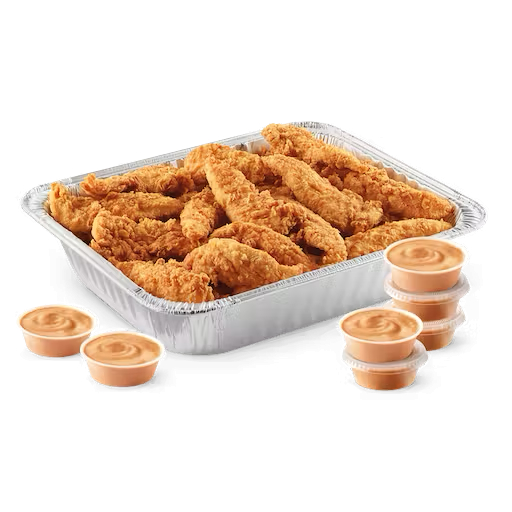 Thoughts & Tasting Notes:
There is a reason Raising Cane's is popping up everywhere. The chain does one thing — chicken tenders — and they do it well. Each tender is fresh never-frozen chicken that is marinated in lemon before being cooked, hand-breaded on sight, and fried to perfection.
The chicken here is so tender and juicy that it melts in your mouth. If Raising Cane's could make a proper chicken sandwich (meaning a sandwich that wasn't just three chicken tenders between a bun) they would even be able to take on Popeyes.
The Bottom Line:
You're not going to find chicken tenders this fresh from any other major nationwide fast food chain.
Find your nearest Raising Cane's here.
Sonic — Mozzarella Sticks
Thoughts & Tasting Notes:
Sonic is a weird fast food chain. It has never ranked highly in any of our fast food rankings, but it doesn't rank low either. It's a mid-tier fast food chain, so what's the best thing to order here? Easy, avoid the burgers and sandwiches, and go straight for the sides menu. On that list, nothing beats the Mozzarella Sticks.
The breading on these sticks is crispy and well-seasoned with Italian herbs. The cheese inside is warm creamy mozzarella that is always cooked to order and provides a nice melty cheese trail when you bite into them. The marinara isn't bad either!
The Bottom Line:
Sonic's snack sides are the gold mine of the menu, and no single option glitters like the Mozzarella Sticks.
Find your nearest Sonic here.
Shake Shack — The Spicy Shackmeister
Thoughts & Tasting Notes:
Right now, this is my favorite burger in all of fast food. The Spicy Shackmiester delivers an initial sharp spicy kick that slowly morphs into a sweet and savory bite that features a mix of bright vegetal flavors and mild spice, with rich meaty beef notes.
The burger patties here are dusted with a cayenne-based hot pepper blend with cheese, savory fried onions, cherry peppers, and Shake Sauce. Even if your spice tolerance is high, this burger is going to knock your tastebuds out.
It's a drool-inducing experience and unfortunately, it's only available for a limited time. It'll be a sad sad day when this burger leaves the menu, so get it while you can.
The Bottom Line:
Fast Food's best cheeseburger right now. Hands down.
Find your nearest Shake Shack here.
Taco Bell — Grilled Nacho Fries
Thoughts & Tasting Notes:
When we published the list of "Worst Fast Food Menu Items," my editor called me whining about how I put Nacho's Bell Grande on the list. This is a guy who eats fast food rarely and has some sort of weird nostalgic allegiance to certain Taco Bell dishes. Lot's of them. Too many, if you ask me. He texts me T-Bell receipts for $35 when I know he's all alone.
That dish, for the record, is objectively awful. The Grilled Nacho Fries, however, are the real deal. On a bed of perfectly crispy and seasoned french fries is a layer of Taco Bell's ground beef, nacho cheese sauce, and what Nacho's Bell Grande should have: a three-cheese blend, and chipotle sauce.
The three-cheese blend adds a complex dimension that nacho cheese sauce just can't provide. It's nutty, creamy, and a bit sweet. The chipotle sauce ups the savory quality of the beat and adds a bit of heat. This is what Nacho's Bell Grande should be — it's also half the price.
The Bottom Line:
Nachos Bell Grande fans, try this dish and then tell me that Nacho's Bell Grande deserves permanent menu status and these don't.
Find your nearest Taco Bell here.
Wendy's — Baconator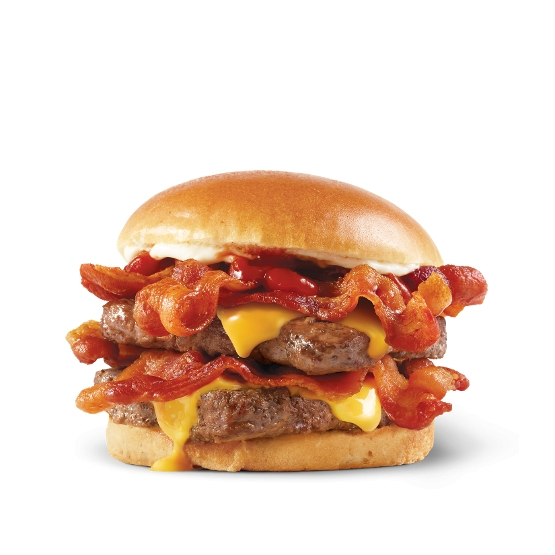 Thoughts & Tasting Notes:
It was incredibly simple to name the Baconator as Wendy's all-time best menu item because it's easily the best bacon cheeseburger in all of fast food. This burger is incredibly juicy thick 1/4 patties and two layers of smokey crispy bacon.
The combination of beefy flavors and slightly sweet and smokey bacon is incredibly rich and satisfying, and Wendy's knows this, that's why they don't put anything else in the burger aside from some mayo and ketchup.
The star of the show here is the meat, and both the patty and bacon are great quality and perfectly cooked.
The Bottom Line:
Fast food's best bacon cheeseburger.
Find your nearest Wendy's here.