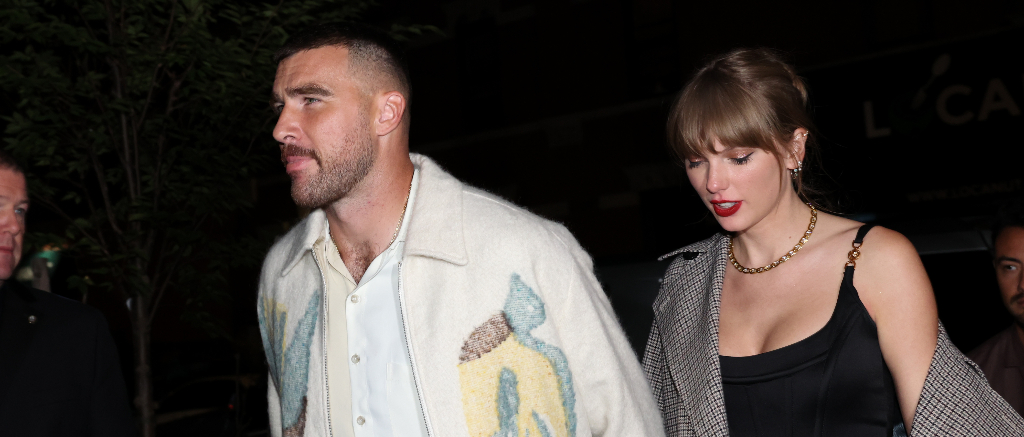 Uproxx did the Lord's work and provided a Taylor Swift-Travis Kelce relationship timeline after Swift confirmed something was up between them by attending the Kansas City Chiefs' 41-10 win over the Chicago Bears at Arrowhead Stadium in Kansas City, Missouri on September 24. The background information still stands, but so much has happened over the past two months.
Despite Swift already attending two Chiefs games in support of Kelce on September 24 and October 1, Kelce and Swift hard-launched their relationship with a visit to Saturday Night Live and PDA around New York City in mid-October. That PDA feels elementary after Swift altered the lyrics of "Karma" for Kelce and ran to kiss him during her The Eras Tour show in Buenos Aires, Argentina on November 11. While Kelce has made clear he won't say whether he's in love with Swift, he did just shed slightly more light on the origins of the definitive relationship of 2023.
On Monday morning, November 20, Kelce was revealed as the latest cover star for WSJ. Magazine. In the accompanying story, Kelce said, "She'll probably hate me for saying this, but […] when she came to Arrowhead, they gave her the big locker room as a dressing room, and her little cousins were taking pictures […] in front of my locker" (as relayed on WSJ's Instagram).
People also shared excerpts from the WSJ profile.
"There were definitely people she knew that knew who I was, in her corner [who said]: 'Yo! Did you know he was coming?' I had somebody playing Cupid," Kelce said, adding, "She told me exactly what was going on and how I got lucky enough to get her to reach out."
The two-time Super Bowl champion also let slip that they met for the first time in New York, though Kelce doesn't specify when their first meeting took place.
"When I met her in New York, we had already kind of been talking, so I knew we could have a nice dinner and, like, a conversation, and what goes from there will go from there," the All-Pro tight end told WSJ.
Last week, it was reported by Entertainment Tonight that Kelce's parents, Donna and Ed, would meet Swift's parents, Andrea and Scott, at the Chiefs' game against the Philadelphia Eagles at Arrowhead on Monday night, November 20. (The Swift family has famously always been an Eagles household.) Kelce and his brother, Eagles All-Pro center Jason Kelce, joked about it on an episode of their New Heights podcast.
It's unclear whether that will still happen, but Swift can no longer attend the game after having to postpone a The Eras Tour concert from Saturday, November 18, to Monday in Rio De Janeiro, Brazil.