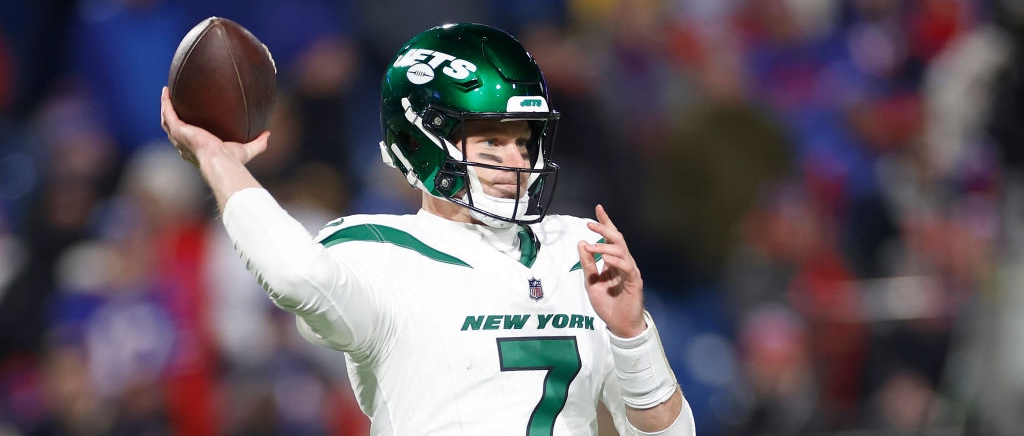 For weeks, Jets fans have been pleading with Robert Saleh and the organization to do something at quarterback other than continuing to trot out Zach Wilson, who has continued playing as one of the NFL's worst quarterbacks in his third season in the league.
Sunday's loss to the Bills appeared to be the breaking point for the Jets, as they could only muster six points in what became a 32-6 loss to their division rivals. After their first two drives went nowhere in the third quarter, Wilson finally got replaced by Tim Boyle, who didn't have any more success than Wilson, as he went 7-of-14 passing for 33 yards and an interception. Still, the Jets are trying to do something different and on Monday, word broke that Boyle would be getting his shot as a starter this week when the Jets face the Dolphins on Black Friday in a standalone primetime spot on Amazon.
A new QB in NY: Jets will start QB Tim Boyle vs the Dolphins on Friday, per source.

— Adam Schefter (@AdamSchefter) November 20, 2023
Having to face a Dolphins team that has been absolutely bludgeoning the bottom-half of the league this season is not exactly a friendly welcome to the starting lineup for Boyle, but it will provide at least an attempt at changing things up for the Jets. The real issue for New York isn't that they haven't given the other bad quarterbacks on the roster a chance this season, but that they refused to make a trade to bring in one of the better backups floating around the league. Joshua Dobbs is the obvious example with what he's provided Minnesota since arriving from Arizona, but Jacoby Brissett and others would've give them at least a competent game manager to possibly pair with their stout defense.
Instead, they stood pat at the deadline and now will trot Boyle out as something of a sacrificial lamb to the fan base to prove there isn't a better QB on the roster, when the issue is that they didn't bother trying to upgrade that once Rodgers went down.