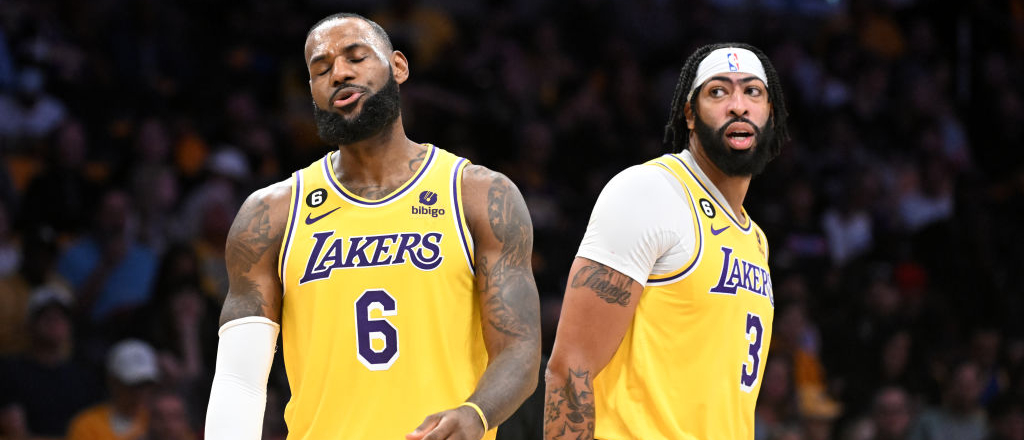 The NBA In-Season Tournament will continue on Tuesday evening with a 5-game slate that will see a few teams play their fourth and final game of the group stage, with some opportunities to clinch a spot in the knockout rounds on the table.
East Group A and West Group A take center stage with two games each — with Raptors-Magic out of East Group C also on the schedule — and by the end of the night we could have our first two groups decided. Here, we'll take a group-by-group look at the In-Season Tournament standings, highlight the most important games of Tuesday night's slate, and take a look at the scenarios for teams to clinch and be eliminated as we reach the closing stretch of group stage action.
The NBA In-Season Tournament continues tonight with five Group Play games, including a doubleheader on TNT.

The following clinch and elimination scenarios are applicable for tonight's games pic.twitter.com/9stHl5f0f0

— NBA Communications (@NBAPR) November 21, 2023
East Group A
Tuesday, Nov. 21 Schedule:
Pacers at Hawks
Cavaliers at 76ers
Standings (Teams Yet To Play)
Pacers: 2-0, +11 (Hawks, Pistons)
76ers: 2-1, +12 (Cavs)
Cavaliers: 1-1, +3 (Hawks, 76ers)
Hawks: 1-1, -4 (Pacers, Cavs)
Pistons: 0-3, -22 (Pacers)
This one's pretty simple as a Pacers win over the Hawks clinches the group for Indiana as they have a head-to-head tiebreaker over both the 76ers and Cavs already. A Hawks win brings some chaos scenarios into play, as there would be three teams with one loss and uneven head-to-head situations, while Cavs-Sixers could be very important for the East wild card chase. A Sixers win and a Pacers win would eliminate the Cavs, Hawks, and Hornets from wild card contention, as that would guarantee two teams with three wins in the group, taking out all 2-2 teams. Point differential will play a big role in the wild card chase, with and the Sixers (or Cavs) would need a big win to feel comfortable about their chances at snagging the wild card at 3-1.
East Group B
Tuesday, Nov. 21 Schedule:
N/A
Standings (Teams Yet To Play)
Bucks: 2-0, +36 (Hornets, Heat)
Heat: 2-0, +13 (Bucks, Knicks)
Knicks: 1-1, +16 (Heat, Wizards)
Hornets: 1-2, -30 (Bucks)
Wizards: 0-3, -35 (Knicks)
East Group B will just be watching on Tuesday night, but the Heat, Bucks, and Knicks each will have their eyes on what happens in Group A, as a lopsided Sixers win would put some pressure on the point differential battle for the wild card. The Bucks are in great position there, as if they can get one more win and then avoid a catastrophic loss, they should be a lock for a knockout round spot, but New York and Miami both will want to pad their differential if they want to make it to the next round.
East Group C
Tuesday, Nov. 21 Schedule:
Raptors at Magic
Standings (Teams Yet To Play)
Celtics: 2-0, +17 (Bulls, Magic)
Nets: 2-1, +8 (Raptors)
Magic: 1-1, -14 (Celtics, Raptors)
Raptors: 0-1, -3 (Nets, Bulls, Magic)
Bulls: 0-2, -8 (Raptors, Celtics)
The Nets and Celtics will likewise have their eyes on the Group A games for point differential reasons, while Raptors-Magic is, effectively, an eliminator as it seems all but assured there will be a team that finishes 3-1 that doesn't win their group. As such, they will each need wins to feel like they have a chance, and if the Magic, Sixers, and Indiana all win, the Raptors and Bulls would be officially eliminated.
West Group A
Tuesday, Nov. 21 Schedule:
Blazers at Suns
Jazz at Lakers
Standings (Teams Yet To Play)
Lakers: 3-0, +42 (Jazz)
Jazz: 2-1, +19 (Lakers)
Blazers: 1-2, -26 (Suns)
Suns: 1-1, 0 (Blazers, Grizzlies)
Grizzlies: 0-3, -35 (Suns)
The Lakers are in with a win and would have homecourt in the quarterfinals, while a Utah upset would bring some other scenarios into play (and would eliminate the Thunder and Blazers by ensuring two 3-1 teams in the same group). If the Lakers lose small, they would have the inside track on the wild card thanks to their point differential, but would not be assured of a knockout round spot. Utah, meanwhile, would clinch the group if they win and the Suns lose to Portland. If not, a three-way tiebreaker between the Lakers, Suns, and Jazz would ultimately come down to differential.
West Group B
Tuesday, Nov. 21 Schedule:
N/A
Standings (Teams Yet To Play)
Pelicans: 2-1, +23 (Clippers)
Nuggets: 2-1, +9 (Rockets)
Rockets: 1-1, -3 (Nuggets, Mavericks)
Mavericks: 1-2, -14 (Rockets)
Clippers: 1-2, -15 (Pelicans)
The Pelicans, Nuggets, and Rockets will all be rooting for a L.A. win, as they would rather see Utah dropped to 2-2 than have to contend with another 3-1 team with a differential of more than 20 points.
West Group C
Tuesday, Nov. 21 Schedule:
N/A
Standings (Teams Yet To Play)
Kings: 2-0, +16 (Wolves, Warriors)
Timberwolves: 2-0, +10 (Kings, Thunder)
Warriors: 1-1, -1 (Kings, Spurs)
Thunder: 1-2, +27 (Wolves)
Spurs: 0-3, -52 (Warriors)
The Kings, Wolves, and Warriors will, likewise, want to see a win by the Lakers as it eliminates a possible 3-1 wild card contender. A Suns loss also is very good for business for those teams, but seems unlikely.