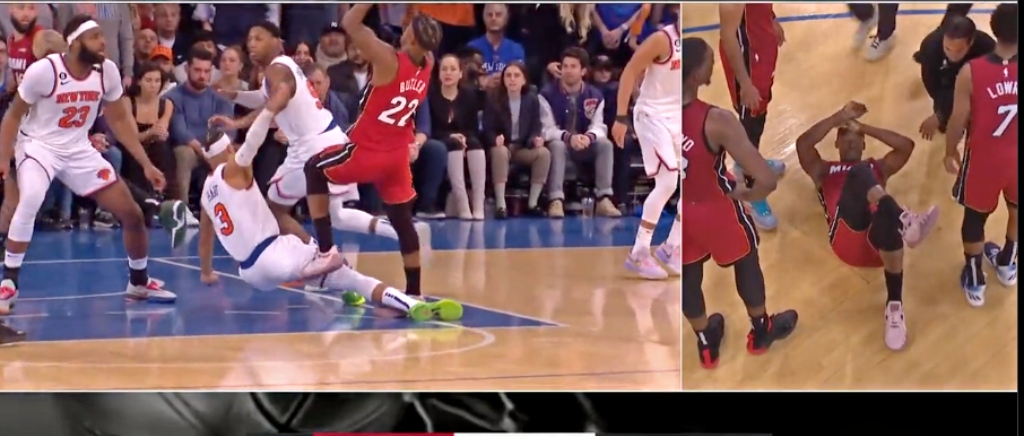 The Miami Heat and New York Knicks did not disappoint in Game 1 of their conference semifinals series at Madison Square Garden, as both teams took turns going on big runs before settling into a tense, tight game in the fourth quarter.
Unfortunately, the excitement was dampened considerably with five minutes to go when Jimmy Butler suffered a right ankle injury after contact with Josh Hart on a drive.
Butler would stay on the ground for a few minutes before re-entering the game for free throws, and while the expectation was the Heat would foul to get him out of the game, he stayed in for the remainder of the fourth quarter operating as a decoy on offense, occupying Josh Hart in the corner, while somehow not being targeted by the Knicks on the other end. The Heat would go on a 9-2 run after Butler went down to extend their lead out to 10 points, their largest of the night.
MARTIN SENDS IT BACK

Heat up 8 with under 4 minutes to go.

Late 4Q on ABC | MIA/NYK Game 1 pic.twitter.com/yVFEadseTv

— NBA (@NBA) April 30, 2023
New York's offense bogged down in spite of playing 5-on-4.5, with Kyle Lowry stymying multiple possessions with active hands as Jalen Brunson and RJ Barrett tried to drive him into the paint. It was a rather unbelievable close to the game, with the Heat simply running better offense down the stretch despite their star being a non-factor. Lowry (18 points, six assists, four blocks) and Gabe Vincent (20 points, five assists) carried Miami home to a very important 108-101 win, particularly as Butler's status going forward will be in question given the severity of that rolled ankle and the likelihood that he deals with swelling and soreness the further removed he is from the game.
After the game, Butler was asked by ESPN's Cassidy Hubbarth how his ankle was feeling and responded very matter of factly: "like a rolled ankle." His status for Game 2 on Tuesday night will be something everyone will monitor over the next two days, but given his health is now a lingering question, Miami swiping homecourt in the opener was huge for their chances in the series.