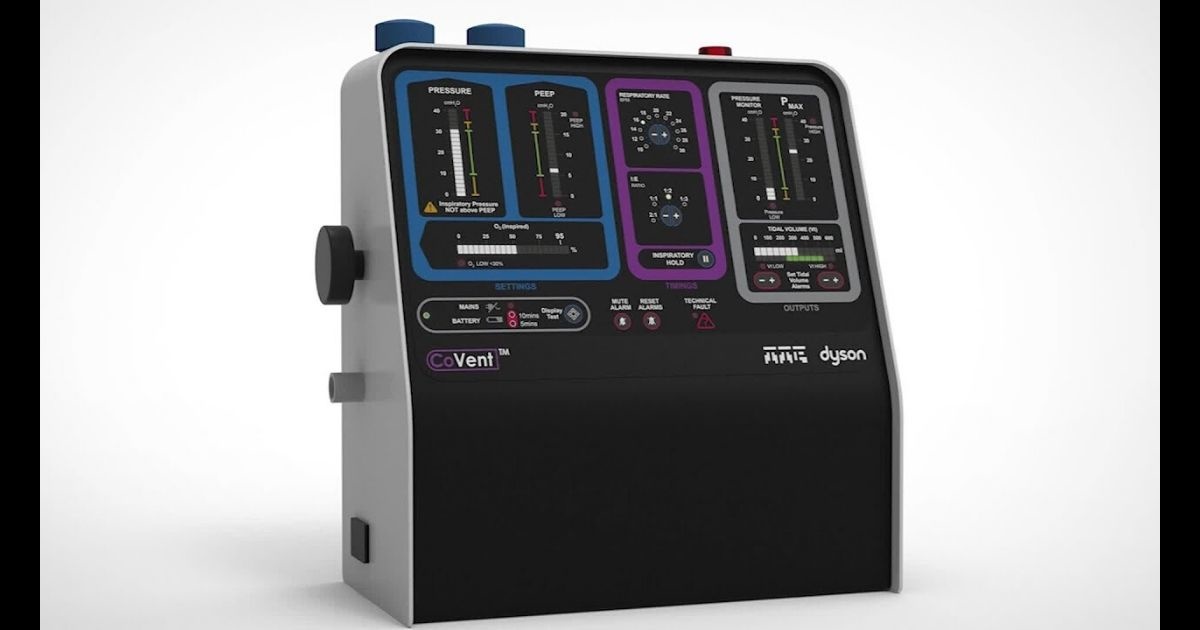 Dyson revolutionized the vacuum, air purifier, and hand dryer worlds, and now it's revolutionizing the global pandemic world we're currently living in.
---
The need for more ventilators to treat the respiratory illness COVID-19 is increasing quickly as the coronavirus pandemic spreads across the globe. We've seen stories of doctors in Italian hospitals who have to choose who gets a ventilator and who is left to die. We're beginning to see hospitals in New York get overburdened, and we're just at the beginning of the outbreak here.
The U.K. government approached Dyson to ask if they could help with medical equipment 10 days ago, and the innovative company has already come up with a new design for a ventilator specific to the current needs. Called "The CoVent," the ventilator doesn't take long to make, it attaches to a hospital bed, and it can be battery-operated. That's especially important for use in field hospitals, such as the one the Army is building in Century Link field in Seattle.
Dyson plans to make the 10,000 ordered from the U.K., and also donate 5,000 additional ventilators—1,000 to the U.K. and the rest to other countries who need them.
James Dyson, the company's founder, sent this letter to his employees, describing how the design came about and what the plans for it are:
"Hospitals are the frontline in the war against Covid-19, where heroic doctors, nurses, and care workers are battling to save lives and help people recover from this terrible virus. As with any battle, there are many challenges to overcome, not least the availability of essential equipment which in this case means ventilators. A ventilator supports a patient who is no longer able to maintain their own airways but sadly there is currently a significant shortage, both in the UK and other countries around the world.
Since I received a call from Boris Johnson ten days ago, we have refocused resources at Dyson, and worked with TTP, The Technology Partnership, to design and build an entirely new ventilator, The CoVent. This new device can be manufactured quickly, efficiently and at volume. It is designed to address the specific clinical needs of Covid-19 patients, and it is suited to a variety of clinical settings. The core challenge was how to design and deliver a new, sophisticated medical product in volume and in an extremely short space of time. The race is now on to get it into production.
The Dyson Digital motor sits at the heart of the new device and the motor's design is optimised to have a very high level of intrinsic safety, making it particularly well-suited for industrial, high volume production. The device is designed to achieve a high quality air supply to ensure its safety and effectiveness, drawing on our air purifier expertise which delivers high-quality filtration in high-volume products.
Ventilators are a regulated product so Dyson and TTP will be working with the MHRA and the Government to ensure that the product and the manufacturing process is approved. We have received an initial order of 10,000 units from the UK Government which we will supply on an open-book basis. We are also looking at ways of making it available internationally.
I am proud of what Dyson engineers and our partners at TTP have achieved. I am eager to see this new device in production and in hospitals as soon as possible. This is clearly a time of grave international crisis, I will therefore donate 5,000 units to the international effort, 1,000 of which will go to the United Kingdom.
We will keep you updated with our progress."
Well done, Dyson. Smart people solving big problems in real time is exactly what the world needs more of right now.

James Dyson designed a new ventilator in 10 days. He's making 15,000 for the pandemic fight

www.youtube.com