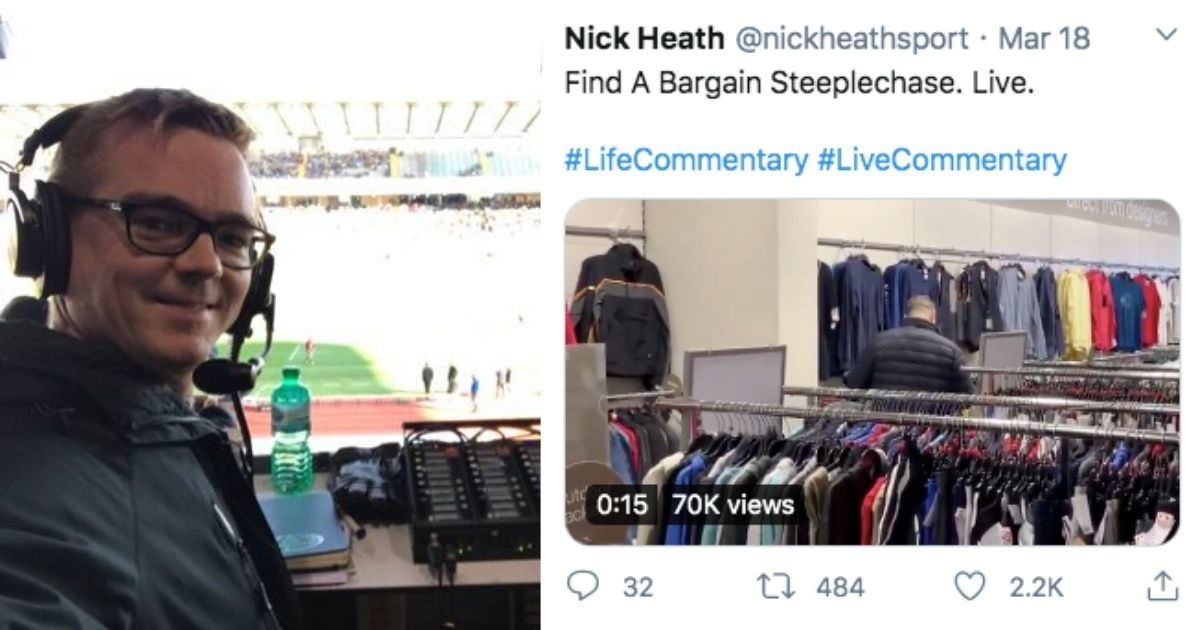 With the sports world to a screeching halt (along with the rest of the world) due to the coronavirus pandemic, athletes, coaches, and other sports professionals have found themselves totally out of their normal routine.
Sports commentators are included in that lot. It's a little hard to commentate on a sport when there are no sports happening.
---
But that hasn't stopped rugby commentator Nick Heath from doing his job in a creative, unpaid, but highly entertaining way anyway. Heath has started posting videos to social media of his color commentary on everyday life—much to the delight of everyone.
His #LifeCommentary posts include a video of two dogs—whom he refers to as "Vanilla" and "Chocolate"—racing around a park.
"The Interminable Wait" highlights people running the "supermarket gauntlet challenge" and waiting for the trolley as "the warm-up event for the international airport boarding gate heats taking place all over the world."
Clearly, some of the people he's filmed are not practicing proper social distancing measures, but don't let their fueling of humanity's demise stop you from enjoying Heath's commentating.
Who knew that a handful of moms pushing their kids in a stroller could be so thrilling?
Heath just has a way of making the most mundane everyday actions sound exciting and entertaining, such as this "Find a Bargain Steeplechase."
Even just watching people crossing the street becomes an exciting event. Who's going to get across first?
People are loving Heath's color commentary on life as they sit in their homes deprived of live sports commentary, as evidenced by his Twitter following growing by more than 50,000 in just a couple of days.
"It was just going and having a bit of fun and keeping my followers on social media entertained," Heath, 41, told USA TODAY Sports. "But it obviously has blown up a bit since."
Thank goodness for people like Nick Heath, who have the ability to make the most of a sincerely crappy situation and use their unique talents to keep people's spirits up in creative ways. We need these people now more than ever.