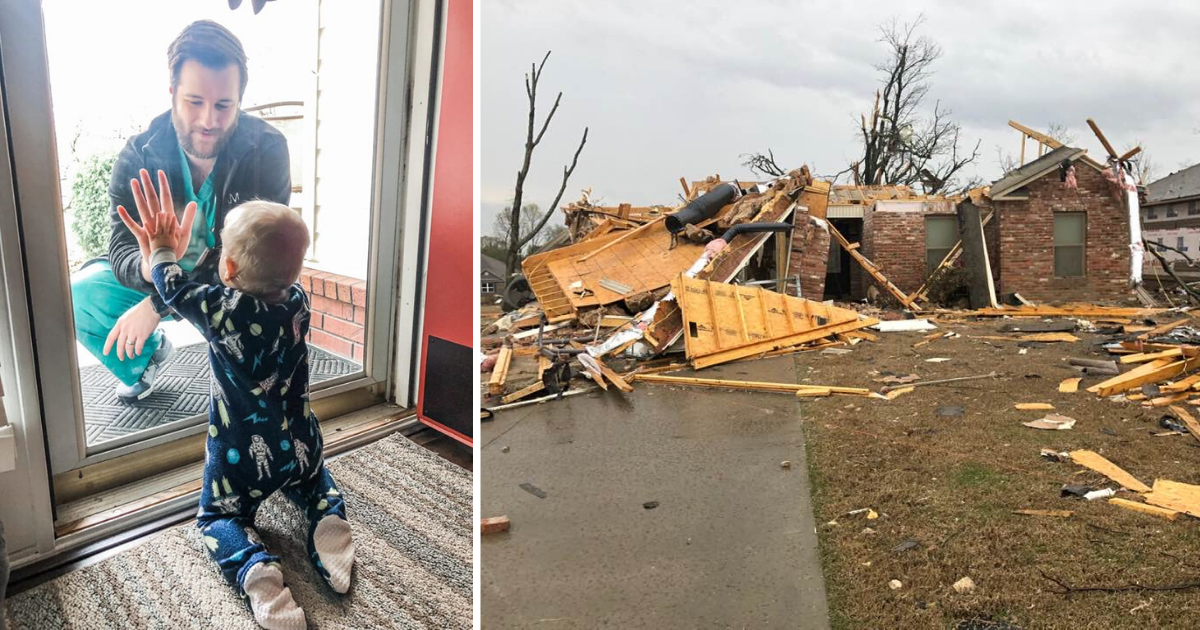 If there was a story that encapsulates the tragedy and beauty that humanity is experiencing right now, this one is it.
Less than a week ago, Alyssa Burks shared a photo of her physician husband Jared touching hands with their toddler through a glass door. Dr. Burks had been isolated from his family for two weeks to keep the safe from possible exposure as he treats patients who have become infected with the coronavirus. The heart-wrenching image captured the sacrifice our healthcare workers and their families are making to save lives and keep one another safe and healthy.
---
The photo went viral with more than 88,000 shares, and people praised Dr. Burks and his colleagues for their work on the front lines of this pandemic.
Three a few days later, a tornado ripped through the Burks' hometown of Jonesboro, Arkansas, and their home was completely destroyed. Unbelievable.
Adding the stress of losing your home in a sudden natural disaster to the challenges a doctor's family already faces with this pandemic is just too much.
This is where the generosity of strangers comes in, reminding us that even in the darkest times the light of human kindness continues to shine.
Alyssa Burks' friend Evan Clower set up a GoFundMe for the Burks family, writing:
"After the Coronavirus and having to be separated for weeks due to his residency, a tornado hit the Burks family home and destroyed it. They are going to need help picking up the pieces so that they can find another place to live, collect their items, rebuild, all while Jared is working and fighting for those who health may be compromised."
Clower set the goal for $2,500. Two days later, more than $113,000 has been raised, largely by strangers who found out about the tragedy from the news.
"I don't know this family but the story touched me very personally," wrote one donor. "In 1967, my family had our home destroyed by a tornado. I am donating with that memory in mind, in hopes that they can rebuild their lives soon and also in thanks for all their family is sacrificing during this time."
"The picture and story of Jared/his son just touched my heart," wrote another. "Not only is Jared putting himself at risk every day treating patients at the hospital, but to lose his home to the tornado is simply unfathomable. I felt it was my duty and an honor to donate to the Burke's Go Fund Me. God Bless You."
Donations have flooded in from around the world, with nearly 3,000 people donating. What a beautiful outpouring of support for one of our medical soldiers and his family at a time when many are struggling financially themselves.
Times are tough and people are amazing. Let's keep remembering that as we make our way through this pandemic together.