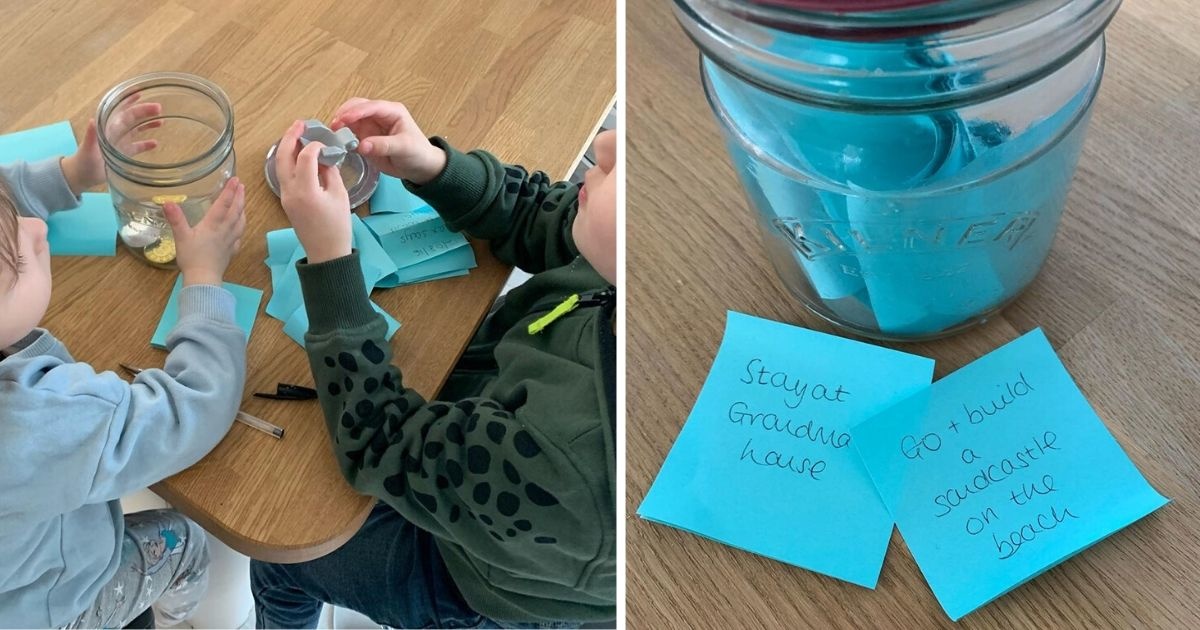 We're in our millionth week of social distancing and staying at home, or at least that's how it feels some days.
I keep thinking about my kids, and how much longer this must feel for them. Kid time isn't adult time. Not being able to play with friends or go out to familiar places for weeks on end will feel like years in their memories.
---
One mom shared a simple idea on Facebook that's resonating with thousands. A quarantine "bucket list" of sorts that gives both kids and adults a place to put their frustration or sadness over the things they miss doing.
Katie Eborall wrote:
"We've started a new thing in our house today and sharing it in case anyone else wants to try. Every time we wish we could do something, go somewhere, treat ourselves, see someone we love, visit a new place, invite people to visit us, we're going to write it down on a post it note and put it in a jar. When all this is over this will be our bucket list and we'll work our way through the jar and be more grateful than ever for the little and lovely things in our lives. Until then we'll enjoy watching the jar fill up with magical things to look forward to."
The sample notes in her photos include simple joys: "Stay at Grandma's house," and "Go and build a sandcastle on the beach."
It's honestly heartening to see that this family is NOT going to Grandma's house or to the beach and adhering to the stay-at-home orders to slow the spread. But it is a reminder of what we're sacrificing to save lives.
It's all too easy to say things like, "It could be worse," or "We still have so much to be grateful for," and those things are true. However, it's also important to acknowledge that what we're doing isn't easy, and this activity gives everyone a chance to honor the feeling of missing things in a healthy and positive way.
It's a physical outlet for an emotional reality, and an easy one for anyone of any age to utilize.
Sometimes the best ideas are the simplest ones. Well done, Ms. Eborall. Thanks for the inspiration.