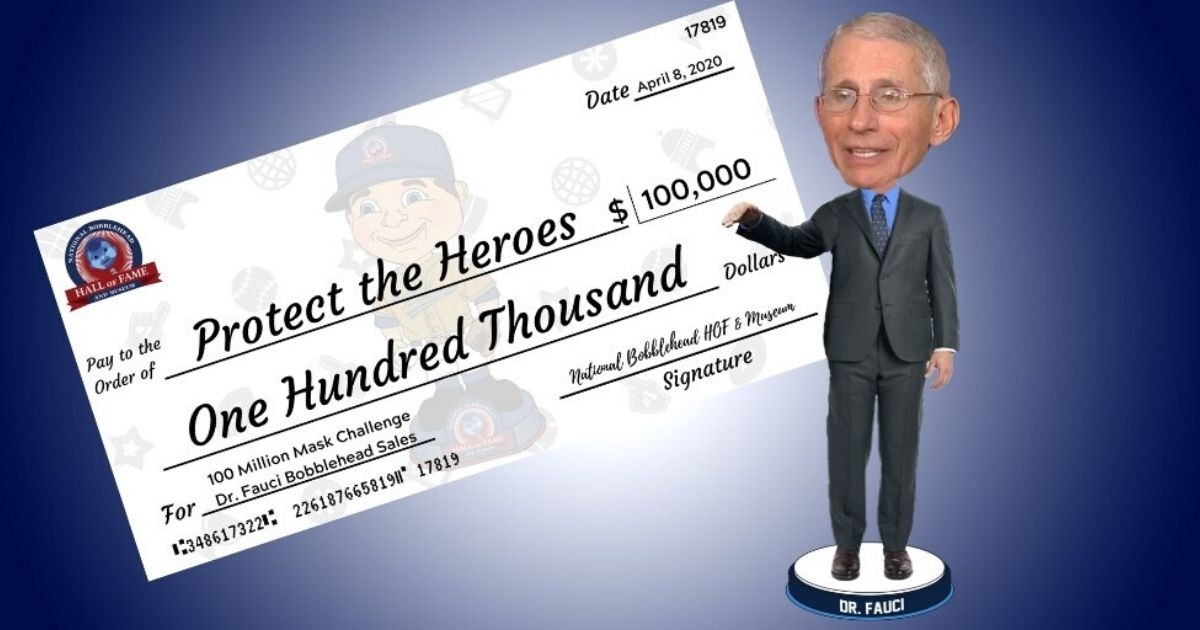 The National Bobblehead Hall of Fame and Museum recently announced that it was designing a Dr. Anthony Fauci bobblehead. The NBHFM pledged to donate $5 of each sale of the $25 item to support the 100 Million Mask Challenge—an initiative of the Protect the Heroes Campaign that is trying to increase the supply of surgical masks for medical workers during the coronavirus pandemic.
Less than a week later, they've already had enough pre-sale orders to raise over $100,000 for the cause.
---
Dr. Fauci has become a folk hero of sorts during the pandemic. As the Director of the National Institute of Allergy and Infectious Diseases, a position he's held since 1984, Dr. Fauci is one of the expert faces of the White House's coronavirus response team. He has brought a measure of professionalism and expertise and well-informed calm that's been praised by people of all political persuasions, so it's no wonder there's such a demand for a bobblehead of his likeness.
The NBHFM announced on its Facebook page that as of last night the Dr. Fauci bobblehead had become the best-selling bobblehead of all time.
NBHFM co-founder and CEO Phil Sklar described to ASI the multiple goals of the Fauci bobblehead sales.
"We will continue these efforts to raise funds to defeat COVID-19 and keep the nation's first responders safe while making people smile during these unprecedented and difficult times," he said. "I also hope we will inspire other businesses and individuals to help others during this pandemic with their unique talents and capabilities."
Dr. Fauci was asked on Fox News for his thoughts on the bobblehead, to which he laughed and replied, "You know, I'm sorry, but I can't get involved with that peripheral stuff. Bobbleheads—that's nice if someone wants to do it, but I have other things to worry about."
Yes you do, Dr. Fauci. And we're oh so grateful for it.
The Dr. Fauci bobblehead can be preordered here.