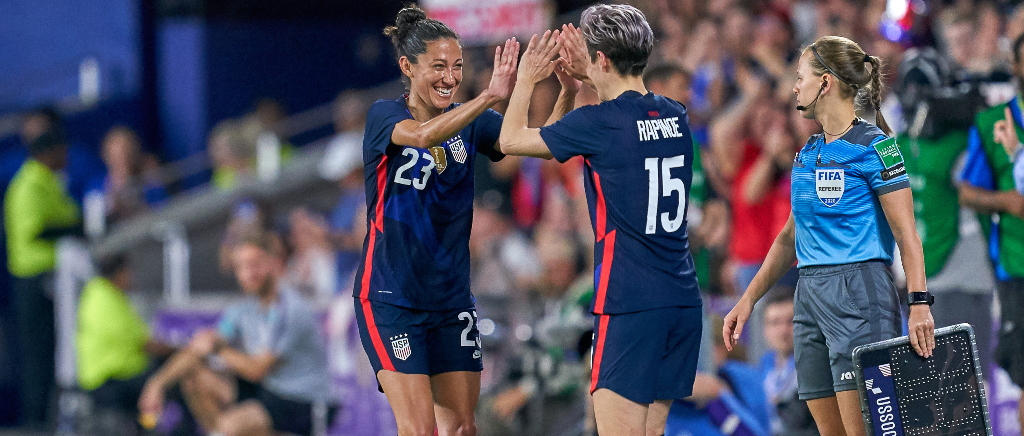 Aside from being teammates for the United States Women's National Team, Megan Rapinoe, Tobin Heath, Meghan Klingenberg and Christen Press are also the founders of re—inc, a purpose-driven lifestyle and streetwear brand. With a mission of redefining the status quo, the co-founders sought to design a clothing line that is gender neutral and allows for individual expression.
Following the success of the company's first clothing collection in November, the second release, a black and white ensemble, dropped on Friday. The BW Capsule features clean and smartly designed t-shirts, hoodies and sweatpants as well as dad hats, beanies, socks and more. According to the re-inc website, five percent of capsule sales through April 22 will go to #GetUsPPE, a national organization that works to get personal protective equipment to healthcare providers on the frontlines of the COVID-19 pandemic.
We spoke with Rapinoe, Heath, and Press about the capsule, what it's like to work with your teammates, and how re-inc balances its role as a high-end streetwear brand that is made for everyone.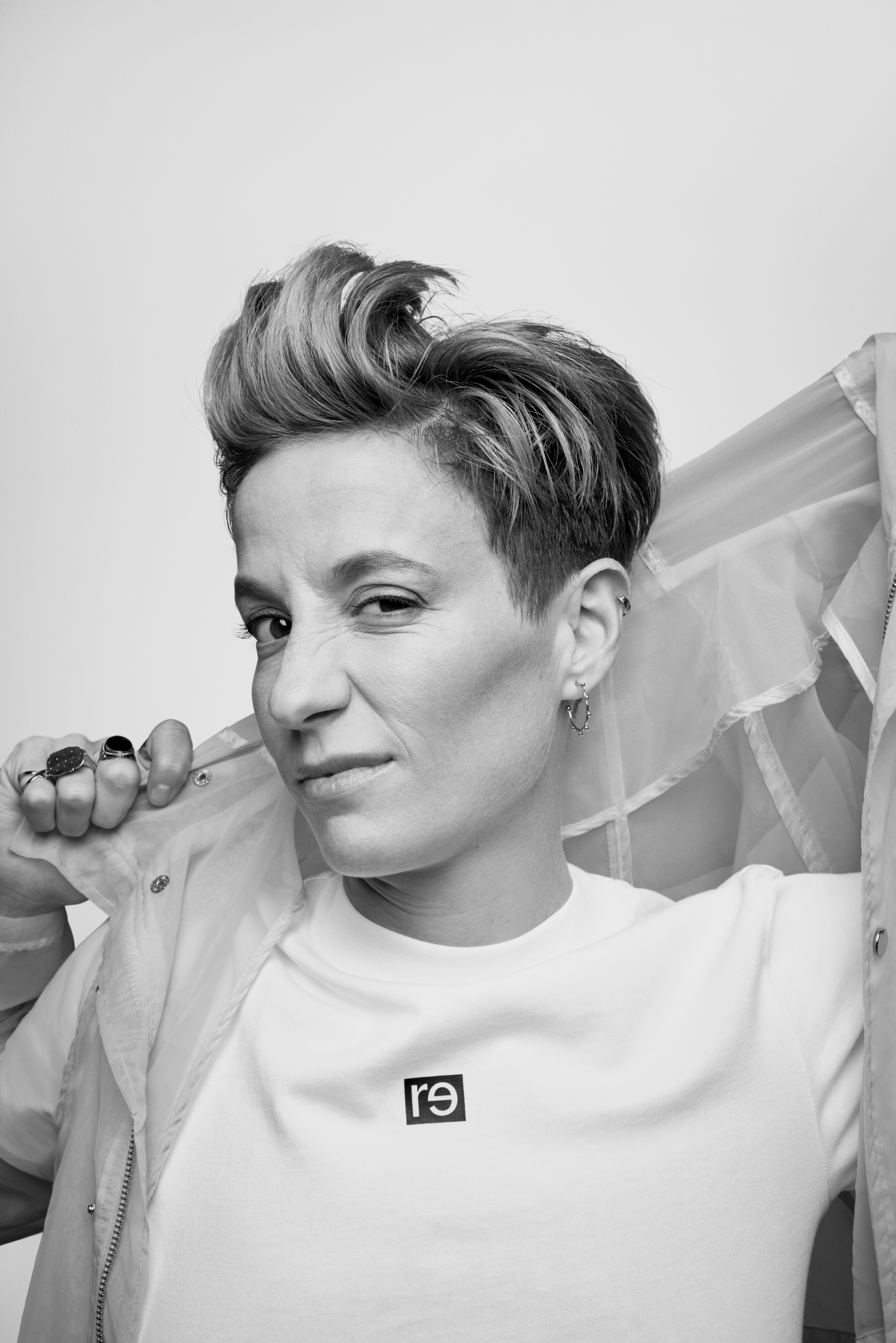 Why did you choose black and white for your next clothing collection?
Tobin Heath: Well, black and white is obviously super wearable, but the story was also about how our company, re, was founded through this tension that exists when you're trying to reimagine the status quo. Out of this idea of fighting against something and we wanted to change that narrative — to fight for something. So we knew we wanted to drop the black and white capsule as a nod to that. Our black and white capsule is our story of how our company was born and the story that we continue to tell ourselves in everything that we do — no matter how hard the imagination process is, that it's worth it and that together, we can be even stronger.
Your first capsule, RWB, was popular and many of the items quickly sold out. What does your success mean to you and what have you learned from the first release?
Christen Press: I think the whole process of starting something has been really humbling and we've all been venturing into unknown territories, which is fun. I think it was beautiful that we were able to co-opt the clothing line that was rooted in something other than commercialism. It was about re-imagining patriotism and especially during the course of the year when we were representing our country at the World Cup. And one of the biggest things we learned was how important that was for our community, to be buying in to re-inc. It wasn't just about product — it was about product that was a symbol of the change, and that's something we want to bring to every capsule and every product that we do.
We're so intentional and we're so careful because this isn't [merchandise] for us. This is handcrafted goods and clothing and creative pieces that we've designed ourselves, with our own hands, and we've been there for every step during the process. So it's really personal.
What does it mean to be able to have your own company, create your own products and build out your own vision?
Rapinoe: Seeing it come to life is obviously so rewarding. We knew that this could be successful, so it's kind of like, yeah, we knew this was going to happen. But it's also like we're putting something out there, this idea of something better and re-imagining the status quo, and so being successful means that other people are feeling that as well. So I feel like we're giving a voice and tapping into something that hasn't really been tapped into in the way that we're doing it.
I think streetwear, as a whole, often has to find the balance between being available to a wide range of consumers while also remaining somewhat exclusive. On the other hand, the communities that re-inc seems to be targeting with its clothing, like the LGBTQ+ and minority communities, are also the ones who are more likely to struggle financially and might be unable to purchase a lot of your clothes. How do you reconcile those two elements with your company?
Press: I think that what we have decided to do is to strike a bit of a balance. We welcome all members of our community to participate by offering them space to share their thoughts, to learn, to grow, and we'll hopefully continue to do that as we grow. And then we're also hoping to provide products at a range of price points, so if someone isn't able to afford the full suit, perhaps they can buy in with a pair of socks or a hat. So, we've actually expanded our range of products to be more inclusive.
At the same time, when you're building products of super high quality that are sustainable and doing really limited drops in order to reduce the production, it does come at a certain price point. So that's where we've struck the balance, we've actually come in at kind of a lower end of a luxury brand. The prices are significantly lower than the ones of a high luxury brand and that's because we want it to be accessible to a lot more people. But at the same time, I think it's a fair price for the value of all that we put into this, from the designs to the quality of production, and to hopefully the overall experience that a customer will have when they shop our line.
What has it been like to work with your teammates and friends who you've known for so many years?
Megan Rapinoe: It's actually been really so amazing. One of the things that our company was born out of was all of us feeling a little boxed in. Obviously, we've been athletes our entire lives and it's always, "Oh, you're the creative athlete or the athlete that likes fashion or the athlete that does this," so that was a big genesis for us when we first started this. Then, to be in the company, we've all given each other space to be something completely outside of what we normally know each other, and that's the really beautiful part of all of this. When we step off the field, I'm not thinking of Tobin as a really creative athlete. I'm like, this is our lead designer, she's our artist and she's coming up with all of these crazy ideas that we're sort of charged with bringing to life. And Christen's running the company — I don't see her as my teammate, I see her as the CEO of the company.