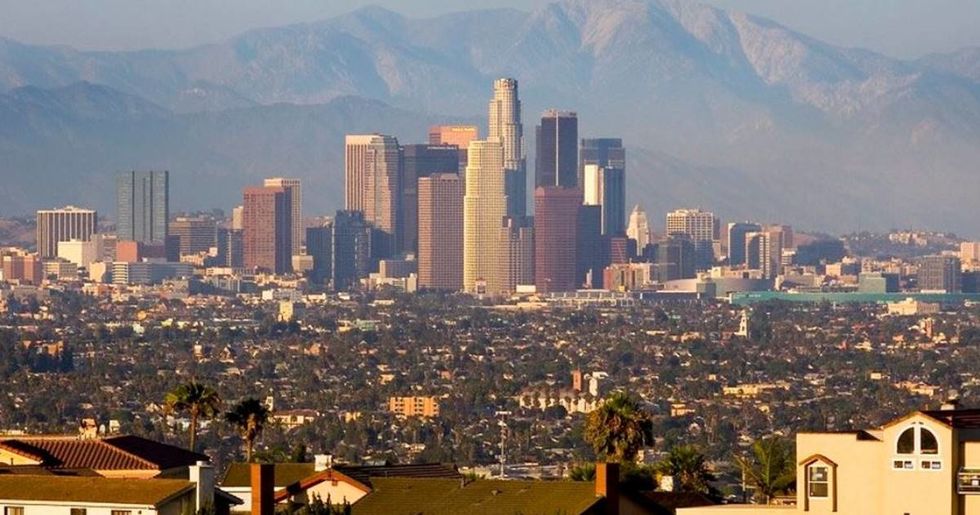 Human activity has drastically slowed over the past few weeks giving us a glimpse into what the world might look like if we weren't around. One of the most dramatic changes that we can see with the naked eye is an improvement in air quality over major metropolitan areas.
People around the world are truly excited to see clear skies and vistas that were previously obscured by pollution.
---
Improved visibility is a wonderful gift but what's more important is a reduction in what we usually don't see in the air: atmospheric particulate matter or PM2.5.
Atmospheric particulate matter has a diameter of fewer than 2.5 micrometers, which is about 3% the diameter of a human hair. It is produced by cars, power plants, agricultural burning, airplanes, and volcanic eruptions.
The pollutant is a major health risk because it can lodge deep inside the lungs and pass into the organs and bloodstream causing damage that can be fatal.
Air pollution, in general, is a major health risk. According to the World Health Organization, it kills seven million people a year.
Researchers from IQAir — a global air quality information and tech company — studied ten major cities around the world that had COVID-19 outbreaks and stringent lockdown measures, to see how those policies affected the air quality.
The cities it studied are: Delhi, London, Los Angeles, Milan, Mumbai, New York City, Rome, São Paulo, Seoul, and Wuhan.
The study found that cities with the world's worst air pollution saw a reduction in deadly particulate matter by up to 60%. To get an accurate gauge of the lockdown's effects, researchers studied three-week periods that coincided with the peak number of daily reported coronavirus cases.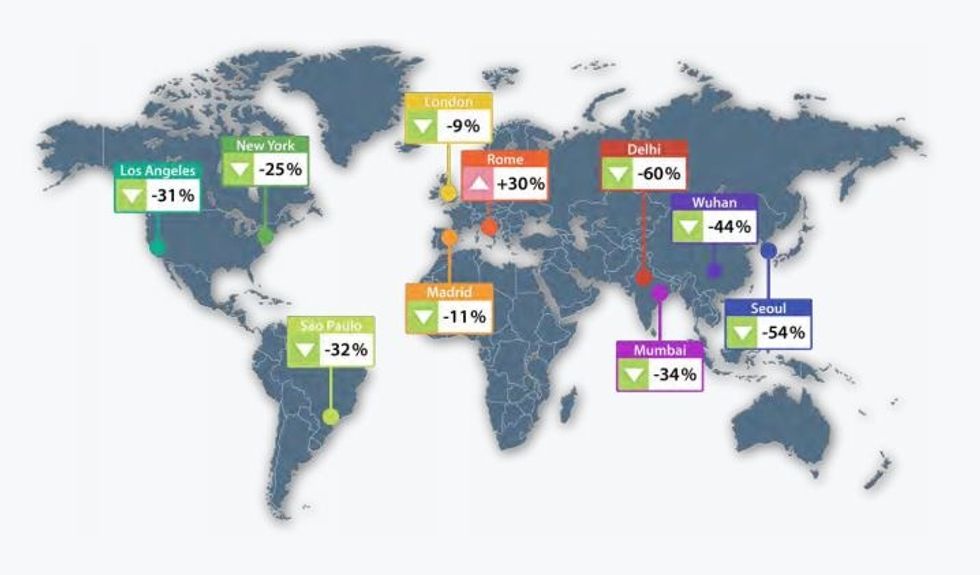 via IQAir
New Delhi, India, one of the world's most polluted cities, saw a 60% reduction in dangerous particulate matter from March 23 to April 13 from the same period in 2019.
Los Angeles, which is known for its oppressive traffic and notorious smog, saw its longest stretch of clean air on record. Particulate levels were down by 31% from the same time last year, and down 51% from the average of the previous four years.
Some estimates suggest that COVID-19 restrictions have taken about 80% of passenger cars off the roads in Tinseltown.
IQAir hopes that after people across the world have experienced the joy of living with clean air they'll fight to keep it that way.
"In our recovery from the pandemic, it's important that we strive to preserve the cleaner environment, which protects our health from another invisible killer, air pollution," IQAir's marketing specialist Kelsey Duskasaid said according to CNN.
"We hope that the urgency in tackling this global pandemic may be matched in addressing air pollution."