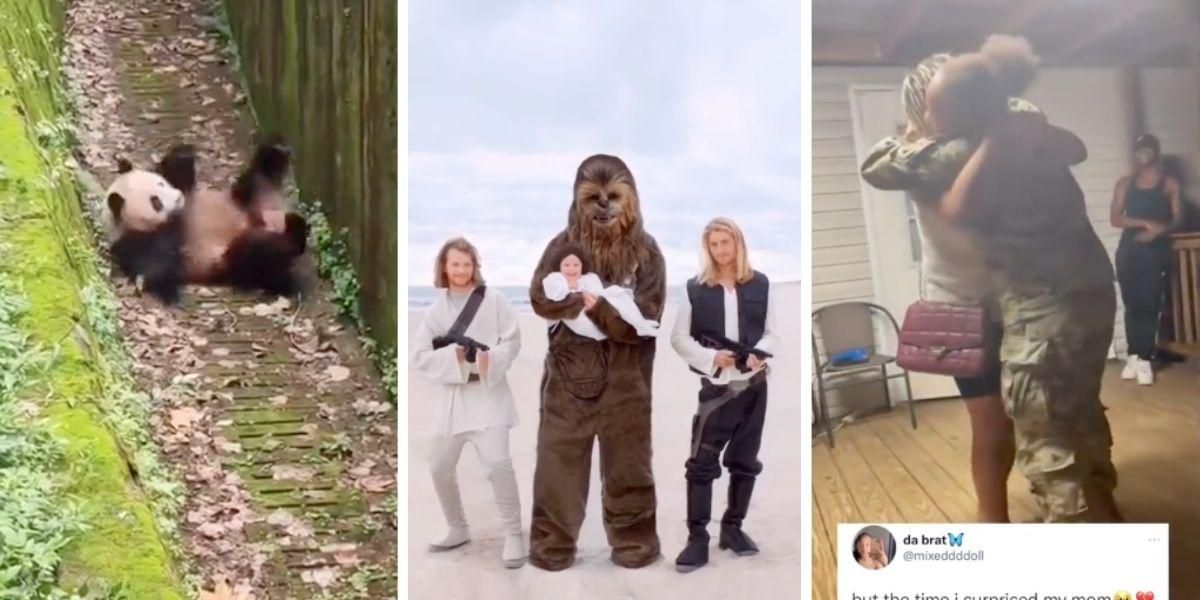 Heeyyyyy, everyone! It's time to share our weekly collection of Hopeful Happy Things, which has frankly become a bit therapeutic for me to pull together. It's far too easy to let the Terrible Trending Things suck up all of our attention, so purposefully focusing on joy and delight feels quite healing.
Check out these 10 things and see if you agree.
---
Bear cubs find a hammock and create delightful chaos.
FLIPPING OUT: These curious cubs are still trying to figure out how to use a hammock. https://t.co/Dy5LGjBIVF https://t.co/pD2fjcAj6F

— ABC News (@ABC)
1633615146.0
How frigging cute are these cubs? Every kid who tries to get into a hammock for the first time understands. Hang in there, cubbies. Hammocks are hard, even for humans.
This beatbox champion's stylings—the beatboxing AND the hair—are too epic.
The :50 second mark 😳🤯 https://t.co/MKgdDwkU0T

— 🐮 Holy Cow! 🐮 (@HolyCow_Inc)
1633621581.0
First of all, holy talent, Batman. I don't even understand what he's doing, much less how, but I'm floored. Go, Show-go, go.
Second, let's talk about the bowl cut/mullet mashup, because that's just all kinds of WOW.
Pandas entertain themselves like toddlers and it's the best thing ever.
We keep pandas from dying out just so they can do this all day.. 😆😂 https://t.co/WWtBtFtB1k

— 💥 Best Videos & Content 🎥💥 (@ClickFollowBOOM)
1633135320.0
More videos of pandas doing somersaults, please.
The way this kiddo talks to his younger sibling is literally the cutest thing ever.
The voice. The sweetness. The emotional intelligence. The consent lesson. This is more than my ovaries can handle. Good job, Mama.
These super big brothers make Halloween epic with their baby sister every year.
That is one lucky baby girl.
There's nothing better than a best friend reunion, but this one will hit you right in the feelies.
3 yrs ago, best friends Stevie & Owen where separated when Owen moved to Missouri

Recently, Stevie had a bad day a… https://t.co/hp3axnIbml

— GoodNewsCorrespondent (@GoodNewsCorres1)
1633261470.0
Love a kid who lets his emotions out. Read the full story here.
Profoundly autistic boy said he wanted friends for his birthday. More than 55,000 people responded.
❤️ A boy with autism said he wished to make friends. On his birthday he got more than 55,000 messages from people a… https://t.co/WEvG5TLkGq

— Kev & Daniel's #autism journey (& Bruce 😉) (@kevharrison_)
1633384009.0
Daniel is profoundly autistic and his parents said that he had never expressed a desire for friends before. They weren't even sure if he fully grasped the idea of friendship. His dad shared his birthday wish on Twitter, and birthday greetings poured in from unexpected places. Read this beautiful story here.
We all need this reminder of how powerful and life-changing teachers can be. 
"My teacher said I'm an artist!" and that's all it took for this kid to proudly display his artwork. Teachers are superheroes with incredible powers.
Surprise veteran homecomings never get old. This one is just pure joy. 
If that doesn't make you smile (and then maybe cry a little), then I don't even know. Splash some cold water on your face or something and make sure your heart is pumping.
Seriously cannot get enough of Abby, the donut thief superhero.
This isn't new, but I'd never seen a compilation of this cutie's verbal gems before. Too hilarious. I did a little digging and found out the family has a TikTok channel (@alongcameabby), so excuse me while I go bingewatch a precocious preschooler for hours.
Hope that lifted your spirit! Keep an eye out next Friday for another round-up of happiness. 🙂