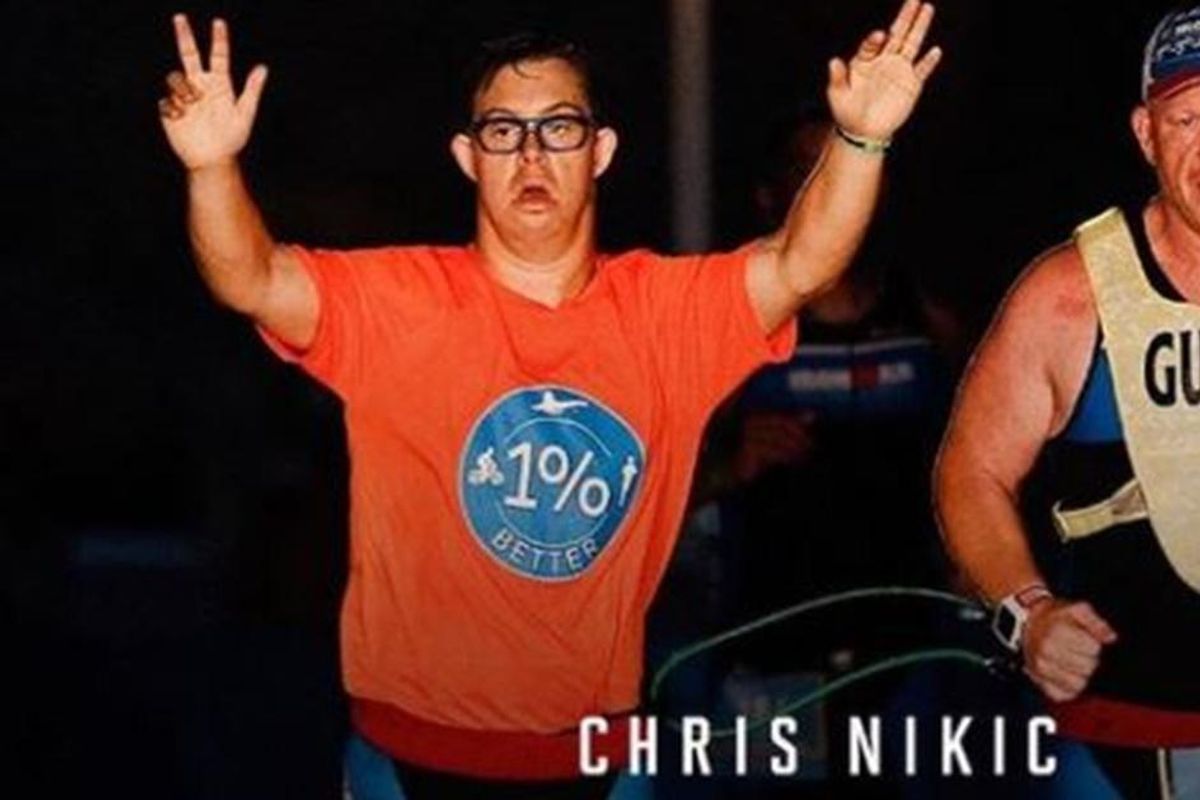 The great Taoist philosopher Lao Tzu is known for saying, "The journey of a thousand miles begins with one step." It's a simple but powerful way of approaching goals by seeing them as a series of simple actions, rather than a massive undertaking.
Chris Nikic, 22, has a similar life philosophy that he says helped him become the first person with Down syndrome to complete an Ironman. An Ironman is an incredible feat of endurance where athletes must complete a 2.4-mile swim in open water, a 112-mile bike ride and a full marathon of 26.2 miles, in 17 hours or less.
In November 2020, Chris completed his first Ironman at Panama City Beach, Florida.
Chris attributes his success by trying 1% more every day. That could mean an extra push up, a few more seconds on the treadmill or one more sit up. "It represents me better than I was yesterday," Chris told News 6.
Chris' father, Nik Nikic, says the philosophy is a way for people to achieve great things without overdoing it and injuring themselves. It also prevents people from biting off more than they can chew and giving up.
---
"1% is pretty powerful," Nik told Today. "Our hope is that people can take it and apply it in their life. It's a really simple way to get them started on that journey to achieving their potential."
Nik has seen these small incremental changes result in big improvements in Chris' performance.
"He always does a little bit more or a little bit faster each time," Nik said. "It requires a lot of patience to do the 1% … This is designed to be easy and long-term sustainable."
Chris also follows three rules to create lifelong habits. Rule No. 1 is have fun. Rule No. 2 is "there can't be any residual pain." Rule No. 3 is "always just one more."
The 1% philosophy can be applied to a lot more than running a marathon. Imagine if you got 1% better at any skill. After 100 days, you'd be 100% better than when you started. The philosophy can apply to anything from learning a musical instrument to improving your parenting skills.
Eating 1% better every day could completely transform your body in just a few months.
All you have to do is create a plan and stick to it.
Chris and Nik have outlined their philosophy in a new book "1% Better: Reaching My Full Potential and How You Can Too." The book explains how Chris implements the philosophy to achieve his goals such as completing the Ironman or the Boston Marathon.
Nik believes that Chris' achievements are about a lot more than just meeting his personal goals. They give people with Down syndrome a road map for independence.
"The message that we wanna send is: It takes us as parents to be willing to trust to have our kids really be included in the rest of the world," Nik said. "When other people start doing for you, you're not gonna get the benefits of life. You're always gonna be counting on someone else. So our kids need to do more for themselves."