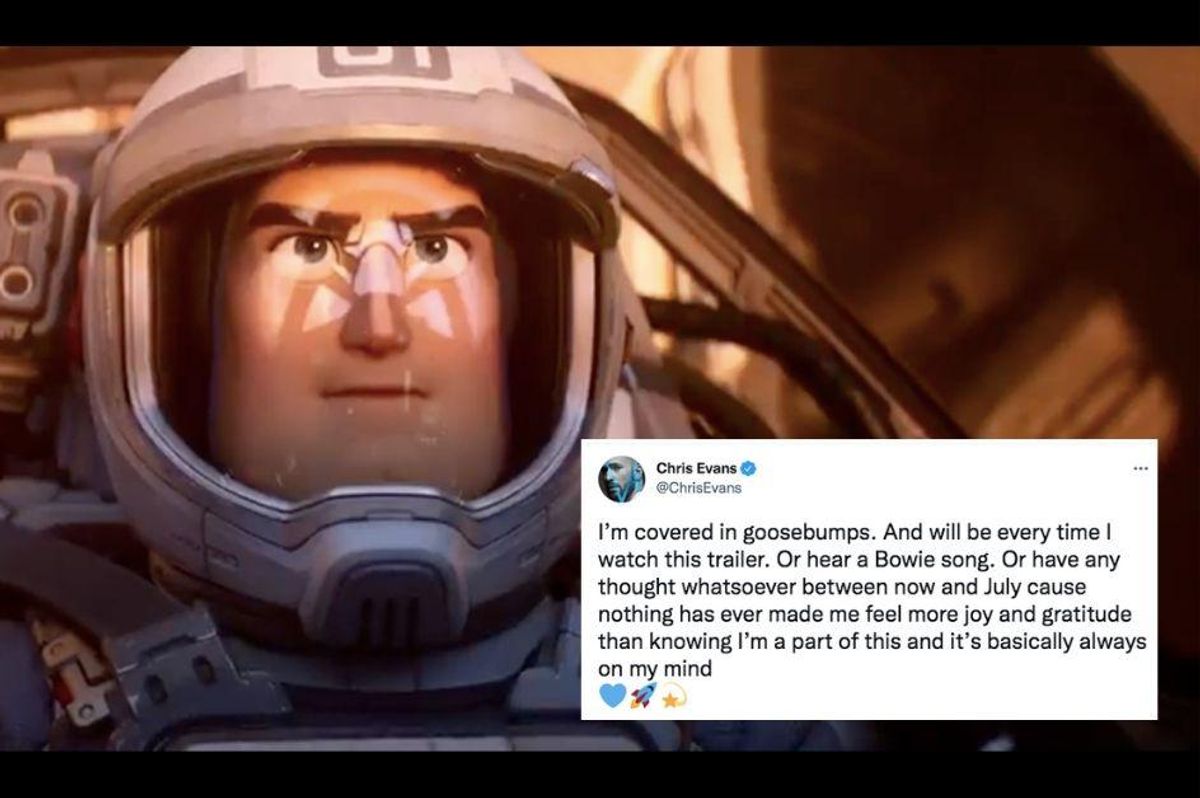 Chris Evans was already skilled at squeezing hearts on social media, cavalierly sharing sweet pics of his adorable dog and piano-playing videos on Instagram, as if we could just casually watch him be a near-perfect man without swooning. And now he's being even more delightful with his gushing giddiness over getting to play his dream role.
The guy is already best known as the studly Marvel superhero Captain America, so what could possibly top that? Pixar, apparently. Evans' ultimate acting dream is being in a Pixar movie. And now that dream is coming true, the most eligible of the Chrises could not be cuter in his expressions of joy.
Sharing the new trailer for "Lightyear"—Pixar's origin story about the astronaut the Buzz Lightyear toy was based on in the "Toy Story" universe—Evans wrote on Twitter:
"I'm covered in goosebumps. And will be every time I watch this trailer. Or hear a Bowie song. Or have any thought whatsoever between now and July cause nothing has ever made me feel more joy and gratitude than knowing I'm a part of this and it's basically always on my mind."
---
I'm covered in goosebumps. And will be every time I watch this trailer. Or hear a Bowie song. Or have any thought w… https://t.co/iANN0R8WDG

— Chris Evans (@ChrisEvans)
1635340589.0
We barely get to hear his voice in the trailer, and yet it still looks like it's going to be awesome. (Note: He later corrected himself—the film's release date is June, not July.)
Evans has been bursting with joy and sharing his delight every chance he gets. He wrote on Twitter that animated movies were an enormous part of his childhood: "They were my escape. My adventures. My dreams. They were my first window into the magic of storytelling and performing."
He also shared this statement:
"The phrase 'a dream come true' gets thrown around a lot, but I've never meant it more in my life. Anyone who knows me knows that my love for animated films runs deep. I can't believe that I get to be a part of the Pixar family and work with these truly brilliant artists who tell stories unlike anyone else. Watching them work is nothing short of magic. I pinch myself every day."
Animated movie were an enormous part of my childhood. They were my escape. My adventures. My dreams.

They were my… https://t.co/pDwsGHs2jt

— Chris Evans (@ChrisEvans)
1635344041.0
Evans shared an equally adorable post about the film last year on Instagram when he first got the part.
"Working with Pixar is a dream come true. I've been a massive fan of their films since the very beginning. My team could barely contain their excitement when they told me that Pixar had a pitch for me. All they said was 'Buzz Lightyear'. I didn't know what that meant, since Tim Allen is Buzz Lightyear, and no one could ever touch his performance. I needed to know how this character was different and why this story was worth telling. I can say 2 things with absolute confidence:
1. I didn't stop smiling through the ENTIRE pitch. Ear to ear.
2. Everyone can rest easy. And get very excited.
Trust me when I say that they REALLY know what they're doing over there. This one is gonna special, and it doesn't step on a single thing. I can't even put my excitement into words. I smile every time I think about it."
Be cuter, Chris.
Some people are making a big deal of the fact that it's Chris Evans voicing Buzz Lightyear in the origin film instead of Tim Allen, who played the action figure in all four "Toy Story" movies. However, "Lightyear" isn't a movie about the toy; it's about the real astronaut (real within the "Toy Story" world, anyway) that the action figure is based on.
Evans' delight is contagious, and fans are giddy for him. Few of us get to live out a childhood dream like this, and Evans seems like just the kind of all-around good guy who deserves it.
I mean, look at this video of when he met his doggo, Dodger.
And watch the man playing piano.
chris evans blessing us with another piano video 🎹 https://t.co/oTVMNcHQtO

— comfort for chris stans (@safeforchris)
1635265376.0
I mean, come on. That's just not even fair.
Congratulations on your dream come true, Chris Evans. We're all thrilled to be along for the ride with you.