Tequila is going through a moment right now. The spirit is enjoying a renewed popularity, new expressions are entering the scene, RTD brands are reaching for agave more than ever before, and just about every celebrity who has ever been photographed with a glass in their hand is launching their own brand in the hopes of jumping into the booming market.
This brings us to Los Sundays, a new brand that attempts to reimagine the spirit in the image of modern millennials and the few zoomers old enough to drink. You won't find old-fashioned labels or bottle shapes that would go unnoticed in a period-era film about Mexico. Instead, Los Sundays give us something that defies our expectations of what a tequila brand should look like.
Visiting the website will reveal just how different Los Sundays looks from your average tequila brand. They showcase young hip models drinking margaritas (a stark change up from old salt and pepper celebrities riding motorcycles through dusty agave fields), and even have a merch section that features streetwear-inspired basics like crew neck sweaters with slogans like "tequila kills."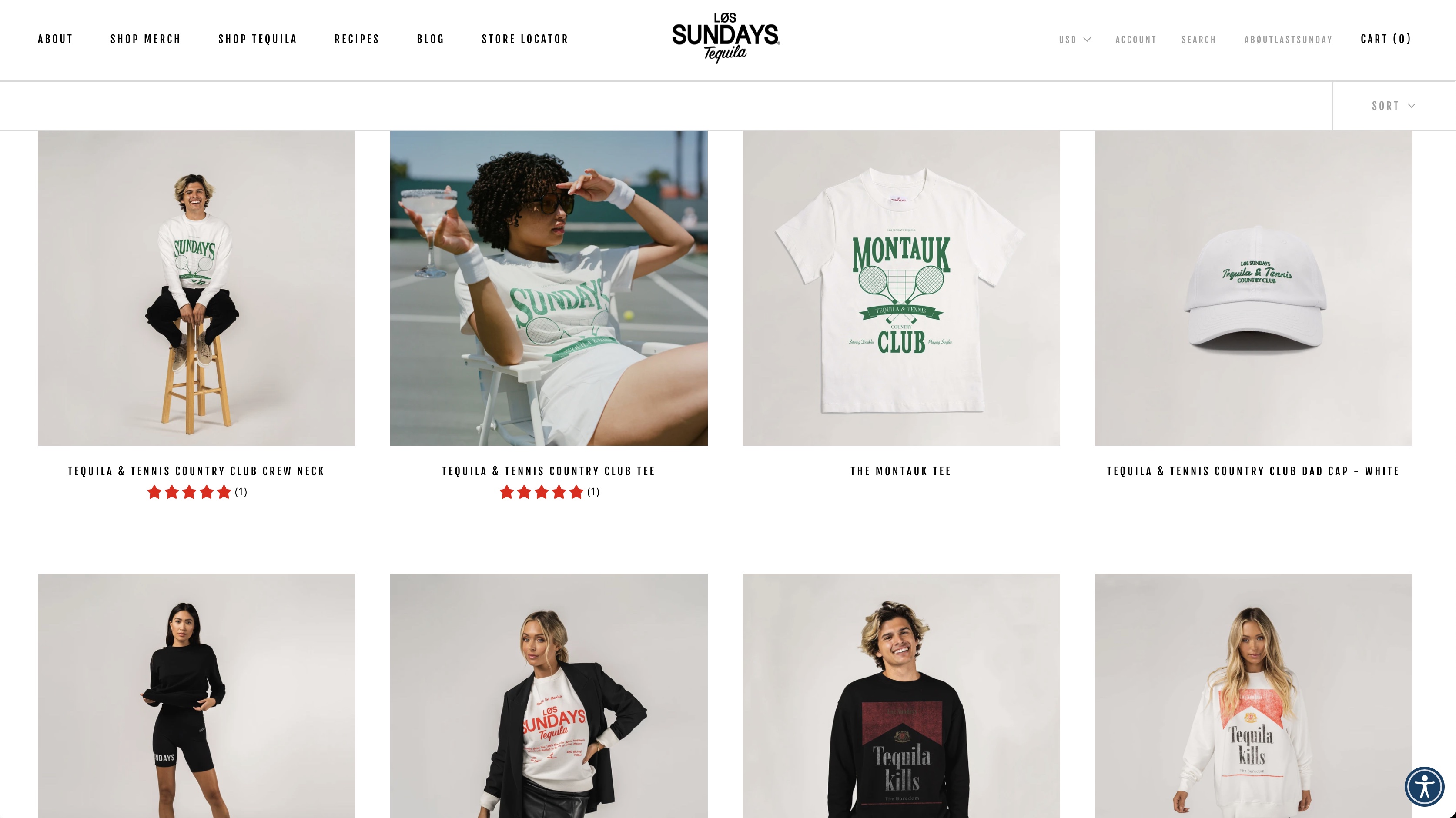 Positioning yourself as something different is cool, but streetwear and models aside, they also do it in the most annoying way possible. The brand describes itself as "sustainably farmed and naturally gluten-free, made from a blend of highland and lowland 100% Blue Weber Agave that is traditionally cooked and distilled in the heart of Jalisco Mexico at one of the most award-winning distilleries." Which is full of so many Millenial-baiting buzzwords that it'll make your head spin.
That all sounds great, sure, but it gets to me that Los Sundays makes a point of mentioning that it's naturally gluten-free. No shit. It's tequila. Of course, it's gluten-free. The website doesn't stop there though, "Not your standard-looking tequila company right? That's because we aren't. We are unlike anything you have seen or tasted before."
Ok, calm down Los Sundays. The NOM (distillery number) on the bottle reveals that this tequila is made at Destiladora del Valle de Tequila which currently has 146 brands being produced under their roof. Interestingly, they also used to make Costco's tequila.
Anyway, that's a big game to talk so we put those claims to the test by tasting two of the brand's three expressions, their blanco and reposado. Los Sundays also make a coconut-flavored tequila that we were unable to get our hands on. Since its existence, the brand has swept up a considerable amount of attention at the San Francisco Worlds Spirit Competition as well as the Consumer SIP awards, so we have high expectations. But consider our expectations tapered since this is from a distillery that makes tequila for 146 brands.
Let's drink!
Los Sundays Blanco
ABV: 40%
Average Price $36
The Tequila:
Los Sundays' Blanco is double distilled and features a blend of highland and lowland agave. The idea behind choosing a blend is that you'll get some of the smooth floral notes of highland tequila grounded a bit by the earthy bite of lowland agave.
We'll see.
Tasting Notes:
Sweet fruity notes reveal themselves on the nose which leads to a remarkably smooth flavor with a mellow profile. Vegetal notes are barely there on the backend but are mostly masked by soothing vanilla coolness that makes this one of the most refreshing blancos I've ever tasted at this price point.
I'm actually blown away by just how smooth it is. There is no bite here, so if you like your tequila with some edge, you're not going to dig this.
The Bottle:
So far so good, but then we get to Los Sundays most divisive quality (aside from the name) the bottle, or more accurately the label. The construction of the bottle itself is great, a nice thick glass with a simple shape that's easy to grab with a little embossed palm tree.
I dig it, but I'm less in love with the label. The varying typefaces, the minimalism of it all, it wouldn't strike me as new, sexy, or modern if I was scanning the tequila aisle at a BevMo. Instead, it strikes me as cheap.
The Bottom Line:
Smooth, refreshing, and highly drinkable. It leans a little too sweet for my personal taste, but it'll be hard to find someone that this expression doesn't appeal to. At this price point, this tequila is far smoother than its similarly-priced counterparts. If you're looking to impress on a tight budget, this is the play.
Ranking:
80/100 — It doesn't blow me away, but this is simply a solid bottle of blanco tequila.
Los Sundays Reposado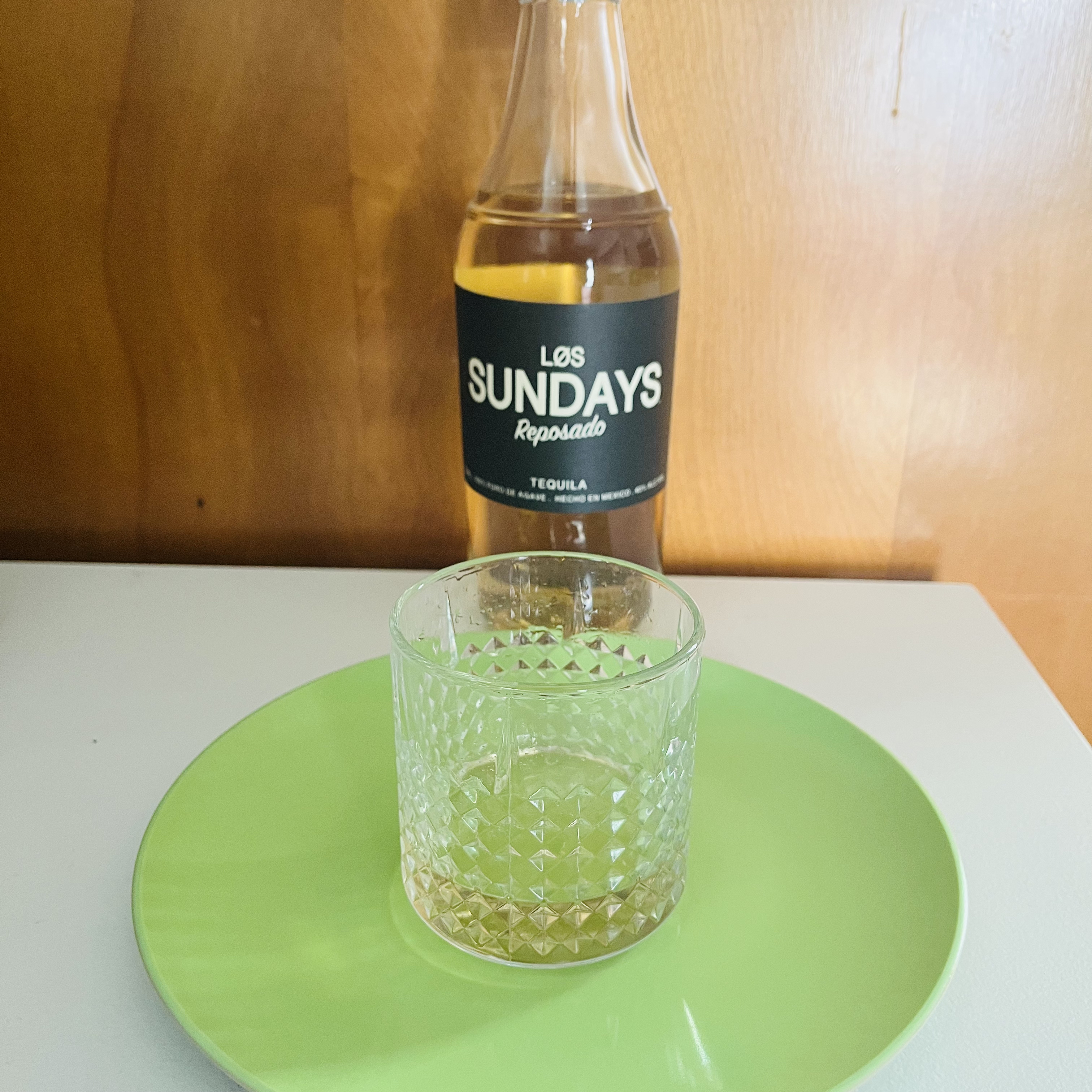 ABV: 40%
Average Price $39
The Tequila:
For Los Sundays' Reposado, the brand takes its blanco tequila and rests it in American Oak whiskey barrels straight out of Tennessee for just under twelve months. The results give off a mellow golden hue and provide noticeably sweeter notes on the nose.
Tasting Notes:
Los Sundays reposado is an improvement over the brand's already delicious blanco. Those sweet enveloping notes of vanilla that I mentioned really jump out at you from the glass and on the palate the flavors of caramel and caramelized fruit (I'm getting roasted peach) collide and settle into a strong honey finish that goes down way too easily. Seriously, this stuff is too easy to drink, you could kill a glass without mixers or chasers.
The Bottle:
Same bottle as before but with a black label instead of the red. Tequila brands generally save black labels for añejo and even extra añejo expressions, so Los Sundays choosing black to represent their reposado feels like the brand trying to be subversive for the sake of being subversive.
It actually, surprisingly, doesn't bother me. Maybe because in the back of my mind I'm hoping that when Los Sundays finally launch an añejo they take it as an opportunity to give us a vintage-inspired label. Knowing the brand though, they're going to do something unexpected like give it a green label.
The Bottom Line:
For under $40 with a flavor profile this characterful and smooth, Los Blancos Reposado punches way above its weight class. If you're starting anywhere with the brand, start here.
Ranking
90/100 — This is one of the best reposado tequilas I've had in a while. It doesn't quite operate on the same level as the similarly priced reposado, but it'll definitely appeal to a wider crowd thanks to its sweetness and ultra-smooth qualities.