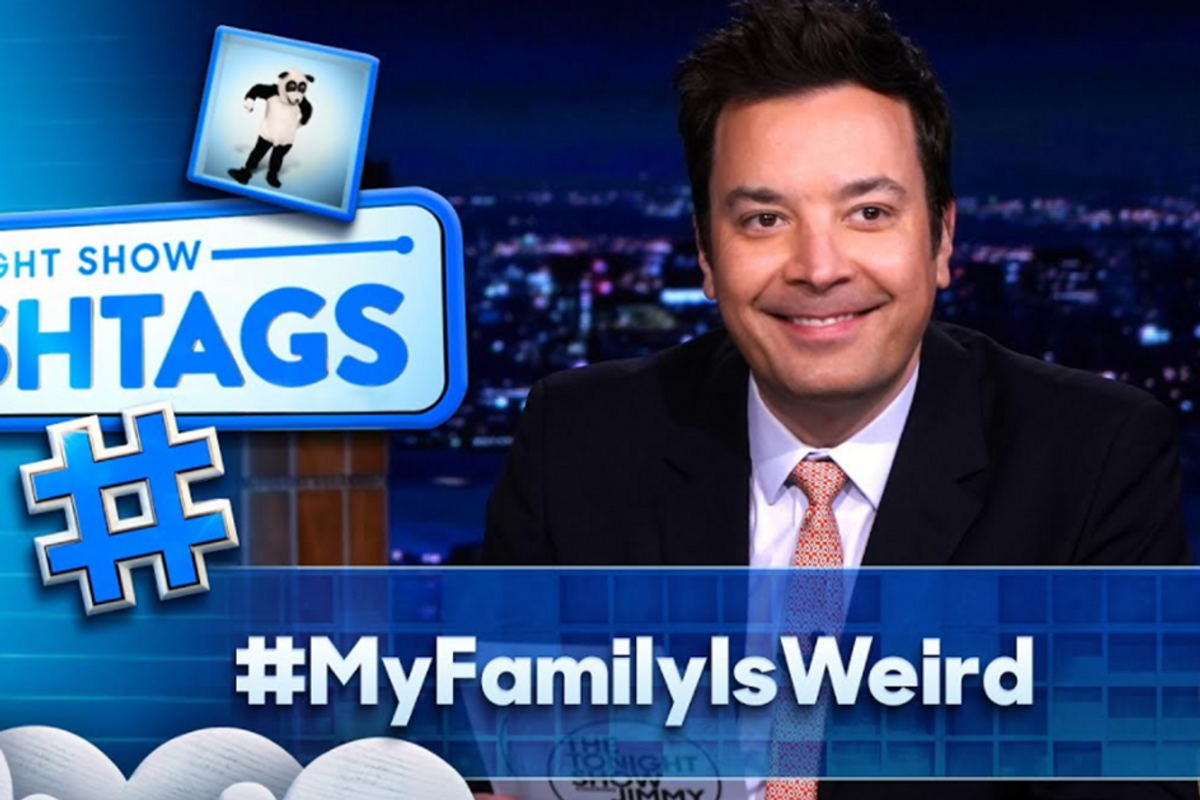 It's that time of year again, the holiday season is when we get the pleasure of spending way more time than we're used to with our families. For those of us who've moved away from our immediate families, the holidays are a great time to reacquaint ourselves with old traditions and to realize that some of them may be a little strange.
Every family seems to have its own brand of weirdness. In fact, I wouldn't trust anyone who says that their family is completely normal.
On November 18, "The Tonight Show" host Jimmy Fallon gave everyone a reason to celebrate their unique families by asking them to share their favorite stories under #MyFamilyIsWeird. The responses were everything from odd holiday traditions to family members that may have a screw (or two!) loose.
Here are 17 of the funniest responses.
---
It's Hashtags time! Tweet out a funny, weird, or embarrassing thing a family member has done or said, and tag it with #MyFamilyIsWeird. Could be on the show!

— jimmy fallon (@jimmy fallon)
1637264081
1.
At Thanksgiving, my family sings "Rock The Boat" every single time we pass the gravy boat from one person to the next. #MyFamilyIsWeird

— PDB435 (@pdb435) November 23, 2021
Could this be because someone spilled the gravy boat years ago and no one wants to eat dry turkey or potatoes again?
2. 
When I was just starting high school my older brother rode the bus with me, he bent over to pay and get off the bus when he split his shorts down the middle, no underwear on for everyone to see, he turned to me and said, I get to wear the underwear tomorrow…#MyFamilyIsWeird

— Ian (@TheLast_Ian) November 18, 2021
Now, that's some quick wit.
3.
Every Thanksgiving, my family hides a sweet potato in the house. Whoever finds it first gets $20 and a six-pack of Miller High Life. #myfamilyisweird

— Renee Jordan (@ReneeJordan78) November 22, 2021
Do they have to drink the entire six-pack of the "Champagne of Beers" that day, or can they take the leftover bottles home? Also, thinking about starting this tradition with my family. Who fronts the $20?
4.
My grandmother lost her dentures once and we spent 4 hours searching the house for them before she remembered that she had put them in her bra. #MyFamilyIsWeird

— Erin (@etes_97) November 18, 2021
Let's hope that grandma found the dentures herself.
5.
Happy #Thanksgiving! Our Family Tradition = More pies than people! 🦃🥧 #MyFamilyIsWeird pic.twitter.com/BiH0QgIWyq

— Alissa A. Arford (@AArford) November 26, 2021
I see no problem with this as long as there is enough whipped cream to go around.
6.
My friend's family has a massive group text, and then a bunch of smaller group texts to gossip about what happens in the big group text. #MyFamilyIsWeird

— jimmy fallon (@jimmyfallon) November 18, 2021
Nothing good ever came out of a family group text.
7.
My family had one of those silver aluminum Christmas trees when I was growing up. One year our TV antenna on the roof blew off in a storm so my dad rigged the tree up instead. We actually got better reception. So we had a Christmas tree on our roof all year long. #MyFamilyIsWeird

— DeeDee SMITH 🌊 #GetVaccinated (@DeeDee_SmithTN) November 25, 2021
That works better than any coathanger or bunny ears that people used back in the day to improve their TV reception. Now, can the Christmas tree pick up HBO?
8.
My mom will always watch a new series by starting with the final episode, and then pretend like she knew the plot the whole time. #MyFamilyIsWeird

— Elise//209 days (@elise_millsssss) November 18, 2021
I wonder how long it took for the family to figure out that she was cheating? Does she also read the last chapter of a mystery novel first?
9.
My parents come from a country where it was the culture to not smile in photos, and thought the same applied here. So I have many childhood photos from happy occasions like birthdays, where we are all staring blankly into the camera like the Village of the Damned #MyFamilyisWeird pic.twitter.com/2egtQCMJWl

— Dumb Jokes Only (@DumbJokesOnly) November 18, 2021
That has to be freaky, especially if they are taking photos with members of the family that were born in the U.S. and some are smiling and others are not.
10.
My mom once hung AND filled an extra stocking from the fireplace… for my boyfriend. I was single at the time. She said it was for if I happened to get one in the couple of weeks leading up to Christmas. Way to rub it in, mom. #myfamilyisweird

— EmmyAnn (@EmmyAnn412) November 18, 2021
Wow. Imagine how annoying her mother gets after she gets a boyfriend and then immediately starts asking for kids and hanging little stockings up by the fireplace.
11.
#MyFamilyIsWeird
Every damn Halloween. My dad. pic.twitter.com/QH8d1JfL0P

— Charlotte Watt (@charleyW1971) November 19, 2021
That's freaky, he looks like the Headless Horseman or Jack Pumpkinhead from "Return to Oz."
12.
When I was younger my mom would always try to set me up with my college professor dad's physics students. I finally said no, they wear plaid pants! Then my grandmother said "it's not what they look like in their pants, it's how they look without them" 😳😖 #myfamilyisweird

— Steel Cowgirl (@Steelcowgirl) November 18, 2021
Eww. Grandma, that's gross. Get your mind out of the gutter.
13.
My Dad, when I was little, found a wild pine tree to use as a Christmas tree, but when he brought it in, it was too big. So to fix it he cut off the TOP. 😳 Wish I could find the picture of it. We laugh about it every Christmas. 😂 #MyFamilyIsWeird

— Donna 🇺🇸 (@dddonnnaaa) November 23, 2021
That had to be a seriously stumpy-looking tree. How in the world did he put a star on top?
14.
My brother decided to come out during family thanksgiving dinner. Right after the blessing – literally after the "amens" – he screamed "I'M GAY!" My mother calmly said "we know" and started cutting her turkey. #myfamilyisweird

— Eleanor Semeraro (@eleanordowling) November 18, 2021
Sometimes, the entire family knows. They're just waiting for you to say it.
15.
I had to teach my dad how to use an iPhone when they first came out. I explained to him that he had to slide to unlock the screen. Rather than sliding his finger across the screen, he stood up from the couch and started sliding his feet in the living room. #MyFamilyIsWeird

— Joey Jweinat (@CosmicJoey415) November 18, 2021
"Slide, baby, slide! Slide, baby, slide!" – "Tootsie Roll" by 69 Boyz.
16.
my great aunt collects vintage dolls.. each year she strips them & repaints them to resemble each of her siblings. She then burns them in a bonfire and sends us Christmas cards with the before and after photos of the burnt dolls.. #myfamilyisweird pic.twitter.com/DW9ksbtlcu

— LUCΛ GUΛDΛGNEGRO ☻ (@LucaGuadagnegro) November 18, 2021
Oh no. Voodoo aunt needs to stop. That is totally not in the Christmas spirit.
17.
My mom found these fall decorations that we all proudly display in our homes. Every year we send texts/post messages saying "The Corncob Cowboy rides again!"
Many jokes ensue. #myfamilyisweird @FallonTonight @jimmyfallon #dickjokes pic.twitter.com/ouqaUd0t5V

— Mirrrrrr (@MirmeeV) November 25, 2021
Does anyone else think this is creepy? This is like a white elephant gift that will never go away.