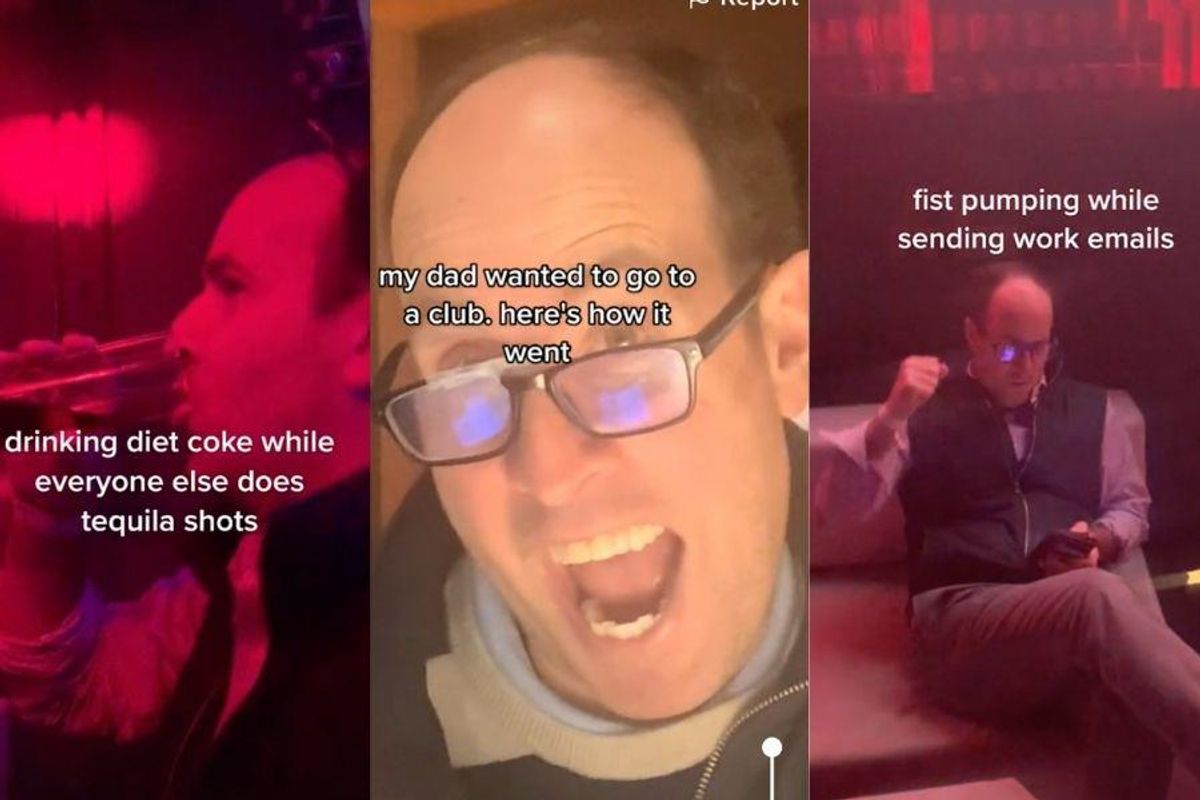 One dad who decided to go clubbing with his daughter is making our day while having the night out of his life.
Talia Schulhof (aka @taliasc) had to know she had all the makings of a viral-worthy TikTok when she posted:
"My dad wanted to go to a club so here's how it went."
If she didn't know before, the now 10 million views are a sure indicator. People are loving this adorably wholesome video.
---
Dad's ultra cool club attire consists of square rim glasses, a button-up top, and, of course, a gilet (because as we all know, the club is a notoriously chilly place).
The ensemble was, undoubtedly, a hit.
"You let him go with a vest on? Let some of the other guys have a chance," one person wrote.
After doing the "classic dad overview of the scene" and snapping a quick selfie for the family group chat, he's ready to party. And by party, I mean he's ready to sip Diet Coke while the rest of the group downs tequila shots.
Flo Rida's club classic "Apple Bottom Jeans" plays in the background, to which dad knows every lyric. He's even seen fist pumping while checking work emails. That's about as "dad lit" as it gets.
The last thing we see is him dancing out of the exit, which Talia explains is to "remind everyone that he's the main character." TikTok seems to agree. One user joked: "He is the main character and we are just living in his world."
Finding the video oddly … relatable? Don't worry, you're not alone. Many people in the comments had the same epiphany.
"The work emails LMAO that's me writing discussion posts at like 11:40 while I'm out partying."
"But that's literally me at the club… am I? Am I? A dad??"
Talia wrote in the comments that her dad was so excited his video outperformed her mom's (yes, she was at the club too), because apparently whenever Talia posts family videos, mom wins.