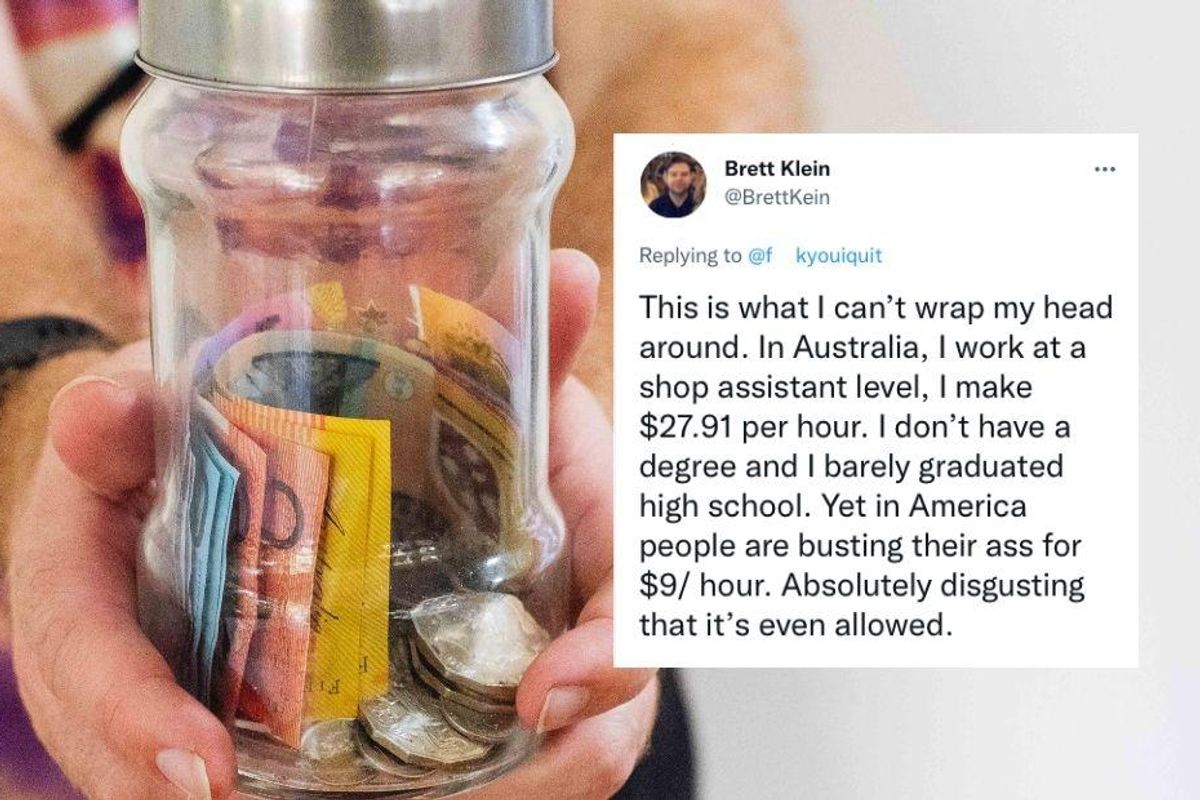 How great is Australia? A relaxed cultural vibe that is progressive, inclusive and seems like a literal day at the beach. They even give us some of our favorite Marvel superhero film actors. Must be tough to make a buck there though, right? Actually, they've got a significant edge on us there as well. Take a look at Australian's minimum wage and how much further it goes for the average worker than for your typical hard-working American.
Australian unions are currently pushing for a 5% increase to the minimum wage to counter inflation. Australia's minimum wage is 20.33 Australian dollars per hour, which is the equivalent of $15.23 (as of the writing of this article).
Meanwhile, Americans are still sitting on the same federal minimum wage we've had since 2009—a whopping $7.25 an hour—while we are also dealing with inflation.
Minimum wage by U.S. state varies—a lot—from $7.25 to $15.90. And most states have different minimum wages for tipped jobs such as wait staff in a restaurant, on the assumption that you'll earn enough tips to make up the base wage. Though employers can choose to pay above the minimum, they aren't required to. And the minimum tipped wage in 17 states is $2.13 per hour.
Let me repeat that. In 17 states in the United States of America in 2022, the tipped minimum wage is $2.13 per hour.
---
That's bonkers. And the disparity between states is, frankly, shocking. If you live in Washington state, for example, you're guaranteed to make at least $14.49 per hour in any job, whether you get tips or not. If you live in Idaho—literally the state next door—you're guaranteed $7.25 per hour for standard labor and just $3.35 per hour for tipped employment. So the base pay for a waiter on one side of an imaginary line is four times more than on the other. So weird.
Anyway, back to Australia. They're a little worried about us, and it's not hard to see why.
A 16-year-old Australian on Reddit was shocked to learn that the federal minimum wage here is $7.25 per hour. "There is no way someone can live off that wage even if they're working full time." Yep, nope.
Another Aussie responded to a sign for Buc-ee's, a chain of country stores and travel centers in the southern United States, announcing wages for full-time work ranging from $15 to $17 per hour for associates to $22 to $32 per hour for department leads. To American eyes, in most states, this sign is a unicorn of awesome hourly starting wages for "unskilled" labor.
To Australian eyes, these are the lowest wages they ever see in their country.
This is what I canu2019t wrap my head around. In Australia, I work at a shop assistant level, I make $27.91 per hour. I donu2019t have a degree and I barely graduated high school. Yet in America people are busting their ass for $9/ hour. Absolutely disgusting that itu2019s even allowed.

— Brett Klein (@Brett Klein)
1648682643
Despite Australia having a minimum wage of AU$20.33 ($15.23), most workers actually make more than that. In addition to its minimum wage, Australia has a system under its Fair Work Act called Modern Awards, which establishes base pay and benefits for workers in a variety of industries, from fast food to health and beauty to caregiving.
One caveat: Workers under age 21 can make less than minimum wage in Australia, so teenagers may make significantly lower wages than AU$20.33 per hour (though still not as low as $7.25 per hour). However, the Modern Awards system dictates higher than minimum wage earnings for most workers—even for basic fast-food jobs—for people over 21. For example, the starting pay for a Level 1 fast-food worker over age 21 is AU$22.33 ($16.72) per hour during the week, AU$27.91 ($20.90) per hour on Saturdays and Sundays, and AU$50.24 ($37.63) per hour on holidays.
Not too shabby.
Another Australian pointed out that the amount some Americans pay for a college education is bonkers, in addition to our low minimum wage.
Iu2019m in Australia, we accrue a u201cHECSdebtu201d that we pay off gradually once we earn above a certain pay bracket. Also we have higher minimum wage due to a strong union foundation. Even as a casual MH support worker I make $40/hour (no degree needed)

— amybroomstick (@amybroomstick)
1648679436
Australians graduate with less student loan debt than Americans, on average, and their student loan payments only start over a certain income threshold (and are linked to the amount you make).
Oh and let's not forget that Australians don't have to pay for healthcare out of their own pocket, either. And they have paid maternity leave of up to 18 weeks at the national minimum wage. And they have a minimum of four weeks of paid vacation time for all employees, on top of paid national hoildays.
But don't Australians pay a much higher tax rate than Americans for these benefits, you may ask? No, not really. According to the Tax Foundation, a single worker earning an average wage in the U.S. pays an average tax rate of 28.3% while in Australia they pay an average of 28.4%—so basically the same tax burden, at least for single people with no kids.
It's not that Australia is perfect, of course. But when it comes to paying people reasonable wages and guaranteeing paid time off and providing healthcare to all, they're light years ahead of the U.S.
Rather than seeing it as a woe-is-us comparison, however, let's look at it as "Hey, look at what's possible!" We, too, could have wages people can actually live on and not go into bankruptcy over medical bills and ensure that everyone gets paid time off so they can actually relax a little. It doesn't have to be some distant pipe dream; it's a matter of collective and political will. If Australia can do it, there's really no good reason we can't, too.