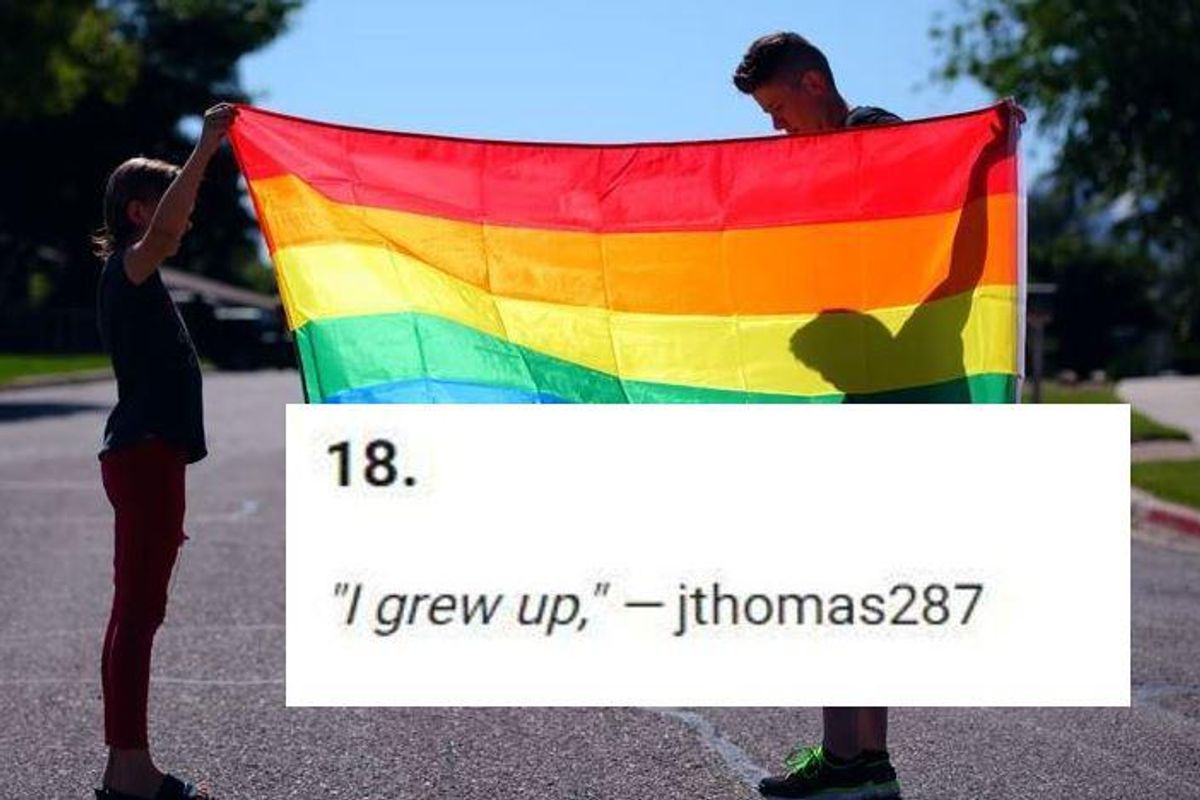 There are many different reasons why some people are homophobic. A lot of them are raised in religious households where homosexuality is seen as sinful and they never get over their indoctrination.
A study from 2018 found that people who foster homophobic attitudes are less intelligent than those who accept people regardless of their sexuality. For the study, researchers asked subjects if they agree or disagree with the following statement: "Homosexual couples should have the same rights as heterosexual couples do."
After comparing data sets, researchers found that the lower a person's cognitive intelligence, the more likely they are to be homophobic.
An older study from 2016 using an eye-tracking device found that some homophobic men seem to have an impulsive, automatic attraction to other men.
Homophobic attitudes are more prevalent in people with authoritarian personality types. Authoritarians have "submissive attitudes toward strong leaders, a desire to punish all who violate conventional moral codes, and strong fear that conventional morality is breaking down."
---
There are also some who believe that humans evolved to be homophobic because it favors the propagation of the species. "In its simplest form, parents who showed a concern for their child's sexual orientation may have left more descendants than those who were indifferent," Gordon Gallup, a human sexuality researcher, wrote.
(It should be noted that Gallup formulated his theory in the '80s.)
Regardless of how people become homophobic, the good news is that Americans are slowly becoming more accepting of LGBTQ people. A Reddit user by the name of aestheticbear wanted to prove that everyone is capable of losing their homophobic views by asking the subforum, "What happened that made you stop being homophobic?"
According to the posts, growing up and meeting people who are LGBTQ was one of the most effective ways for people to get over their homophobia. It also helped when they got away from religious parents and began to see the world with their own eyes.
Here are 18 of the best ways that people got over being homophobic.
1. 
"I met some gay people. As it turns out they were just people." — moolord
2. 
"Not homophobic, but I woke up at about 10 when my mom said my uncle was banned from coming to our vacation condo by my father because he was gay. Before then I kind of let the arguments and both sides bit wash over me, but that was a crystalization point where I started noticing it as pure bigotry. I'm sorry the nicest dude in the family full of domestic violence and white-collar drug abusers cant come to Christmas because he's gay? You're both cheating on each other, sanctity of what marriage now?" — Robin_Games
3. 
"My mom slapped me and told me everyone has a right to be happy. That was in 9th grade 13 years ago." — Bloodllust
4. 
"Homophobia was the norm when I was growing up, then I got older and the political landscape changed which made me question my belief and I came to the conclusion it just didn't make any sense to be homophobic." — LuciferIsFallen
5. 
"I came out as gay." — pethal
6
"Realised that, fundamentally, being gay is just 'what' you are. It's not 'who' you are." — Alternative-Rain-718
7. 
"I wasn't super homophobic, just a 'love the sinner, hate the sin' kind of guy. On my last day in high school, someone said 'Why do I care? They're not hurting me.' Cured me in three seconds. I still remember how magical that moment was for me." — Dirgonite
8. 
"Stopped listening to my homophobic family and left their religion. Oh and also realized I myself was pretty gay." — Raidden
9. 
"There are 20 years between myself and my youngest brother. I (and my SO) was raised in an explicitly homophobic/biphobic/transphobic fundamentalist religion (that I left with my SO in my early 20s) so I had a lot of internalized, conditioned, toxic beliefs about the LGBTQ that needed to be deconstructed. My little brother was obviously either gay or bi and it was obvious from the time he was six imho. He came out to my sisters, SO, and I as bi when he was 11 and we were like "tell us something we don't know lol." I think watching him just grow up, it was obvious that he hadn't chosen to be that way, it was just how he was. This false narrative that LGBTQ are somehow defective or sinners became more disgusting to me over time.
I can't remember exactly when it happened but my SO and I were like 'if our future child happened to be LGBTQ, could we teach that child the things we were taught about the LGBTQ?" We were like "no, that would be evil.'
Now, we have an 18yo niece that recently came out as a lesbian and we feel honored to be the only family that she trusts enough to introduce to her first GF. Spending time with her just reaffirms the fact that there is nothing wrong with the LGBTQ, it was our upbringing that was defective." — Jormungandr91

10. 
"I was in the military during the repeal of don't ask don't tell. I wasn't pro-gay whatever that might mean but sitting in those mandatory command meetings really opened my eyes. There were some legit homophobes trying every trick in the book to justify everything from moving sleeping arrangements to outright violence out in the open with gay people in the room.
I may not have been super sympathetic before that but after I realized just how difficult it was for a gay person just to go to work. Or how many precautions they were taking on a daily basis to keep in the closet. It pushed me from disinterested in the subject to siding with the obviously pragmatic stance of pro-gay marriage and gays in the military." — Pencilowner
11. 
"Went off to college, started meeting gay people, quickly realized that their awesomeness was no different than any straight person's awesomeness, stopped bothering to "otherize" them as I had in high school." — hailnaux
12. 
"I became good friends with someone who came out to me a year or so after we got to know each other. Turns out he wasn't the abomination that my Christian parents/church had taught me all gays were. Indoctrination of children is a bitch." — Vefantur
13. 
"Honestly I think it was Lady Gaga. I was young and impressionable and she was cool and so LGBT+ friendly that I just started accepting people. And then it turned out I was a lil gay too so things worked out well lol." — plutoforprez
14. 
"I grew up and met some openly gay people." — polkavert
15. 
"I became an atheist. Through a painful experience of getting through serious depression, I came out the other side with a different worldview. As soon as I shed religion I began to question a lot of things including how I really feel about LGBTQIA people vs what I'd been indoctrinated to believe. They are just people trying to go about their normal routine like myself. There's no vast conspiracy or 'gay agenda.'
Years later, I suspect I'm one of them now. I might be asexual but I'm not sure yet." —HonestSummer
16. 
​"As a teen I loved to make fun/bash gay people and listen to heavy metal. Then one day Rob Halford from Judas Priest came out as gay. Well, he is fucking Rob Halford and he can do whatever the fuck he wants. He is Rob Halford and being gay did not make him any less amazing in my eyes. After that I stopped caring about people being gay or not. Who am I to second guess or mock Rob Halford's life choices?" — cambeiu
17.
"I looked for logical reasons to be and couldn't find any." — theyellowmeteor
18. 
"I grew up." — jthomas287