Every year for the past 15 years, Four Roses has dropped their much-beloved Limited Edition Small Batch Bourbon. The whiskey is a rare blend of bourbons that come together to create the ultimate expression of Four Roses via their ten unique bourbon recipes. This year's edition will drop in September but you can enter a lottery to win the option to buy a bottle right now.
That means it's a great time to tell you what you'd be winning by reviewing the juice in this year's bottle.
Before we dive in… Four Roses is renowned for making and blending ten bourbons into their whiskeys (except the Single Barrel expressions, of course). There are two mash bills that Four Roses work with. One is a very high rye bourbon mash of 60 percent corn, 30 percent rye, and ten percent malted barley. That's Mash Bill B if you want to geek out a little. Mash Bill E is a lower but still high rye bourbon mash with 75 percent corn, 20 percent rye, and only five percent malted barley. How this turns into ten distinct whiskeys is through the yeast. Four Roses employ five different yeast strains on both mash bills, creating ten unique bourbon whiskeys. Those yeasts bring a different flavor profile to the mash that carries through fermentation, distillation, aging, and blending/proofing to the final product. Each of those ten bourbons then has a lettered name like OBSV or OESK or OBSF denoting the mash bill and yeast involved.
You can see them all broken down here.
Obviously, that's a lot to work your way through, so let's just jump right into what's in this year's Four Roses Limited Edition Small Batch Bourbon bottle. That way you can decide if you're going to wait outside your local retailer overnight to snag a bottle.
Also Read: The Top 5 UPROXX Bourbon Posts Of The Last Six Months
Four Roses 2022 Limited Edtion Small Batch Kentucky Straight Bourbon Whiskey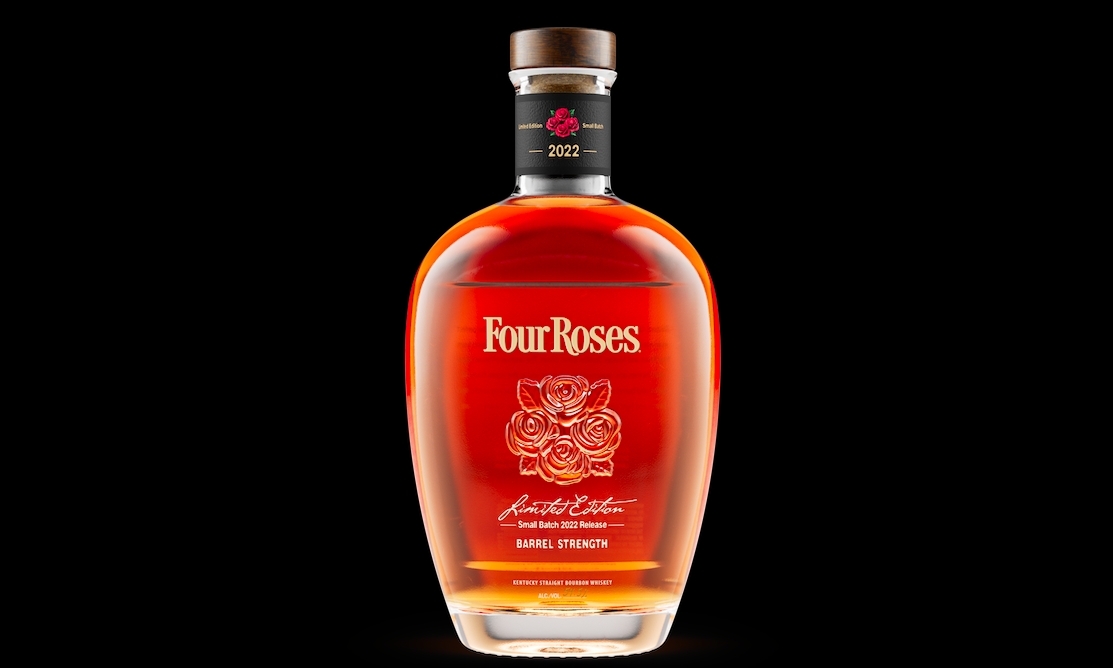 ABV: 54.5%
Average Price: $179 (available in early September)
The Whiskey:
This year's LE Small Batch is made from a blend of 20-year-old Bourbon from the OBSV recipe (high rye, delicate fruit yeast), a 15-year-old OESK (lower rye, slight spice yeast), a 14-year-old OESF (lower rye, herbal notes years), and a 14-year-old OESV (lower rye, delicate fruit yeast). The blend is non-chill filtered and bottled at 109 proof.
There are only 14,100 bottles this year.
Tasting Notes:
The nose is soft and feels aged-yet-fresh with mild notes of old cellar beams that lead to a sour cherry next to sourdough pancakes smothered in butter and maple syrup with a thin line of spiced cherry jam next to a bit of crumpled up old leather gloves. The palate opens creamy with a vanilla underbelly that's countered by a whisper of barnyard funk and old barn floorboards before a chewy spiced cherry tobacco leaf kicks in with layers of nutmeg, clove, and allspice with a creamy eggnog vibe and a hint of Kentucky-hug warmth. The mid-palate gets a little warmed before diving back toward the spicy cherry tobacco and a finish that's full of creamy brown sugar butter and hazelnut shells.
The Bottle:
The bottle is a classic Four Roses Small Batch bottle with an embossed label, allowing the amber liquid inside to shine through. It's elegant and feels very classic. It's a solid centerpiece bottle for any bar cart but it doesn't scream "expensive" if that's what you want.
The Bottom Line:
This is delicious. Drinking it neat is a lovely experience, but adding some water really lets the creamier and sour cherry notes bloom towards a softer and sweeter winter spice and a hint of dark bitterness (not quite chocolate but closer to coffee). A single rock cools down that big mid-palate warmth while still allowing the creamier cherry and spice aspects to shine through.
Ranking:
95/100 — this is a great whiskey. But not fully transcendent.
How To Get It:
You can enter the lottery from August 22 to August 28, by clicking Enjoy It First on the Four Roses' LE Small Batch website. Notifications arrive on September 6th for those lucky enough to win the lottery. You'll then need to bring $179 (plus tax) to the Four Roses Distillery Gift Shop in Kentucky to pick up your bottle between September 17th and October 16th, 2022.
Otherwise, bottles will be rolling out to select retailers in late September. Keep in mind, that this will be a very limited run in a few select markets.