The Dirty Martini is a true classic. The elixir of dry gin, dry vermouth (the two key ingredients of a "dry" martini), and olive brine work wonders together in a glass. The collision of dry botanicals, mild sweetness, a little Angostura for patina, and earthy/umami-forward olive brine create a multi-layered and deeply flavorful take on a very clean drink like a martini. It's the perfect balance of sweet, savory, and botanical … when done right.
All of that said, the drink does feel like something a suspender-wearing hip bartender invented in the early twenty-aughts. I assure you, it's not. The actual cocktail goes back to around 1901 at least. Famed four-time President Franklin Delano Roosevelt loved dirty martinis so much that they were the official White House pour during his administration. The point is, this is a very old and beloved cocktail that stands the test of time and generations of palates have fallen in love with it.
For this recipe, I'm taking it from "dirty" to "Filthy" by using a brand of great cocktail mixers and condiments I kind of randomly bumped into at this year's Tales of the Cocktail in New Orleans. I come from a very old-school cocktail culture and am, admittedly, stuck in my ways and brands sometimes. But this stuff really popped when I tried it at Tales this year. So I thought it was high time that I actually folded some into my at-home cocktail making.
Let's get stirring!
Also Read: The Top Five Cocktail Recipes of the Last Six Months
"Filthy" Martini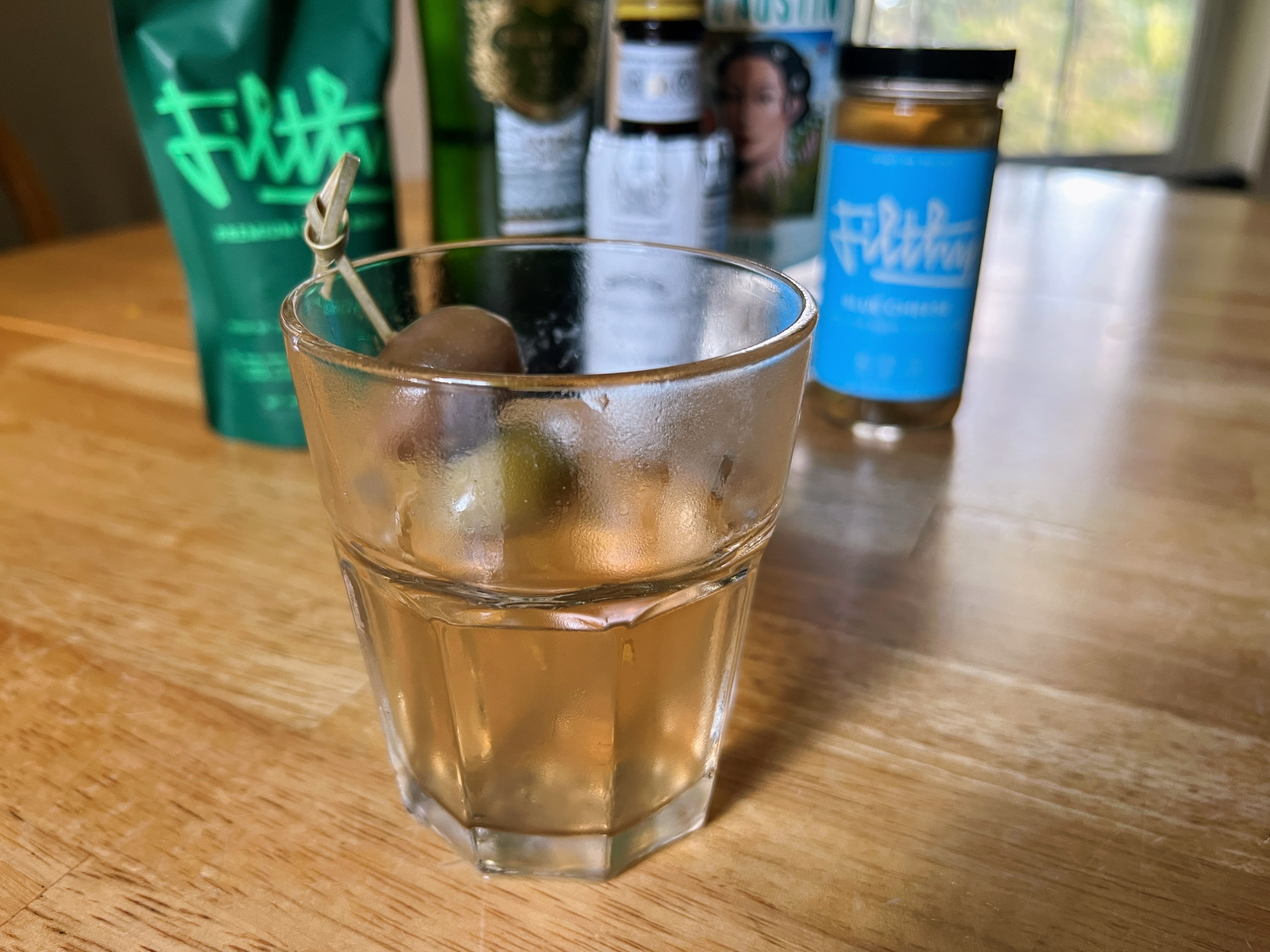 Ingredients:
2 oz. American dry gin (plus a splash)
0.5 oz. dry vermouth
0.5 oz. Filthy Olive Brine
1 dash of Angostura Bitters
Ice
2 Filthy Blue Cheese Olives
I'm using Still Austin's American Dry Gin. It's very craft but has a beautifully distinct botanical profile that leans more toward spice bark than juniper. It's kind of like a walk through the high desert on a fall day when all the trees are tightening up for winter. As for the vermouth, I'm going very old-school with some Noilly Prat Extra Dry. The French vermouth is subtle, floral, and just kissed with vanilla flowers.
Then there's the olive component. Any Dirty Martini deserves good olive brine and great olives. That's why I'm going with Filthy here. They've devised olive brine on its own for mixing with cocktails with a little extra oomph that helps the brine pop on the palate. Also, I love a good blue cheese green olive for my martini and this is a good one that you don't have to make yourself (I've spent a large portion of my life stuffing Stilton into green olives behind bars). You should be able to find these easily at local liquor stores and grocery stores.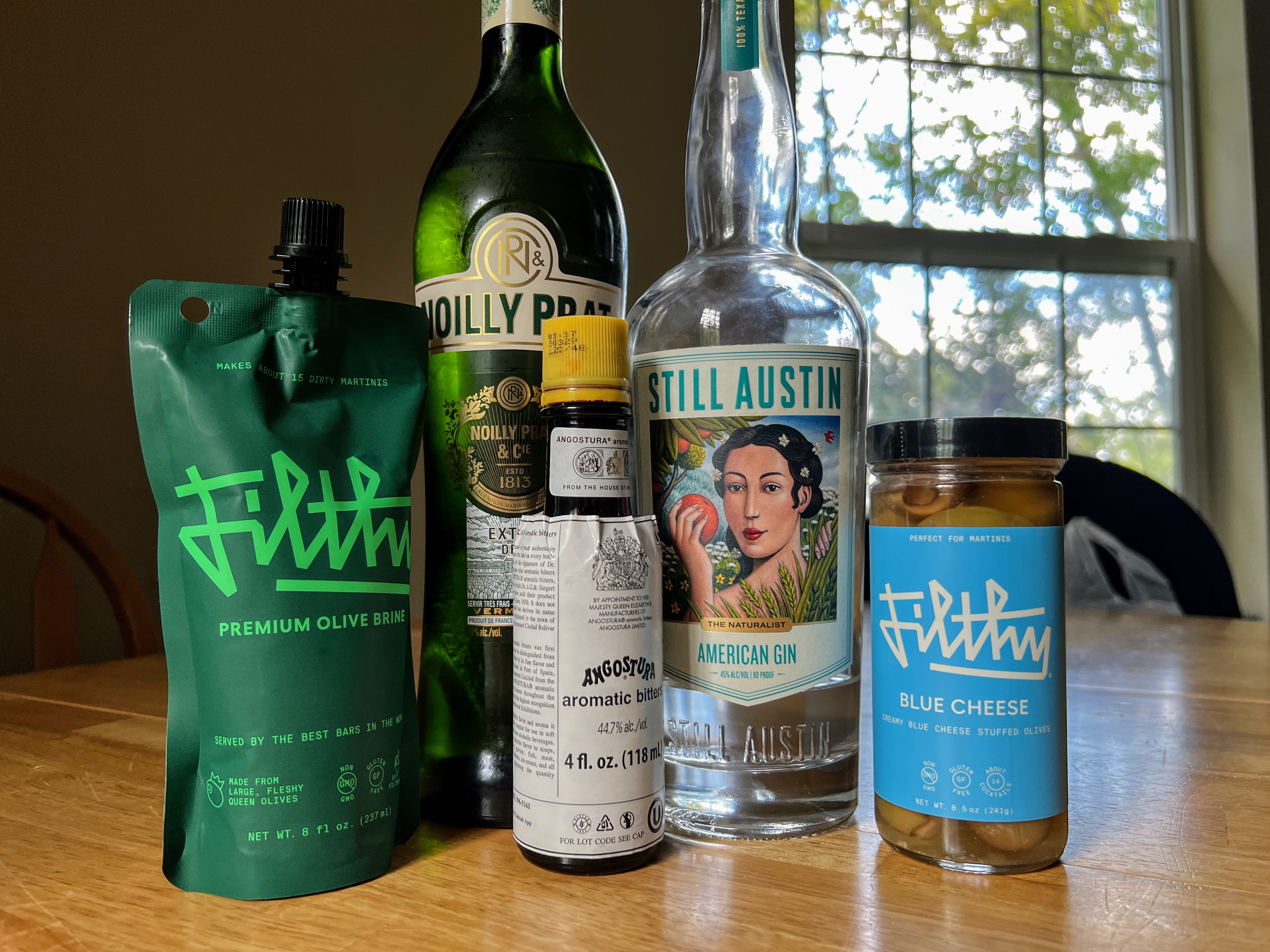 What You'll Need:
Lowball glass, cocktail glass, Nick and Nora, or coupe
Cocktail mixing jug/jar
Cocktail strainer
Barspoon
Jigger
Spear
Method:
Prechill the glass in the freezer.
Add the gin, vermouth, bitters, and olive brine to the mixing glass. Add a large handful of ice and stir until the glass is ice cold to touch (at least 30 seconds).
Fetch the glass from the freezer and strain the cocktail into the glass.
Spear two olives and drop in. Serve.
Bottom Line:
This is a big "hell, yeah!" from me. I used to drink one of these every night during my break around 1 am, between the second and third rush of the night. This took me right back. The layers of deep almost MSG-levels of umami with bright and botanical gin with a slight floral note next to wild sage and dry pine just work. There's complexity, sure. But this is all about ease. The sip is luxurious and supple with a sense of earthiness next to spicy woods with a blanket of mushrooms creating a floor below.
I really like this drink. Give it a shot at home. I think you'll like it too, especially if you're looking for a well-layered journey through spice, sweetness, and umami.