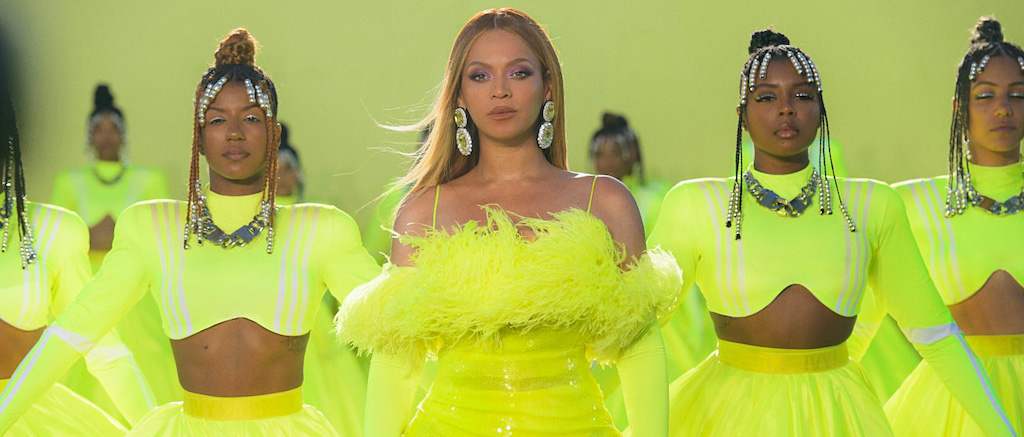 In addition to being one of the most anticipated albums of the year (even without music videos), Beyoncé's new album Renaissance brought fans to their knees with a stunning cover designed by Nicholas Des Jardins. On it, Beyoncé sits astride a glass horse in barely-there lingerie, showing off her hard-honed physique. In a new feature in Nylon, Des Jardins explained the concept and how it came together — and revealed that the entire cover was nearly completely different than the eventual finished product.
At one point, because sourcing the horse would be difficult with the limited time afforded to the creative team, Des Jardins almost went with just a saddle, albeit one bedazzled like a disco ball, but were able to find a fiberglass horse at the last minute, informing Beyoncé's team only after it had already been secured. Intriguingly enough, a similar concept wound up being used later down the line when Beyoncé shot her British Vogue pictorial, although rather than a disco-mirror-ball studded saddle, she opted to plop down on the disco ball itself.
You can read Des Jardins' full description of the shoot design below.
Set designer Nicholas Des Jardins reveals that Beyoncé was originally going to sit on a giant disco ball instead of a horse for the #RENAISSANCE album cover.

The disco ball was later used in her photoshoot with British Vogue.

: https://t.co/tfoTuSDnlO pic.twitter.com/ruouuhGUEE

— Pop Crave (@PopCrave) December 2, 2022
The horse came about working with her and her creative team. Originally we were going to do a giant 8-inch disco ball that was already in production when we shifted ideas. The job from the start was under an immense time crunch, so for a while, I was hesitant about the horse. Install was Monday after Easter weekend and the concept came about on Thursday night. We negotiated down to just doing a saddle covered in disco ball mirrors, but me and my studio manager knew it would be so worth it if we could pull it off, so we scoured the greater Los Angeles area for an available life-size horse. We waited until we knew it was possible to pull it off before we let her and her team know that we were going to deliver the full horse that inevitably became the cover.

… Thankfully, we discovered a secret source for old fiberglass horses, as many of the current manufacturers had months-long wait periods. We found and picked it up that day and immediately started to work on covering it in 1/4″ glass mirror pieces. The mirrors were coming in shipments from different vendors to get enough in time. Me and the rest of the team were literally waiting for the mail person and ripping the boxes open and continuing the task as the mirrors trickled in.