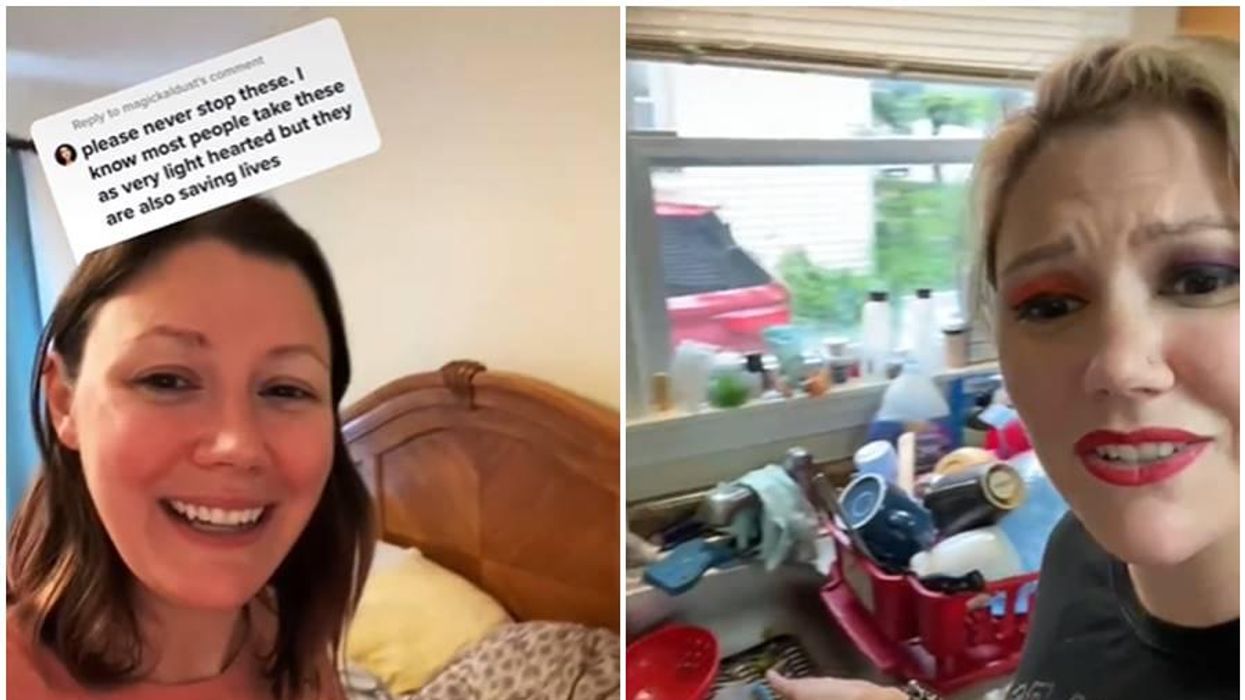 In the age of social media, it's easy for moms to feel bad about themselves. Given the "positivity bias" of social media, parents are much more likely to share idealized pictures of their families that make everyone else feel like they're the only ones who don't have it together.
A study published in "Computers in Human Behavior" found that being confronted with "idealized motherhood" can increase anxiety and put unnecessary pressure on your mental health.
---
"And interestingly, it didn't matter if the idealized portrayal was from a social media influencer [a "mommy influencer"] or an average Instagram user [an "everyday mom"]," the study's author Dr. Ciera E. Kirkpatrick writes.
"Idealized content from either of these sources had the same negative effect—indicating that anyone putting out idealized motherhood content like this can have harmful effects on new moms. It's not just a problem with influencers," Dr. Kirkpatrick continues.
One stay-at-home mom is doing her best to make everyone feel better about the chaos that comes with having children. TikTokker Emily Feret has earned over 1 million followers on the platform because of her videos that aim to "normalize being normal."
In one of her posts, she shows you what a "normal" person's fridge looks like. "You guys love these, I like to normalize being normal, life without the filter. So I'm gonna show you my fridge so you can feel better about yours," Feret says in the video.
@emilyjeanne333

THE FRIDGE #WorthTheWait #normalizechaos #normalizenormal #messyhouse #fridgetour #normal #nofilter #pinterestmom #hotmessmom
In another video, she takes a walk through her house, "so you can feel better about yours." On her journey, she encounters a washing machine that doesn't work quite right, a bed that isn't made properly and a massive stack of toilet paper she keeps in her hallway.
@emilyjeanne333

Reply to @magickaldust normalizing normalcy #normalizechaos #normalizenormal #normalizenormalcy #messyhouse #hotmessmom #nofilter #fyp
Feret also provides support for mothers who feel overwhelmed.
"The mess isn't going to go anywhere. You have young kids. You're at home all the time. You're living in your home. It's going to look lived-in, and that's okay," she said. "Your kids are little. Enjoy them. Love them."
"I want you to know that you're doing enough by doing exactly what you're doing right now," she added.
@emilyjeanne333

#stitch with @marandaarbo I don't know you but I see you and I love you. Breathe mama #breatheinbreatheout #nornalizechaos #nornalizemess
Feret told Parents what inspired her to share her home life on TikTok.
"I was watching all these videos and seeing all these pictures on social media of these picture-perfect houses and 'filtered lives,' and it was making me feel bad about my life," Feret told Parents. "I was not seeing any houses or moms that looked like me and my life. I wanted to show how my life is not at all like that and that you can be 'normal' and be doing a wonderful job even if your house is a mess and your kids are driving you crazy."
Feret's videos are clearly resonating with parents because she's had over 38 million likes on TikTok. She can't believe the success that she's had being "normal" but is happy she can help mothers like herself.
"All I have ever wanted to do is to help other people. The response has been overwhelming. I have people sending me gifts and celebrities commenting on my posts. It's incredibly surreal," she told Motherly. "I wanted other moms, and really anyone out there, that if their life does not look like an Instagram post it doesn't mean you aren't doing well."