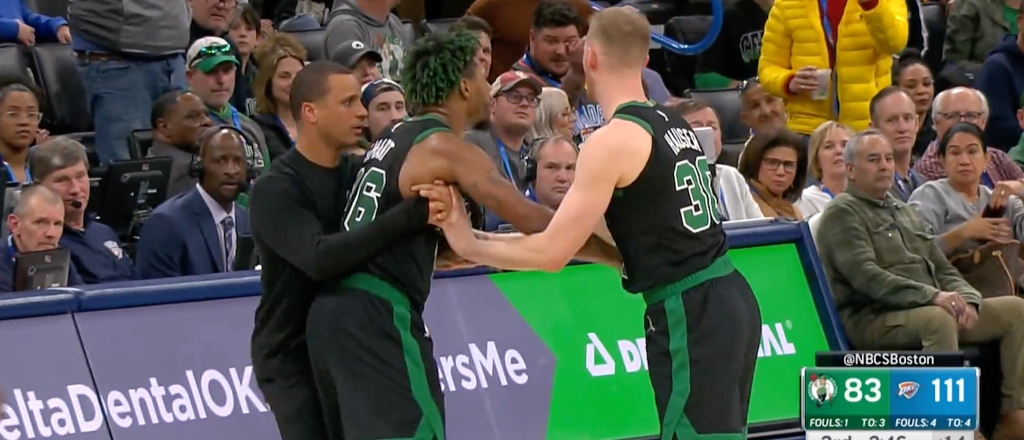 Late in the third quarter of Tuesday's game between the Boston Celtics and Oklahoma City Thunder, Marcus Smart drove to the rim and earned a non-shooting foul. Presumably, Smart thought it was a shooting foul because he expressed significant displeasure with multiple referees as he headed to the bench and Payton Pritchard replaced him on the floor.
As he made his way toward the sideline, one official ejected him from the game. That likely frustrated Smart more, who had to be held back by multiple Celtics coaches, as well as teammate Sam Hauser, and reportedly yelled "you're f*cking horrible" at the refs. He continued to voice his substantial frustrations while coaches escorted him away from the action and into the locker room.
Marcus Smart just got tossed.

"You're f—— horrible," he yelled at the refs, while being held back by Joe Mazzulla.

— Joe Mussatto (@joe_mussatto) January 4, 2023
Officials have long taken exception to players directing expletives their way. Smart is the latest example of that and he seemingly made the most of his ejection, continually expressing himself, even after he'd been tossed from the game. Across his 26 minutes, Smart tallied seven points, eight assists (three turnovers), four rebounds and one block. Despite his wide-ranging stat line, the Celtics were routed by the Shai Gilgeous-Alexander-less Thunder, who torched their defense to the tune of a 150-117 victory.
Smart and the Celtics, who have now lost two straight games, will hope to start fresh when they face the Dallas Mavericks on Thursday night.