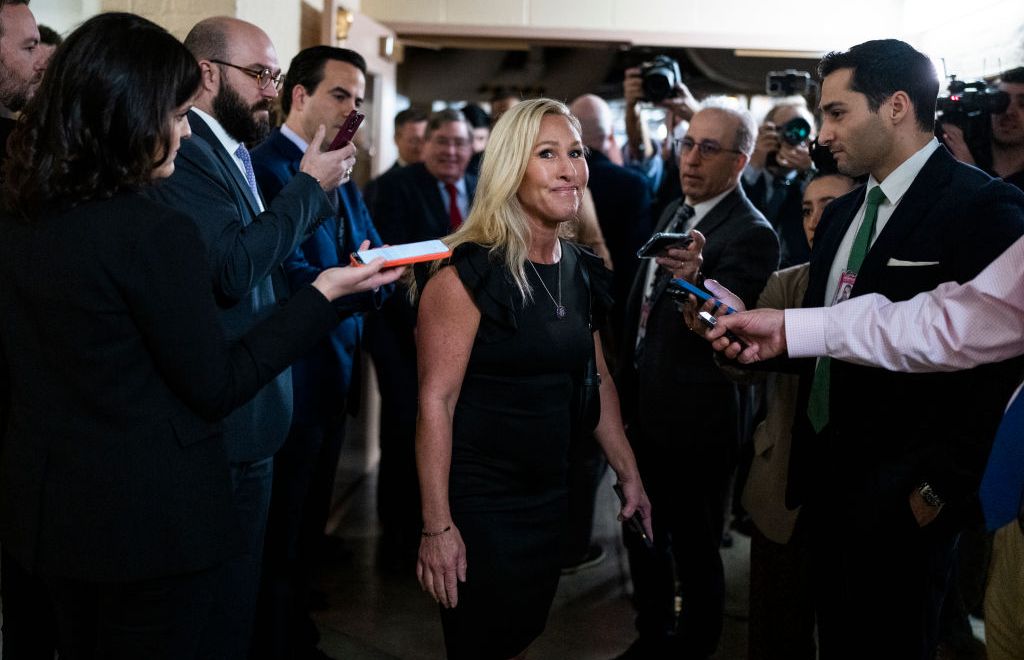 In 2022, it's doubtful that anyone would have guessed that Marjorie Taylor Greene might ever be described as the voice of reason in any situation, but 2023 is already full of surprises. OK, so maybe she's not exactly the voice of reason. But as the House of Representatives prepares for a sixth round of voting to maybe finally hopefully elect a new Speaker of the House, it's still somewhat surprising that the historic political stalemate doesn't have the Georgia congresswoman's bleached blonde handprints all over it.
On Tuesday, in between round number whatever of trying to name a new SOTH, Raw Story reports that Greene blasted her frenemies in the so-called "House Freedom Caucus" for not backing Kevin McCarthy. Think about that for a second: Marjorie "Gazpacho Police" Greene, the woman who blew half her salary on fines just so she didn't have to wear a face mask. The woman who tried to make an analogy between COVID and farts.
So many people still wearing masks.

I just want to ask you.

If a pair of underwear, really thick ones, high quality cotton, can't protect you from a fart, then how will a mask protect you from covid??

— Marjorie Taylor Greene (@mtgreenee) November 29, 2022
But here's Margie, going against former bestie Matt Gaetz and frenemy Lauren Boebert — and saying she's asking for nothing in return. As she told members of the press on Tuesday, the current chaos really comes down to three Republicans who "went in last night and were demanding positions for themselves, demanding gavel positions, demanding subcommittees, demanding for people to be taken off committees, for people to be put on committees."
"Three! Three Republicans out of our 222," Greene continued. "I have not done that for myself! The only thing I've done is debate and request and argue amongst my peers for the right things, for the rules package, and for our agenda for the American people."
That there's a true American patriot!
It's also worth noting that, back in November — when McCarthy seemed to think that winning over Greene was the way to win over the rest of the rebel Republicans — the congresswoman did begin naming herself to committees.
(Via Raw Story)