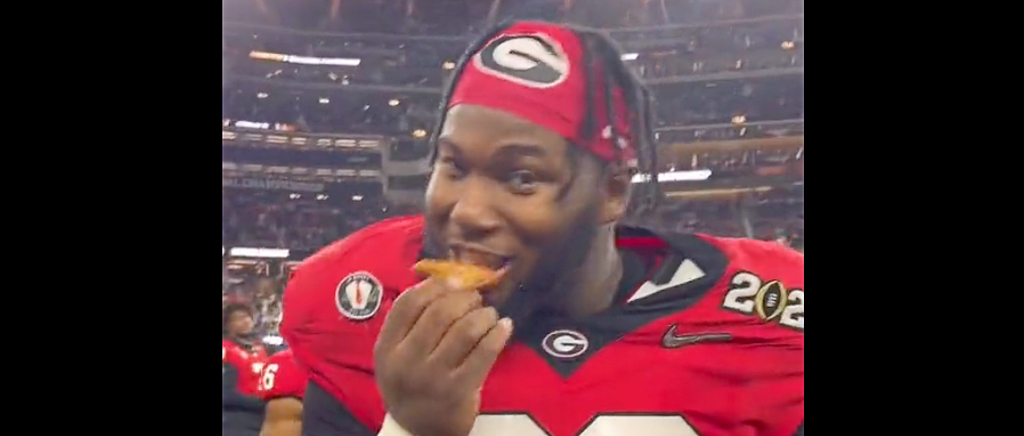 There wasn't much drama on Monday night in the College Football Playoff National Championship Game, as Georgia jumped in front of TCU and never looked back on their way to a 65-7 shellacking of the Horned Frogs.
It was the most lopsided bowl win in history — not just Playoff, not just national championship, but any bowl ever — and as such there was plenty of time for the Bulldogs to soak it all in and enjoy their second national title in as many years. It was as complete a dominating performance as you will ever see on the football field, with the defense giving TCU nothing (aside from one blown coverage) and the offense able to run and pass at will. The big reason for the offense's success was the offensive line doing whatever they wanted with TCU's front, and at one point in the game, Georgia running back Kendall Milton decided he should reward the big fellas for their hard work.
The CFB Playoff TikTok account captured Milton trotting over to one of the field level suites behind the Georgia bench, where some Dawg fans passed him a plate of wings that he then ran back to his offensive line, who appreciated the in-game treat.
@cfbplayoff

Dawgs are eatin', no literally…. @footballuga #CFBPlayoff | #NationalChampionship | #GoDawgs
Some will see this as disrespectful, but I just think this is good business from Milton as a running back. You gotta keep the big boys up front happy, and there's no better way to do so than to get them some chicken wings on the sideline after another dominant series. I think this should be standard practice at all football games, where the OL can go to a little buffet on the bench if they've been good.