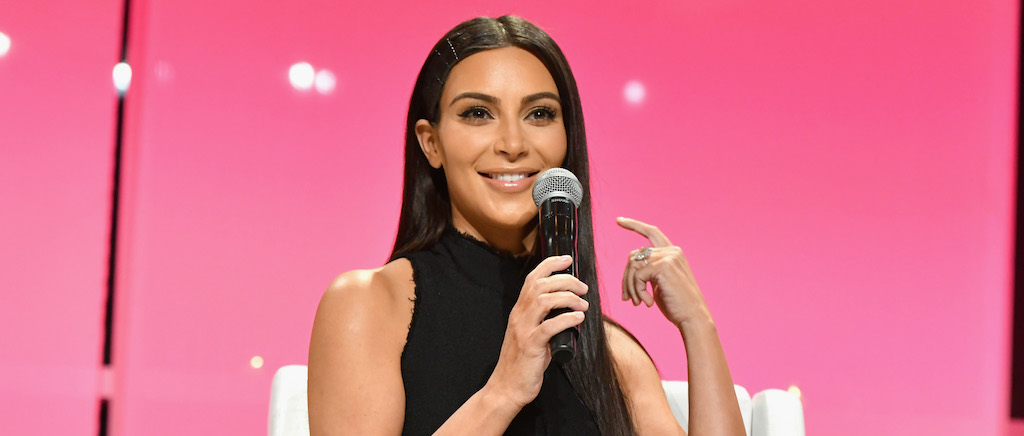 Kim Kardashian has been known to benefit from publicity (both good and bad), which might be the understatement of the year. She's been accused of smoke and mirrors since emerging into public life, way before she studied for the bar exam and also went through some stuff with Kanye West. It's not a diss to say that her entire career heavily depends upon appearances, and back in the day (a full decade ago, actually), TMZ originally reported on a "flour bombing" incident that ended up being blamed on a reported sympathizer of PETA.
PETA, for its part, denied any responsibility when Christina Cho allegedly doused Kim (who may or may not have been wearing leather pants at the time) with flour while she was promoting a Kim K. perfume. E! Online relayed Kim's response, which included, "That probably is the craziest, unexpected, weird thing that's happened to me." At the time, Kardashian sisters Khloe and Kourtney also stepped up to defend Kim on social media. Alas, this was allegedly a ruse. Via The Daily Beast, a former PR rep is dishing:
Sheeraz Hasan, a PR expert who used to work for Kardashian, claims the whole thing was staged. Hasan, who first worked with the reality star in 2005, said he and Kardashian discussed that she was "willing to get flour bombed" before the event to promote her True Reflection perfume in West Hollywood. "You're going to be fine, you're going to be safe, but we're going to create a media moment," Hasan said he told Kardashian at the time, according to the British Channel 4 documentary The Kardashians: Billion Dollar Dynasty. "Are the team in on it? Of course, they're in on it," Hasan added.
However, the New York Post has spoken with "sources" who claim that "Kim was never aware of the move," if it was a move at all. And this story ultimately ends up being fluffy and inconsequential, but it possibly inspired future flour bombers and maybe even the sugar bombing (which did result in an arrest) of Adam Levine. So strange, man.
(Via TMZ, The Daily Beast, New York Post)