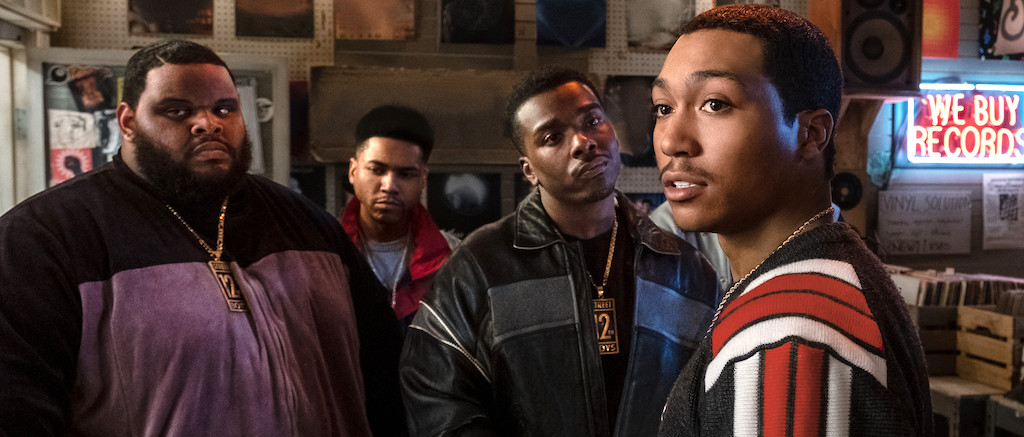 (SPOILERS for this week's BMF episode will be found below.)
BMF returned last week with a season two premiere episode that left us with plenty to talk about. Meech and Terry are still split with Terry walking away from the drug game, one that nearly cost him his eye, to begin a car-ride service with his father Charles. Meech enters a new partnership to receive a new supply of drugs and it leads to the start of the Black Mafia Family. We also learn about the fates of Big L and Lamar as well as why Detective Bryant won't leave B-Mickie alone.
The aforementioned events in the season two premiere of BMF, titled "Family Dinner," are soundtracked by songs that help to accentuate the emotions behind each scene. You can find a list of them belong as well as details about the scenes that they are heard in.
Sunshine Anderson — "Heard It All Before"
This is the first song we hear in the episode. It plays at the 02:42 mark as older Terry (played by Mustafa Harris) is on the phone with his significant other as he prepares to get out of the country. His plan goes left when Detective Bryant and a SWAT team break into the house to arrest him and other members of BMF.
50 Cent — "Wish Me Luck" Feat. Charlie Wilson
This is the theme song of BMF. It plays at the 08:01 mark in "Family Dinner." While 50 Cent and Charlie Wilson's voices are only heard on it, the song also features Snoop Dogg and Moneybagg Yo.
Armando — "You With Me"
This Armando record plays at the 13:36 mark as Terry is taken aback by Markeisha's beauty as she walks into the gym for a basketball game at St. Cecilia. There isn't much record of this song online, but the BMF public relations team confirmed that this is the song that plays at that moment in the episode.
Albert King — "Born Under A Bad Sign"
We hear Albert King's "Born Under A Bad Sign" at the 19:15 mark as Meech reconnects with K-9 to return his cocaine. K-9 had Meech bring it back from Las Vegas with the goal of seeing how fast and efficiently he could get it done. Meech accepts the job with the hope of gaining K-9's trust to enter a partnership.
Marlon Coles — "Cool In You"
Marlon Coles' "Cool In You" plays at the 30:33 mark after Terry's second meeting with Markeisha. He runs into her at a Detroit insurance company, where she works as an associate. It's clear that Terry is falling for Markeisha as the song plays as he imagines getting intimate with Markeisha despite laying next to his girlfriend LaWanda.
E-Hart & Don Caban — "Chasing Paper"
You can hear this record at the 36:00 mark as Meech returns to K-9 to once again convince him that he should allow Meech to move his product. Meech succeeds in his mission, but this interaction also ends with him enjoying a plate of steak and learning that K-9 killed Big L on his behalf.
The Delfonics — "Ready Or Not Here I Come (Can't Hide From Love)"
The Delfonics can be heard at the 50:20 mark just after we learn that Lamar is alive. Heading into season two, we assumed that Lamar was dead after he was hit during a shootout with Meech. While he was severely injured and left in a coma, Lamar survived the gunshot and we can almost be sure that he'll set out to retaliate against Meech.
New episodes of 'BMF' are available on the STARZ app on Fridays at 12:00 am EST and on the STARZ TV channel at 8:00 pm EST.