Growing up in Lexington, Marcus Floyd saw plenty of horses. He saw the city taken over by horses when the Kentucky Derby and its crowd descended on it every year. When he moved to the suburbs just outside of New Circle, the state highway built in a loop around downtown Lexington, he started seeing them in his periphery nearly everywhere he went.
"Everything on the inside, it's kinda like the inner city. Everything on the outside, though, is where all the horse farms are. So I live on the outer ring," Floyd explains over Zoom. "And that's where all the horse farms are at, just littered up and down the street."
It's one thing to be inundated by what's essentially a cultural feature of a place that, through its ubiquity, turns geographic; all cities have them. It's entirely another to have that feature turned into a vehicle that would ultimately propel Floyd onto the pages of Vogue and the radar of Luka Doncic, even if that feature — horses — has been a human vehicle for most of our shared history.
Horse Kicks, a promotional feature launched out of the Visit Lex tourism campaign from Lexington-based agency Cornett Group, started on a simple enough conceit: sneakers, but for horses. Though many a serious hype beast lost their minds over this happening to something as revered as the Jordan 1, the initial idea was as playful as it was practical. Tapping into Kentucky's longstanding and proud equine history, and combining it with the fervent support of the University of Kentucky's basketball program, the Cornett Group really only wanted a show piece to underscore the belief of horses as athletes, and to garner some attention around the Breeder's Cup race. Enter Floyd.
"It's crazy how god works, because, there's another big artist in Lexington — well there's several — but one of 'em, Billy [Hobbs] with Tru Customs, he does all the UK basketball players, football, he's the household name in Lexington," Floyd stresses. "So they had hit him up and asked if he could make a sneaker for a horse, but he declined because he just does paint. And that's not what they were looking for."
Hobbs put the Cornett Group in touch with Floyd, who started his own sneaker customization company, Infinite Kustomz, in 2017. Initially, Floyd was creating his designs primarily using paint and superficial decor, something he'd been doing since he was a kid painting on his football cleats — "They looked good for like, maybe 30 seconds before paint fell off," he says with a chuckle — but started to feel as if something was missing.
"I can remember telling my wife that I feel like I was missing something," Floyd recalls. "I couldn't put my finger on it, but I remember being satisfied because I made a Halloween costume for my daughter, and I was like, man, that was awesome. If I could do that every day, I'd be in heaven."
More than the finishing touches of custom work, Floyd loved the tactile aspect of working like this — learning about and manipulating fabric, the potential to create something, start to finish, exactly how he'd imagined it. In 2021, he made the trip to L.A. to attend the Shoe Surgeon Academy, a sneaker customization-focused school with workshops and classes where Floyd learned how to sew and make patterns.
"I love the different fabrics. I love art, I love drawing, I love the paint, but being able to select different fabrics and pair that together, the textures, the sound of the sewing machine," Floyd smiles, "that's what really drives me."
Floyd describes the feeling he got through finishing those classes as "complete." When the Cornett Group got in touch and shared their initial idea for the campaign, he knew he was ready to take the project on. He also knew he had to do it his way.
"Originally they said, hey man, we just want something to look cool. 'Cause like I said, it was just for them," Floyd says. "For me, I'm an artist, but I do stuff for people of all calibers, so I wanted to make sure that it was wearable for them. Because I wanna make sure that somebody hits me up, I can tell 'em, yeah, you can put this on a horse. So that was the first thing I did. I researched horse shoes."
Floyd, who works nights doing maintenance at the Toyota factory in Lexington, began looking into workable prototypes he could use as a base for his designs: horse boots used for protection, for competition, for travel. He credits his ability to pattern and break things down with the job he does on third shift.
"I'm able to figure things out because that's just what I do all day at work," Floyd says. "I go to work at 10:30 PM get off at 6:30 AM, and then I come into my little office with my little studio and create."
He soon found himself inundated with styles and varieties he had no idea existed, but he notes that "obviously" none of the boots had the shape of a human sneaker. He finally settled on a boot used to secure a horse's hoof when it has to be medicated because of its support, malleability, and padding — the traits are closest to a human sneaker.
The agency was so happy with the initial prototype that Floyd quickly made them three more, another pair of Jordan 1s, Yeezy Boosts, and a pair of New Balance 650s. The campaign blew up beyond what anyone initially predicted. Floyd and Horse Kicks made appearances everywhere from CNN to Paper Mag, Equestrian Living to Vogue, and the requests for custom work began to pour in. Some of it was very close to home.
"This guy reached out, said, hey man, if you ever need a horse to try your prototypes on or anything, this is where I'm at," Floyd pauses. "And his address is literally down the street from me."
As someone who loves the creative range and freedom in the work that he does, Floyd is aware of the dangers of getting pigeon-holed as the guy who makes sneakers for horses. Still, Horse Kicks have thus far yielded some high-profile partnerships where Floyd gets to flex his creative muscles while making sure people (and, now, their horses) are happy and look good. He's working with the Compton Cowboys on custom shoes, as well as with James and Jas Prince, the Houston rap lineage who own a ranch and ride their own cow horses during roundup.
"Not only am I doing Horse Kicks, I'm gonna send him a set of — let me show you," Floyd holds up a package of custom hard shell boots that fit around a horse's shin, protecting them from their own hoofs and any stray knocks by cattle in the process of roping. He wants to finish them in alligator.
Floyd also understands where Horse Kicks have become an unlikely — sorry, but I had to — Trojan Horse for combining his business and passion with another of his loves, pro sports.
When Doncic's team reached out to Floyd to make custom Luka 1s for Dorian Finney-Smith's new horse, Stevie, he jumped at the chance. This past summer, Finney-Smith used some of this contract extension money to buy a horse, which Doncic started teasing him about. For Finney-Smith, who started riding a few years ago after taking to it on vacation, getting Stevie represented fulfilling a promise his late brother made to their mom about buying her a horse.
The tiny sneakers, all-red custom For The Love Luka 1s, took Floyd about 40 hours to make, and were delivered to Finney-Smith by Doncic in a custom built red model Trojan Horse on wheels. Floyd made a second pair for charity, auctioned off with the proceeds split in half between The Luka Doncic Foundation and the Finney Family First Foundation.
"I am a Luka fan," Floyd says when asked if he's a fan of the NBA. "I love Luka's game. He's so methodical, I fell in love with his game. But you gotta understand, I'm a Reggie Miller fan. I'm a Dirk Nowitzki fan. Like, he falls into their kind of game, where they're not really the fastest player, but they get it done. They still score. It's something beautiful about how they shoot the basketball."
Doncic, in particular, getting in touch with Floyd is almost serendipitously fitting, as Doncic's methodical approach to his game mirrors Floyd's own methodical approach to his work. But it's been a purposeful achievement Floyd's been able to look to through some of the setbacks he's faced with Horse Kicks initial wave of popularity.
Floyd's original Infinite Kustomz Instagram account, which he'd grown into a "decent following" since 2017 and exploded when it was tagged in all the initial Horse Kicks coverage, was flagged by Nike and shut down. He's since started a new one, but all part-time creators can understand how hard it hits to lose something you've built incrementally over time. Moreover, Floyd started customizing sneakers because he loved them. He points out that any of his work, Horse Kicks or otherwise, start with the original product.
"We bought their shoe, we tore it up, I broke it down. So the Horse Kicks that you see, those are, at one point they were, Nike products," Floyd says. "I just didn't make a Nike from scratch. The Adidas and the New Balance are all just like the Luka, all of them have been deconstructed from a shoe and fit to look like their predecessor. But Nike was not feeling it. I think they thought I was just gonna mass produce Nikes, but that wasn't the case. I feel horrible about that because I was like, they don't understand what this is. It's just art. I hadn't even sold anything. The only thing I had sold at that point was a service, because they provided the shoe to me."
It's been an ongoing catch-22. For Mike Krzyzewski's retirement ceremony, Floyd created a pair of custom Air Force 1s for the event's host. There's footage of Coach K eyeing the shoes on stage, and Nike later shared photos of the blue snakeskin, Duke emblemized sneakers.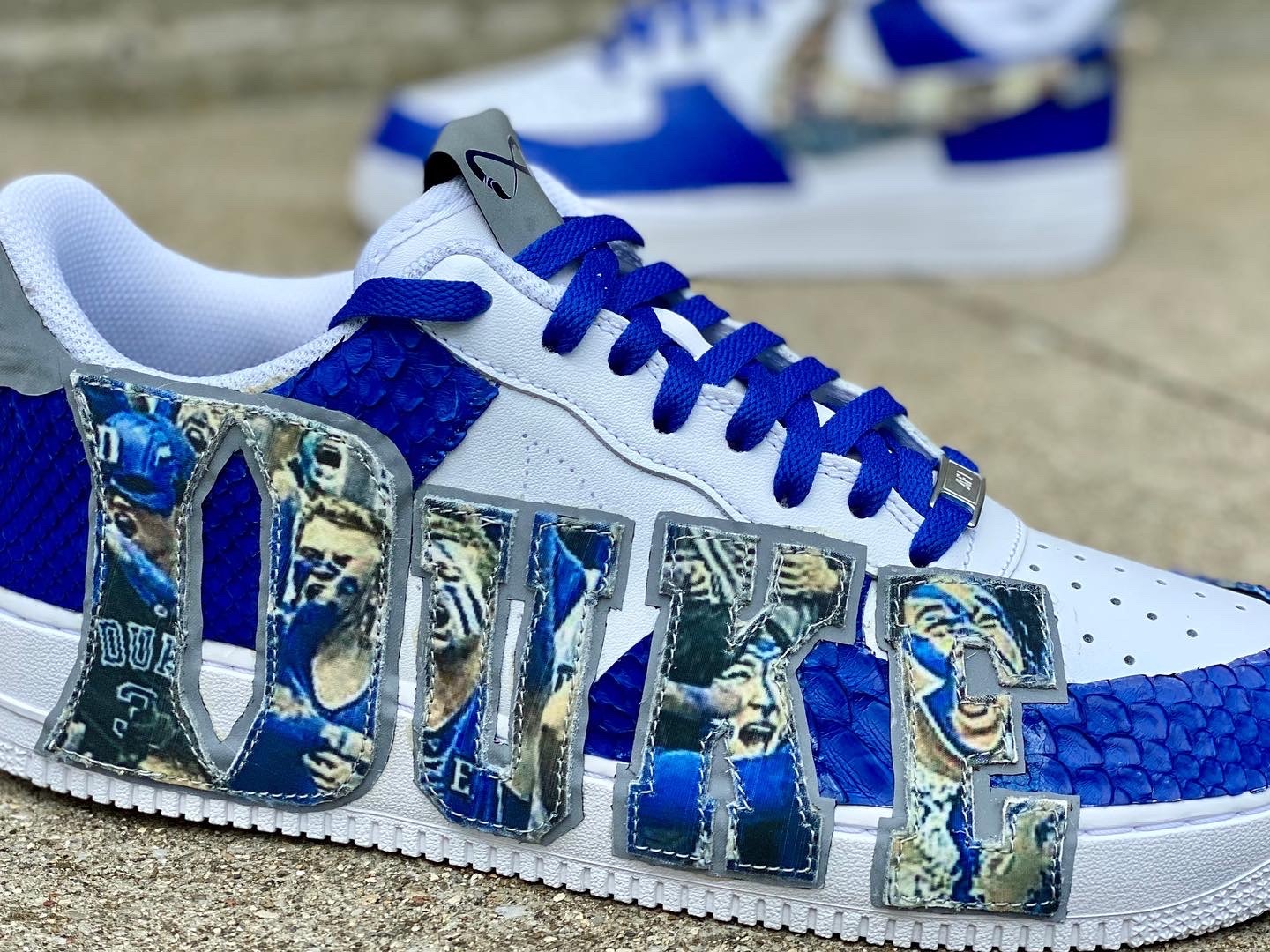 Floyd is at least able to see a silver lining in, as well as take some humor from, events like that and the attention Horse Kicks have brought him. He's been contacted by the Seattle Seahawks to make custom cleats for the league's My Cause My Cleats campaign, and is putting the finishing touches on a new pair of Horse Kicks, his biggest yet for a horse named Master in Florida's Pegasus World Cup — "This thing is a huge horse," he stresses. "The hoof is about eight inches across."
He'd like to keep riding the momentum of Horse Kicks to potentially prototyping the idea through a Black-led company like Fctry Lab, and to embrace the collaboration and relationships between athletes and their horses. A dream client, Floyd mentions as a diehard Tampa Bay Buccaneers fan, would be Devin White, who rides and credits horses for getting him through a period of profound grief.
It's fair to say that Floyd noticing horses has been what's got him noticed, but more than what's always been on his periphery and the surprise career growth horses have given him, Floyd's work is about connection. Noticing and taking care with the smallest of details, down to the seams, for a finished product that fosters connectivity and generates joy. Customization is after all just precise, painstaking personalization, which are all the things we make a life with.