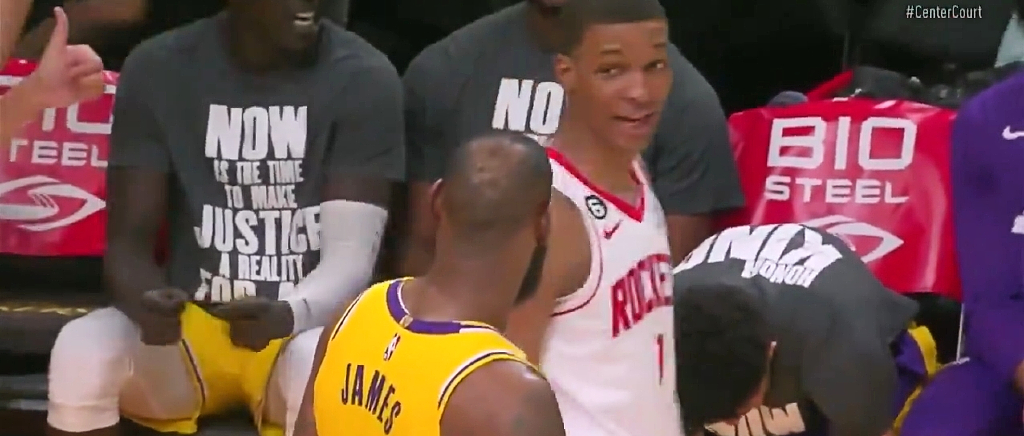 LeBron James is in his 20th NBA season, which means there are rookies coming into the league that were literally not alive when his career began.
One such rookie is Jabari Smith Jr. of the Houston Rockets, who got to face off with James and the Lakers on Monday night in TNT's final game of the Martin Luther King Jr. day slate. Smith's first interaction with LeBron on the court was informing him that James' first ever NBA game was against Smith's dad, who was a member of the 2003-04 Sacramento Kings that the Cleveland Cavaliers played in James' professional debut.
Jabari Smith Jr tells Lebron he played against Jabari's Dad in his first NBA game pic.twitter.com/PxIYyTMQys

— CJ Fogler AKA Perc70 #BlackLivesMatter (@cjzero) January 17, 2023
LeBron wasn't trying to hear that from Smith, who asked if it made him feel old. The answer was, yes, but if the intended consequence was getting LeBron rattled, that didn't pan out as he put up 48 points on Smith's Rockets in a seven-point Lakers win. After the game, Jared Greenberg asked him about the exchange the broadcast got on its mic'd up segment, and LeBron admitted it made him feel "old as crap."
That's what happens at 38 years old in a league full of guys in their early 20s, but with how many young guys that are coming in as sons of former NBA players, this isn't the first or last time James will run into this scenario. Given LeBron's stated goal is playing at least two more years in order to play with his son Bronny, he's only going to feel older, but to this point that hasn't slowed him down much.