Despite his supposed 'Regina George' complex, rapper Drake has no problem using his platform to showcase newer acts. In fact, by way of his label, OVO Sound, co-founded by his long-time collaborator producer Noah' 40' Shebib, the pair are looking to break yet another artist. With a roster consisting of PARTYNEXTDOOR, dvsn, Popcaan, Majid Jordan, Roy Woods, and Baka Not Nice, the label has finally found its leading lady.
With the release of her new single, "Another Life," Dutch-Caribbean singer Naomi Sharon becomes the first lady of OVO Sound. Drake took to Instagram to welcome her to the label and share her new track with his following with the caption, "Naomi Sharon, I been waiting for this day for too long now where the world finally gets to digest the insane amount of work you have put in since we met. My dear friend just dropped her single Another Life on OVO Sound."
To which Naomi commented, "I will be forever thankful for this insane opportunity you gave me. Finally, we can share this with the world. Big love."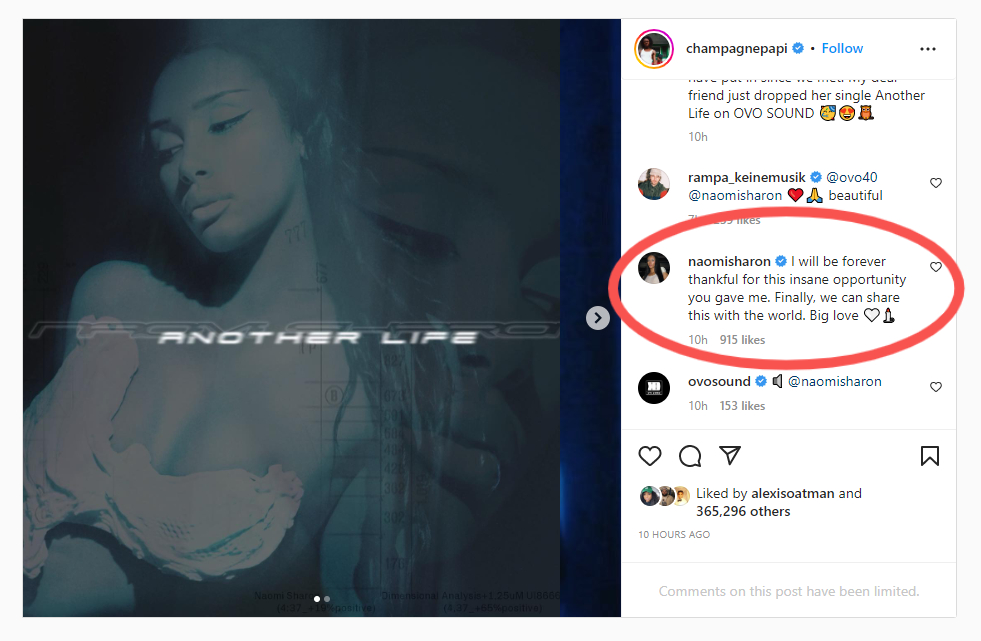 The warm welcome didn't stop there as Shebib also took to his Instagram, writing, "Naomi Sharon, I'm honoured to be a part of this journey. I'm so proud of you and can't wait for the world to hear the rest of what you've been working on."
"Another Life" is a beautifully intrinsic blend of electronic dance music, and alt-R&B. Dance-influenced music dominated the 2022 charts as seen in the success of Beyoncé's Renaissance, Drake's Honestly, Nevermind, and Lizzo's Special albums. Naomi is undoubtedly starting on the right track.
Listen to Naomi Sharon's single, "Another Life," above.