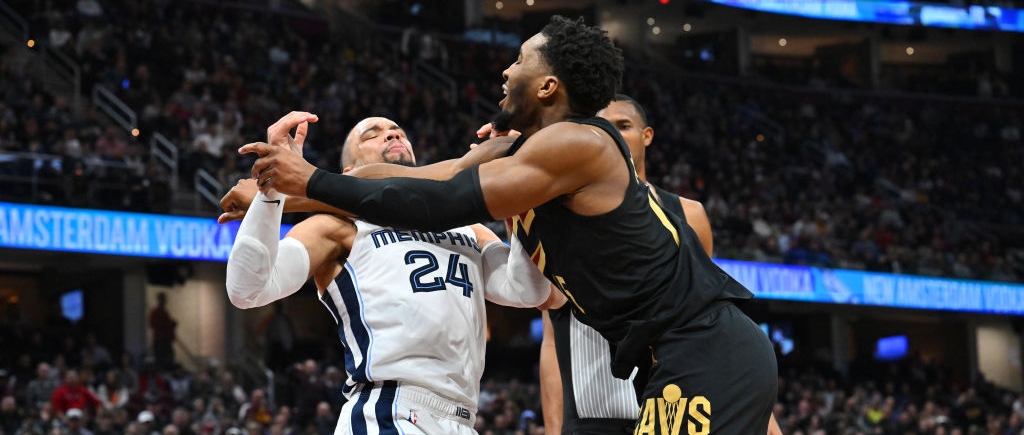 The NBA has handed out punishments for Thursday night's fracas between the Memphis Grizzlies and the Cleveland Cavaliers. While no one beyond the two players who were at the center of things were reprimanded by the league, Grizzlies wing Dillon Brooks received a one-game suspension, while Cavs guard Donovan Mitchell received a fine of $20,000.
The two got into it during the third quarter of the game. Brooks fell to the ground after an attempt at the rim was contested by Evan Mobley, while Mitchell corralled the ball. Brooks then rolled over and hit Mitchell's nuts, which led to the Cavs guard throwing a ball at him and confronting Brooks after he got up. The pair were eventually separated by teammates, coaches, and the officials.
Both players were eventually ejected, and Cleveland would go on to win, 128-113. After the game, Mitchell spoke with the media and wasn't exactly flattering of Brooks.
"This has been brewing for years, with me, with other guys in the league," Mitchell said. "You all see it. This isn't new. Tonight was just the end of it. It's tough when you can't guard somebody and can't do something with somebody, you gotta resort to that and that's what he's done to a lot of players… I'm glad my guys held it down tonight and had my back throughout the whole thing."
Brooks will miss Sunday's game against the Toronto Raptors as a result of the suspension.