Drinking great tequila doesn't always have to cost you a small fortune. While the pricier bottles tend to offer a smoother and more luxurious mouthfeel, there are plenty of bottles out there that won't break the bank but still provide that sumptuous drinking experience. Sure, the cheaper bottom-of-the-shelf bottles aren't going to get you there but plenty of bottles hover just under $50 and will provide a lot of bang for your buck.
So where are these bottles? We're here to point you in the right direction by rounding up our 10 favorite tequila bottles under $50 and ranking them from good to great. Unlike our past tequila lists, we chose not to break this list up by expression, so you'll find both blanco and reposado tequilas in our ranks — which are both perfect for shooting or mixing up in a cocktail.
We'd like to note that this is a best-of list (which made it even harder to rank), which means no matter where you land on this ranking, you're going to get a quality bottle. So feel free to go by whatever is on sale. That said, if you want the best of the best, you're going to want to hit the end of this list.
Let's dive in!
10. Patron Silver
ABV: 40%
Average Price: $39.99
The Tequila:
Patron is the brand that everyone who doesn't know much about tequila cites as the best brand on the market. There is a reason for that, and while hardcore tequila-heads know better, to say Patron isn't good is a sign that you're full of sh*t. No, it's not the best tequila out there, it has a whiff of mass production, it's not as clear as direct of some of the other brands, but for the money, this is a damn fine tequila.
Made from 100% Blue Agave, Patron is light, bright, and smooth, and sometimes that's all you want out of tequila. But of course, there are much better brands, we ranked them for a reason.
Tasting Notes:
Nose: Almost sickly sweet with a strong chemical quality. This sounds bad, and it is, but the palate and finish make up for it.
Palate: Silky mouthfeel with notes of sweet pineapple and vegetal asparagus with lettuce overtones.
Finish: A celery-like peppery finish, lots of depth, supremely smooth.
The Bottom Line:
Smooth and easy to drink, but it has a chemical quality to the nose that keeps it from being truly great.
9. Lobos 1707 Joven Tequila
ABV: 40%
Average Price: $47.45
The Tequila:
Lobos 1707 Joven offers a complexity that a lot of tequilas at this price range just don't offer. It's not technically a blanco tequila, instead it's a joven which means it's mixed with a measure of reposado — giving it a distinct character that features all the brightness you'd expect from a blanco, with a tinge of deep and mellow flavors at the back end.
Made from aged Blue Weber agave, this tequila is carbon filtered and finished in PX wine barrels, offering a buttery finish and some earthy tones that make it perfectly sippable as well as versatile in a cocktail.
Tasting Notes:
Nose: Spicy and earthy.
Palate: Highly vegetal with deep tones of tobacco leaf, agave, and black pepper.
Finish: Buttery lip-smacking finish. Very satisfying on the backend.
The Bottom Line:
Rich and distinct with a mouthwatering buttery finish with the sort of brightness and vegetal quality you love in a blanco. It's kind of the best of both worlds between the simplicity of a blanco and the complexity of a reposado.
8. Espolon Reposado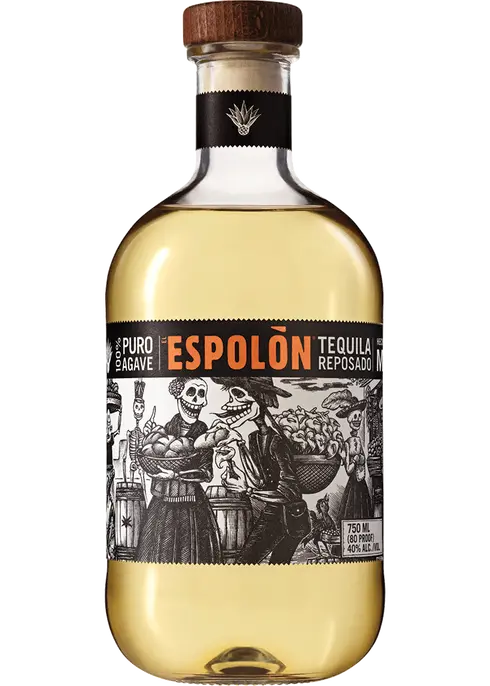 ABV: 40%
Average Price: $23.99
The Tequila:
You'll find Espolon on all sorts of best tequila lists (ours included) and there is a very clear reason why. This is hands down the best tequila you're going to get in this price range. It's just over $20 per 750ml bottle, and yet it's full of complexity, flavor, and versatility.
Perfect for shooting or mixing in cocktails, Espolon punches way above its weight but as good as it is, it does come with some baggage as well. Most of its negative notes exist in the nose, it's the sort of tequila that makes you wince when you smell it. It smells cheap, but it doesn't taste it and that's why it's a favorite amongst so many.
Tasting Notes:
Nose: Harsh kerosene quality. Almost eye-watering.
Palate: Supremely smooth with hints of tropical fruit, grass, and caramel.
Finish: A bright oaky finish with hints of roasted agave.
The Bottom Line:
It smells cheap, it won't break the bank, and it tastes way better than something this affordable should. A tequila that punches way above its weight, a perfect bottle to bring to a party.
7. Herradura Reposado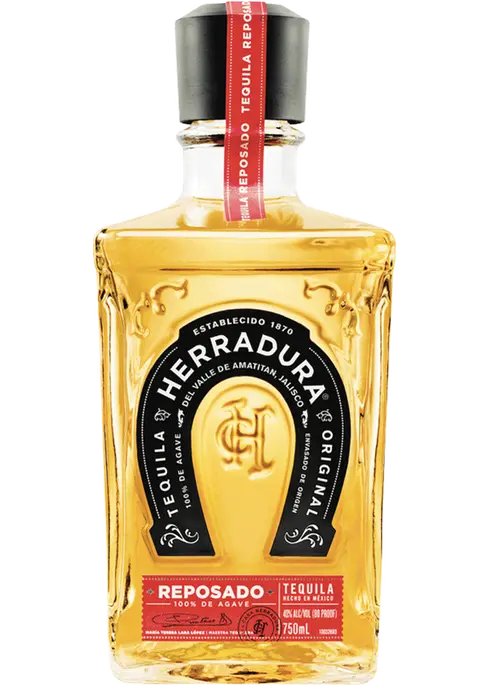 ABV: 40%
Average Price: $47.29
The Tequila:
Herradura touts itself as the world's first reposado tequila and, it is! First released in 1974, it set the standard for mellow slightly aged tequila. Herradura's repo is aged for 11 months in charred American white oak barrels giving the liquid a smooth sweet finish with a beautiful rich amber color. But just because a brand is first, doesn't mean it's the best.
Don't get us wrong, Herradura's reposado is excellent, but there are far better versions of this expression out there that don't come across quite as candy sweet as this one does. Maybe that's your thing, but we like our tequila with a bit more bite.
Tasting Notes:
Nose: Cotton candy sweet, slightly floral.
Palate: Strong notes of cinnamon and maple mingle with notes of cotton candy. Confection-like, very sweet.
Finish: Vanilla and butter on the finish with a fantastic silky mouthfeel.
The Bottom Line:
If you like your tequila candy-sweet and syrupy (some writers might call this "smooth"), this is your bottle.
6. Espanita Reposado
ABV: 40%
Average Price: $34.99
The Tequila:
Espanita's reposado is aged for six months in charred American white oak barrels sourced from bourbon manufacturers in Kentucky. Those bourbon barrels make all the difference, there is a carmelized quality and smoothest to this tequila that is reminiscent of fine bourbon, while still containing the zesty bright qualities you might expect from tequila.
Espanita is produced at NOM 1467 and double distilled in copper pots and utilizes a roller mill extraction and is cooked in stone and brick ovens.
Tasting Notes:
Nose: Zesty with notes of ginger spice and roasted agave.
Palate: Dark and distinct kola nut qualities with hints of cinnamon, creamy and buttery walnuts, and rich vanilla.
Finish: An earthy finish with a candied coconut quality.
The Bottom Line:
You'll find a nice journey of flavors in this bottle. From spicey notes like ginger and cinnamon to sweetened coconut at the finish.
5. Casamigos Blanco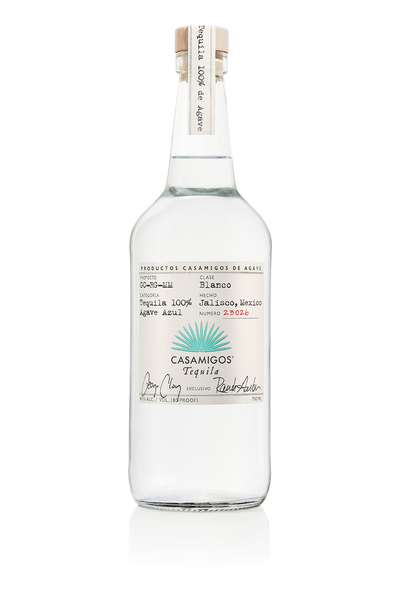 ABV:
Average Price: $39.99
The Tequila:
Until Kendall Jenner hit the tequila scene, George Clooney's Casamigos set the standard for celebrity tequila, and even though Clooney sold Casamigos a long time ago, it's still a damn good tequila. Made from 100% Blue Weber agave from the highlands of Jalisco, Casamigos goes through a slow fermentation process and is made from slow-cooked pinas in traditional brick ovens. The tequila hails from NOM 1609, where it is the only brand in production at the distillery.
Tasting Notes:
Nose: Fresh-cut grass and roasted agave dominate the nose.
Palate: Highly vegetal with strong asparagus overtones and a sweet marshmallow quality.
Finish: Roasted nuts and vanilla on the finish. A bit harsh but in a good way.
The Bottom Line:
Bright, fresh, and transparent. Casamigos is a great companion to just about any tequila-based cocktail.
4. 818 Blanco
ABV: 40%
Average Price: $45.35
The Tequila:
When 818 first hit the scene it was produced at NOM 1137, La Cofradia, where 63 other brands are produced. It sounds hard to believe but even back then 818 was good, now it's produced at NOM 1607, Grupo Solave, which produces under five brands, and with an increased sense of focus and quality control, this brand tastes even better than its initial run of bottles.
This award-winning tequila is produced using traditional methods, like Tahona extraction and cooper pot distillation before being barrel aged for three weeks, producing a distinct roundness that makes it all to easy to drink.
Tasting Notes:
Nose: Incredibly floral with a bright lemongrass quality to it.
Palate: Strongly vanilla with top notes of peach hovering over the cooked agave flavor.
Finish: Smooth with notes of toasted coconut and rich chocolate. Dangerously easy to drink.
The Bottom Line:
Sweeter and easier to drink than Casamigos, but just as versatile. 818 is a crowd-pleaser and the perfect bottle to utilize if you're trying to introduce someone to the world of tequila. Especially if that person is yourself.
3. Dano's Dangerous Reposado
ABV: 40%
Average Price: $49.99
The Tequila:
Hailing from NOM 1507, Dano's Dangerous utilizes brick oven cooking, roller mill extraction, and natural spring water for its base tequila which is then aged for 9 months in virgin white oak barrels for an ultra-smooth expression. The bottle design looks cheap, but don't let the lack of adornment fool you, this tequila is beloved garnering multiple awards including Gold from the 2020 Sip Awards International Spirits Competition, Gold from the San Francisco World Spirits Competition, and Double Gold at the WSWA Tasting competition.
Tasting Notes:
Nose: Toasted agave and deep chocolate tones dominate the nose.
Palate: Vanilla, toasted almonds, agave, a bit of oak, and cool mint qualities on the backend.
Finish: Very smooth with hints of caramel and mango with a black peppercorn bite.
The Bottom Line:
Complex, distinct, rich, and smooth. Don't let the name turn you off, the only thing "dangerous" about this tequila is how easy it is to drink.
2. LALO Blanco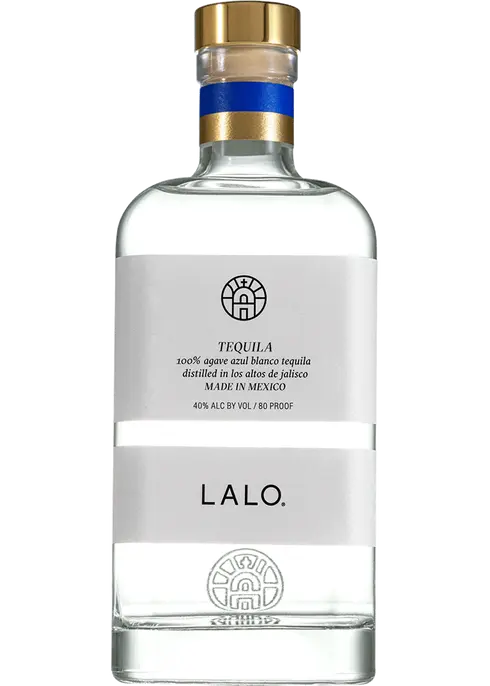 ABV: 40%
Average Price: $44.99
The Tequila:
LALO is a brand with a singular focus — blanco tequila, and it pays off as this is one of our favorite blanco tequilas currently on the market. Using agave sourced from the Jalisco highlands, this tequila utilizes deep well water, is double distilled, and uses a proprietary champagne yeast.
The agave is cooked in stone steam ovens for 20 to 32 hours and rested for an additional 18 hours. No barrels or additives are used in the making of tequila, making this one of the more pure agave expressions out there. It has a bright vegetal flavor that we can't get enough of.
Tasting Notes:
Nose: Bright and zesty citrus on the nose.
Palate: Buttery with hints of cooked agave and caramel.
Finish: Fruity, bright, vegetal, there is a very pure quality to this tequila.
The Bottom Line:
Wonderfully transparent, bright, and vegetal, the perfect clean-tasting blanco tequila.
1. El Tesoro Reposado Tequila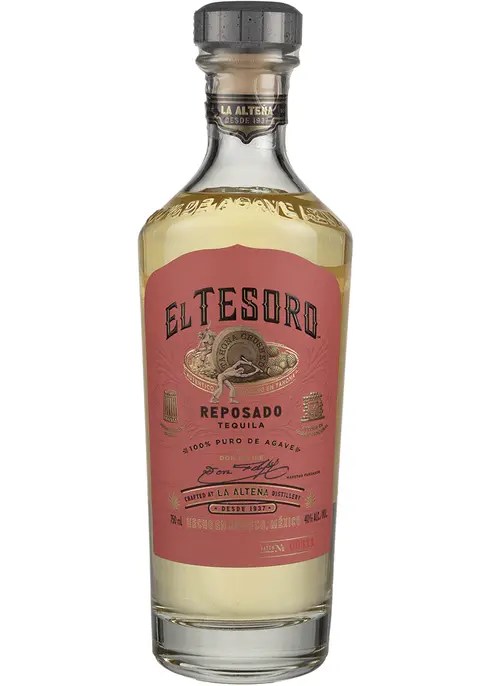 ABV:
Average Price: $47.99
The Tequila:
I've long sung the praises of El Tesoro and for the money, I think this is simply one of the best bottles of tequila you can hope to buy. This tequila is produced at NOM 1139, the legendary La Alteña distillery, and utilizes tahona extraction, open-air wood fermentation, cooper pot distillation, and natural spring water. The tequila is then aged in American oak ex-bourbon barrels for nine to eleven months giving it a wonderful smokey and sweet finish.
Winner of the Double Gold Medal at the San Francisco Spirits Competition and Ultimate Spirits Challenge in 2021, El Tesoro has a complexity to it that ignites the palate and leaves your mouth watering.
Tasting Notes:
Nose: Smokey oak tones on the nose with a butterscotch edge.
Palate: Silky with hints of coconut, dark cherry, and roasted agave. A warm honey-like body.
Finish: Peppery with a smooth oaky finish with a nice cooked agave quality.
The Bottom Line:
It's complex enough to sit alongside bottles in the above $50 range with a smooth finish and a wonderful and addicting flavor. If you're looking for the best tequila under $50, this is the one, easily.