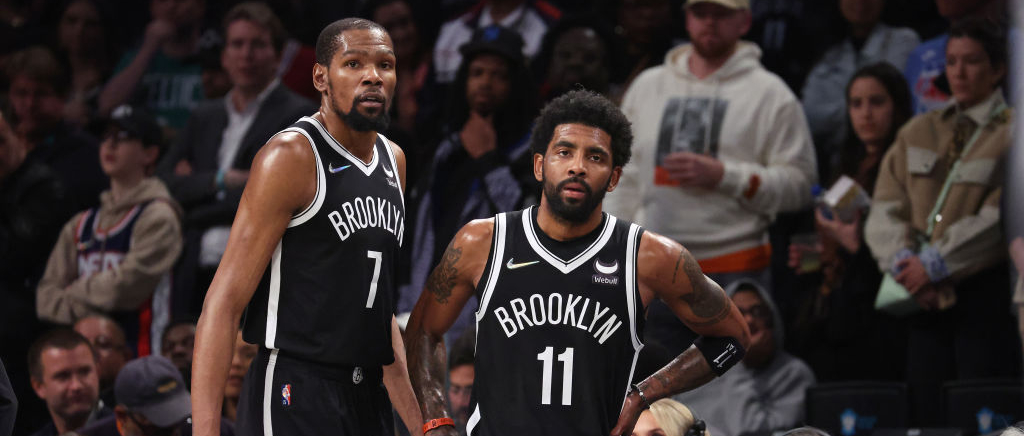 The Kevin Durant era in Brooklyn came to an end on Thursday. According to multiple reports, the Nets traded Durant and TJ Warren to the Phoenix Suns for a monster package consisting of Mikal Bridges, Cam Johnson, Jae Crowder, four unprotected first-round picks, and a pick swap.
It is a gigantic acquisition for Phoenix, which pursued Durant over the summer but finally got a deal over the line now that a new owner is on board. For Brooklyn, this is the second monster trade they've made with a Western Conference squad in less than a week, as Kyrie Irving was traded to the Dallas Mavericks on Sunday.
Irving made his Mavs debut on Wednesday, and after the game, he was asked to react to Durant's trade. After saying that he's "praying for his happiness, praying for his well-being," Irving expressed that he's excited for the two to go head-to-head before saying he's glad that Durant is getting a change in scenery.
"There's never been one moment where I felt like he's been angry at me for decisions I've made or I've been angry at him," Irving said. "We just tried to understand each other a lot better and grow as human beings, grow as brothers. This business changes so quickly. He's getting a little bit older, I'm getting a little bit older. I just love the competition now that we can be in the same conference, and I welcome all that. Get to see him a little bit more, probably playing against Phoenix a lot more. That's what I'm looking forward to. Everything else in between, I'm just glad that he got out of there."
Irving went on to say that he was skeptical over whether he viewed Brooklyn as a long-term home, citing "things that happened behind the scenes" like his refusal to comply with New York's vaccine mandate or the suspension that he received for, as the team put it, a "failure to disavow antisemitism when given a clear opportunity to do so."
"I would like to say something, too, about the 'superteam' of me, James [Harden], and KD that everyone thinks should have worked," Irving said. "We played very limited time together, a lot of injuries and things that took place, and I would have liked to see that work for the long-term. But there are no mistakes, no coincidences, you gotta move forward. I'm happy that I can look back on that journey and reflect and say I learned a lot of things from those guys, and my teammates in Brooklyn, and just my journey throughout this."