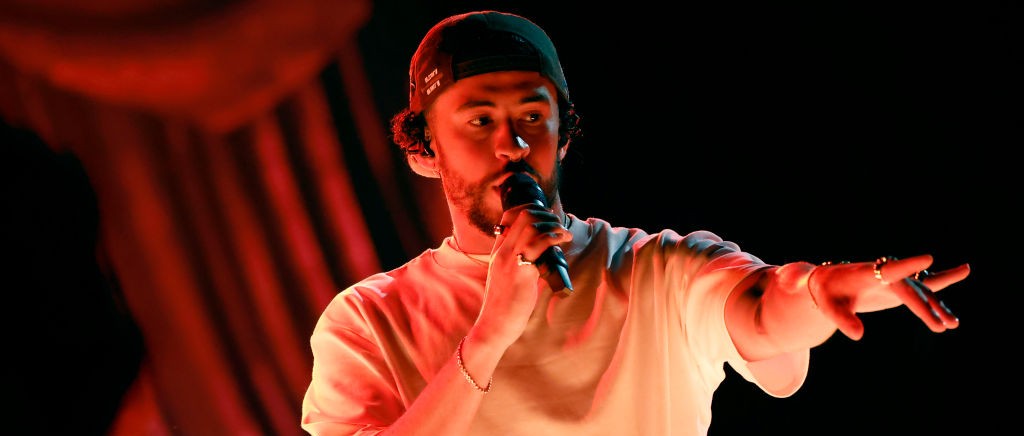 Bad Bunny's performance of his hit singles "Tití Me Preguntó" and "Despues De La Playa" was one of the most talked about of Grammy night last Sunday (February 5). However, despite the positive reception the performance received, many fans were frustrated by what appeared to be a technical era.
During the broadcast, the closed captions that appeared onscreen as Bad Bunny was performing read "[SPEAKING NON-ENGLISH]" and "[SINGING IN NON-ENGLISH]." The captions also read "[SPEAKING NON-ENGLISH]" later in the night, when Bad Bunny accepted the award for Best Música Urbana Album.
Following the show, U.S. Rep. Robert Garcia (D-Calif.) wrote a letter to CBS' President and CEO and George Cheeks, according to Variety. In the letter, Garcia wrote that the error. "displays a lack of sensitivity and foresight. For too many Spanish-speaking Americans, it felt disrespectful of our place in our shared society, and of our contributions to our shared culture. For the hearing impaired community, this failure was hurtful."
Cheeks has since responded to the letter, noting that CBS is taking measures to make sure no similar incidents take place in the future. According to a report from Variety, CBS is set to review its practices for close captioning live events.
"Regrettably, errors were made with respect to the closed captioning of his performance and subsequent acceptance speech," Cheeks said. "We worked with a closed captioning vendor that did not execute at a standard to which we should rightfully be held. Regardless, we should have monitored the situation more closely. A bilingual (English and Spanish-language) real-time live captioner should have been utilized and the words used on the screen were insensitive to many."
He continued, saying, "our teams are now re-examining the closed captioning process for all live entertainment events on the network to ensure we properly caption Spanish-language content. We will keep you updated regarding our efforts on this matter."