There has long been a fascination with and romanticism of the American West. From your grandpa's favorite John Wayne films to the current obsession over Paramount's Yellowstone series (and its multiple spinoffs) – the lifestyle is one few get to actually experience but many love to fantasize about.
Following the Yellowstone season 5 premiere grabbing the title of the highest viewership ratings of any scripted television show in all of 2022, there is now a phenomenon that's been dubbed "The Yellowstone Effect" — creating a boom for all western-inspired, well, anything. From country music, western television, and film, to even think pieces attempting to understand why city dwellers who have never saddled up are suddenly wearing cowboy hats.
And travel isn't immune — it's also seen surging interest in the West, arguably due to the fictional exploits at the Dutton Ranch. Frequently dubbed a "Cowboy-cation" on TikTok, the trend towards Western travel at guest and dude ranches is hotter than ever. And luckily there are plenty of options in the mountain west. But you don't have to wait until warmer weather to experience an authentic dude ranch, my personal favorite – C Lazy U Ranch in Granby Colorado – is just as picturesque in the winter months.
Here is what you need to know before you go cosplay as a Dutton:
WHY IT'S AWESOME: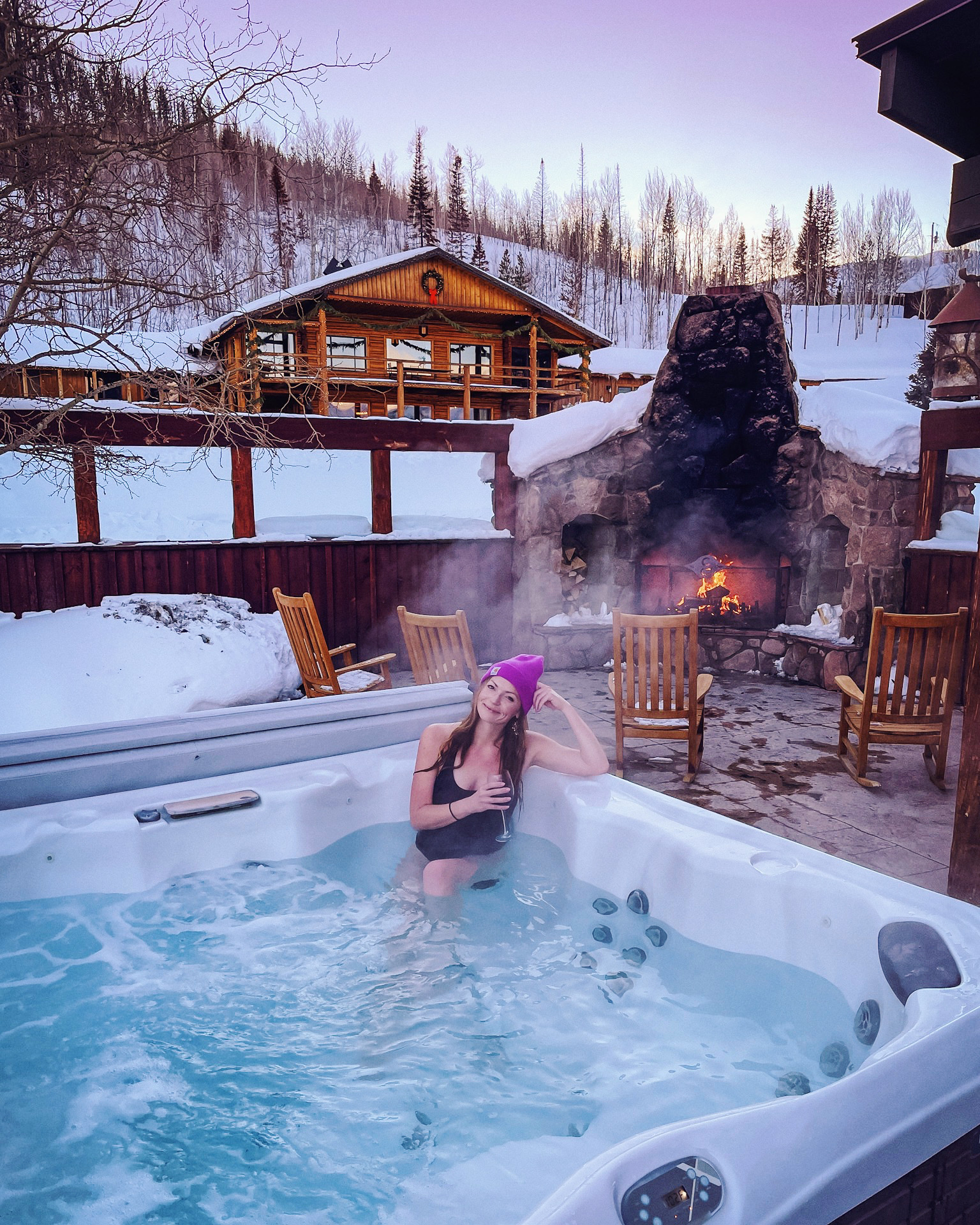 C Lazy U has been a working guest ranch for over 100 years. The all-inclusive, luxury dude ranch is family owned with a team that works tirelessly to give guests the rustic western experience they're after without sacrificing service or luxury. The large property is immaculate and home to 180 horses and world-class wranglers.
With activities for adults and kids (and, importantly, separate adult-only and children-only activities) the ranch is the perfect place to get away. After the East Troublesome Fire destroyed the historic barn and some of the ranch facilities, C Lazy U has rebounded and continues to provide exceptional experiences for guests while continuing to rebuild and improve.
IN-HOUSE FOOD AND DRINK: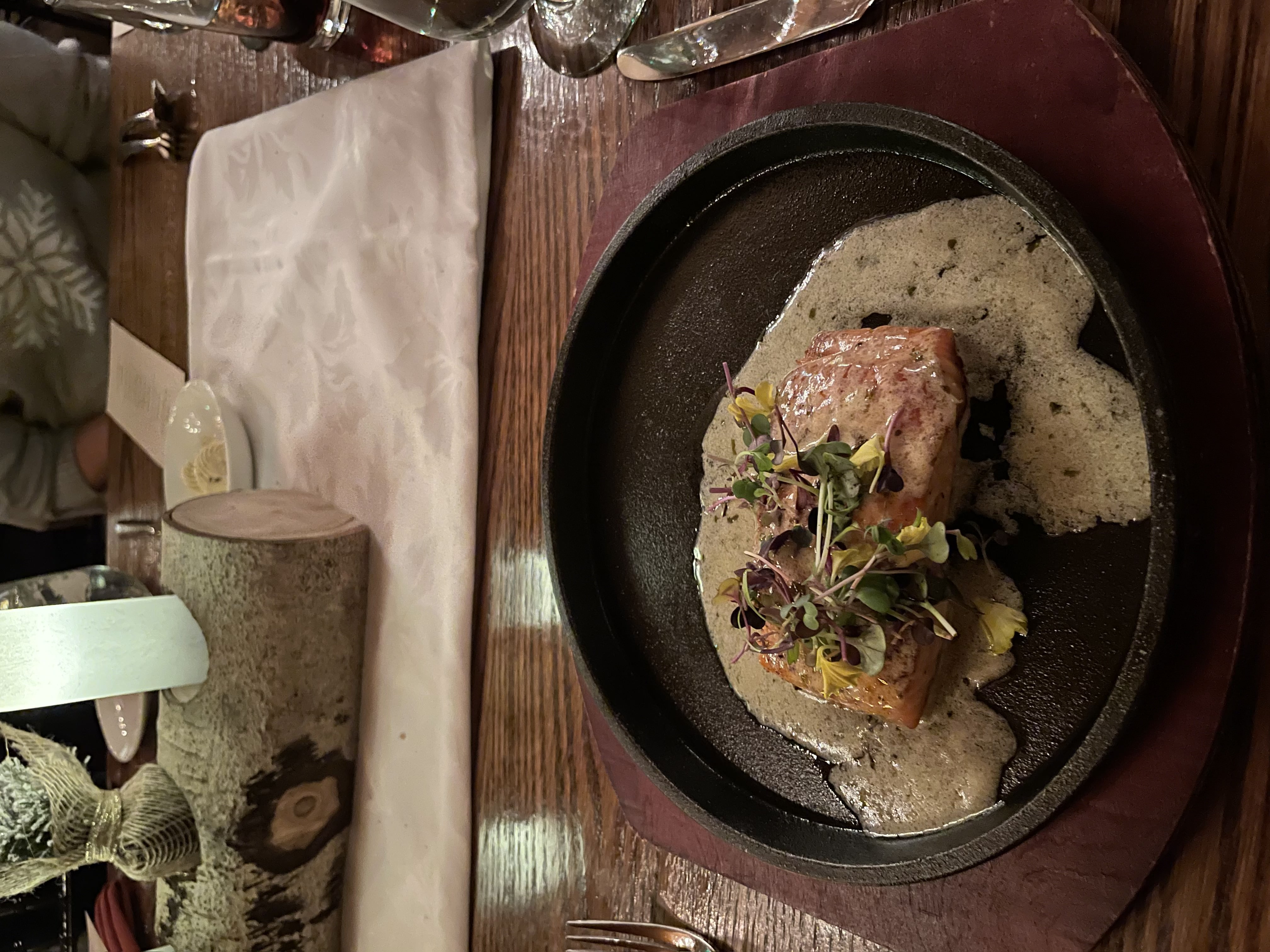 The ranch is all-inclusive, with meals served in the lodge. There are hours you can drop in for breakfast and lunch, while dinner has a set menu and time. I loved sitting with other guests for dinner each night, learning about them while enjoying incredible food and wine. The menu changes seasonally but is grounded in traditional Western fare – decadent beef, tender bison, and fresh trout with creative sides.
There are also snacks and drinks available throughout the day. I loved warming up with some cocoa in the lodge after exploring during the day and by the fire at night.
AMENITIES: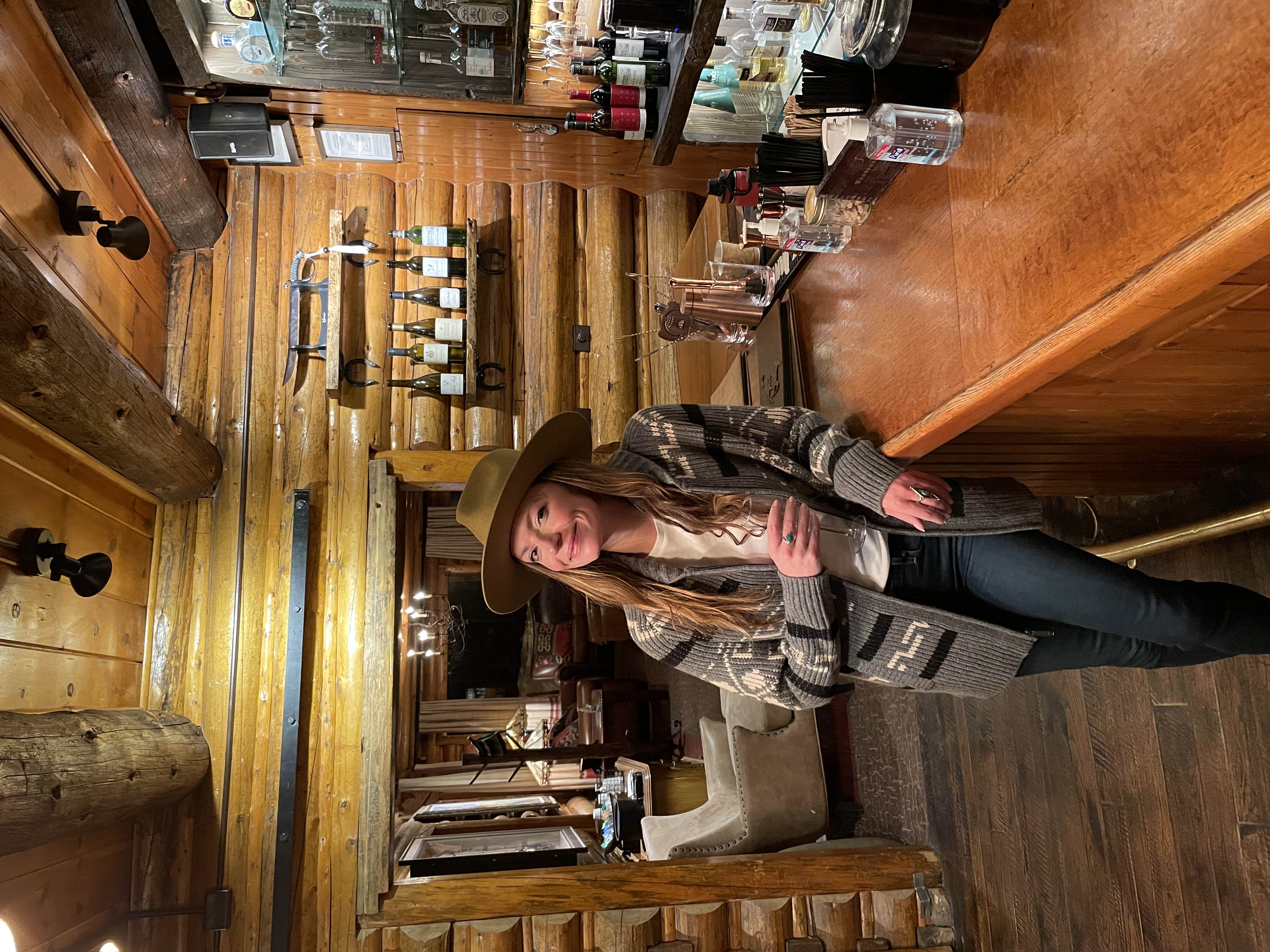 Nightly bed turn down
Cabins with fireplaces with wood and fire starters restocked daily
Valet parking
Photographer on site (seasonally)
Reusable water bottles
Shuttle service
Game room
Summer and winter boot rental
Fishing rods available
Tennis rackets and balls available
Cross country skis available
Snowshoes available
Ice skates available
Western style bar
Hot tub
Seasonal pool
ROOM TYPES:
There are several options for luxurious cabins during your stay at C Lazy U. There are 38 different options for accommodations, ranging from one to three-bedroom cabins and even a 3,600-square-foot, four-bedroom lodge for larger groups. I loved my in-room fireplace, large bathroom with soaking tub, and porch with mountain views that felt secluded while being within walking distance to the lodge and all amenities.
Explore room options here.
BEST THING TO DO WITHIN A 15-MINUTE WALK: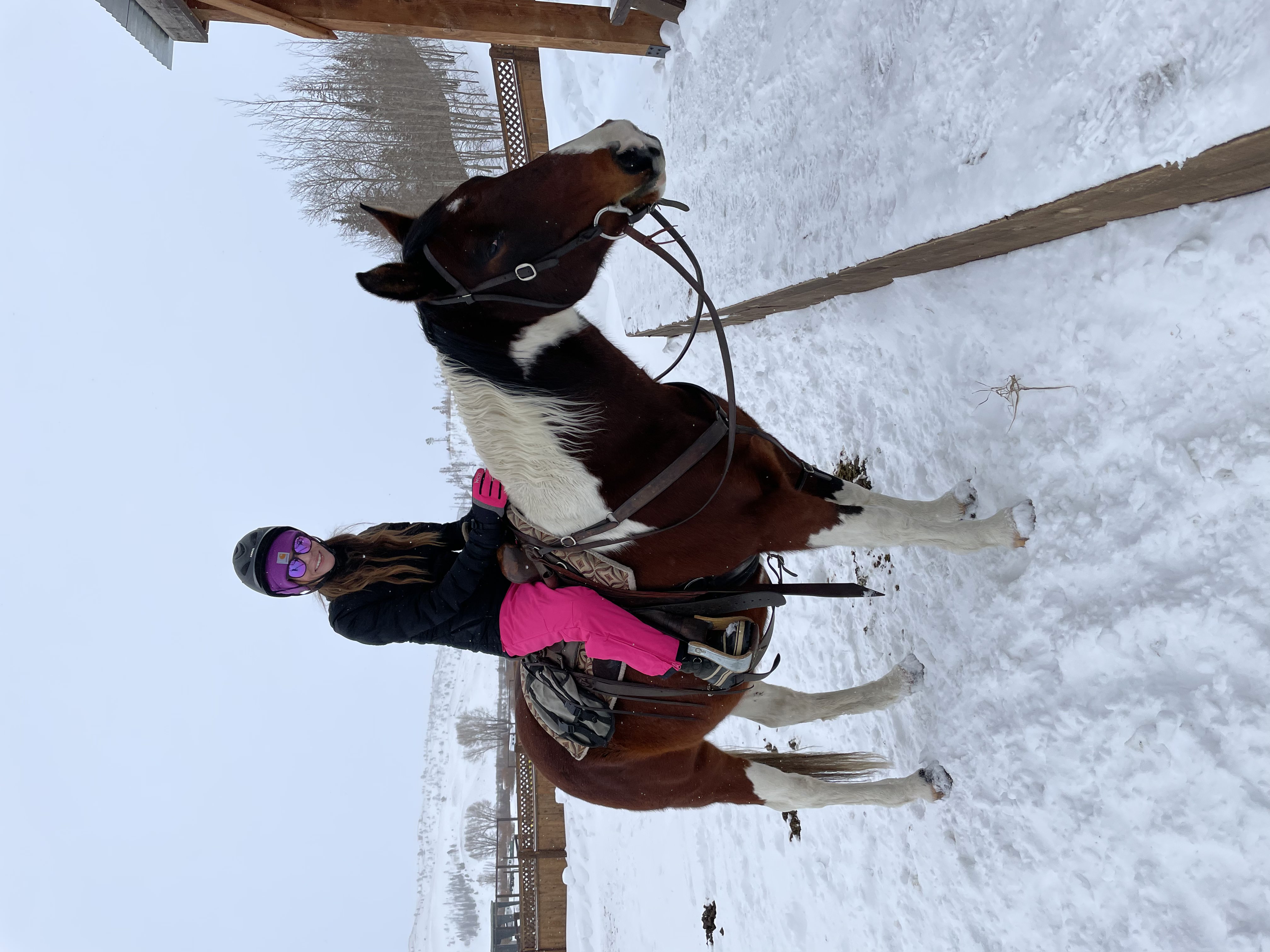 There is no shortage of activities on the ranch – even in the winter. From horseback riding through the snow, to ice hockey, to cross-country skiing – you can be as active or relaxed as you choose.
My inner horse girl was completely in awe during the fairytale-like winter horseback ride. There are two trail rides offered on the property each day during the winter season, each lasting about an hour and a half. The 8,500-acre ranch is home to 180 horses and experienced world-class wranglers ready to guide you through some of the most incredible Rocky Mountain vistas you will ever see.
BEST THING TO DO WITHIN A $20 CAB RIDE:
While you could opt to leave the ranch to ski at nearby Winter Park Resort or Ski Granby Ranch (and the ranch concierge can set you up with shuttles, lift tickets, etc.) – I wouldn't personally want to spend any time off the idyllic 8,500-acre property. The greatest benefit of an all-inclusive, to me, is that you get to stay in one place and let others figure out any logistics for you. And with so many activities at the ranch – you can fill your days very easily.
In the winter months, there are daily trail rides, ice hockey, hot tubs, snow tubing, cross-country skiing, snowmobiling, snowshoeing, trap shooting, and even sleigh rides all available. In the warmer months, you can opt for more riding, fly fishing, archery, hatchet throwing, mountain biking, tennis, a ropes course, zip line, yoga, hiking – even beehive tours – and that's not even an exhaustive list.
In either season, be sure to get outside in the morning or evening for the daily "Jingle" to watch the 180 horses run into the pasture then back in the morning to prepare for trail rides.
BED GAME: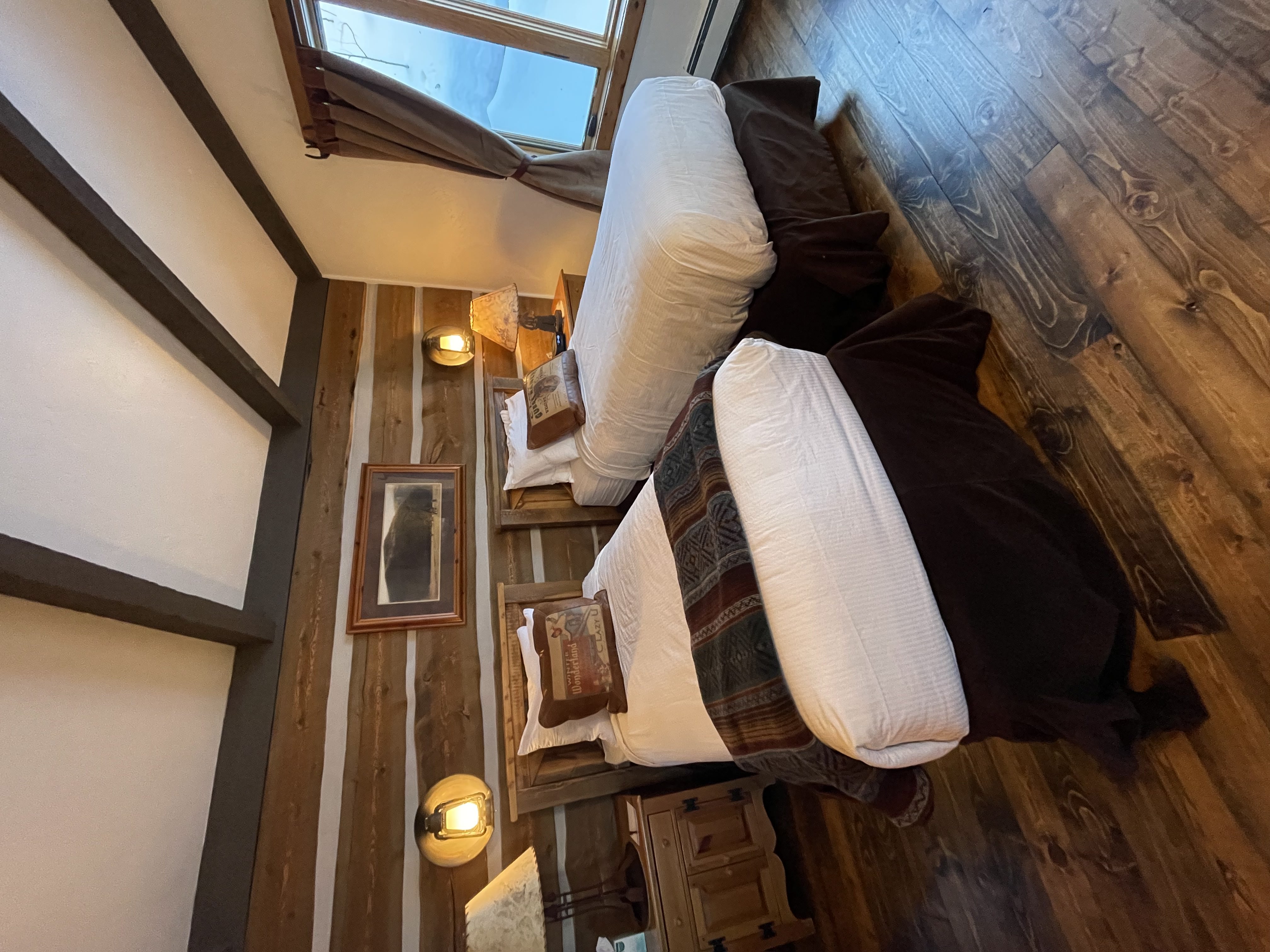 I stayed in the Spring Cabin during my weekend at C Lazy U Ranch. A duplex-style cabin with large rooms on either side with a large bathroom, sitting area, fireplace, and – in my case – two beds. As the cabin is generally booked all in one, the side I had seemed to be set up as another room for a family with two beds and a pullout couch. I did push the two together upon arrival creating a larger place to relax but would have preferred a king or queen at the outset.
The mattress and linens were all up to the high standards the ranch holds itself to. I loved cozying up in the plush robe and starting a fire while enjoying a glass of wine in bed at night.
Rating: 7/10
SEXINESS RATING: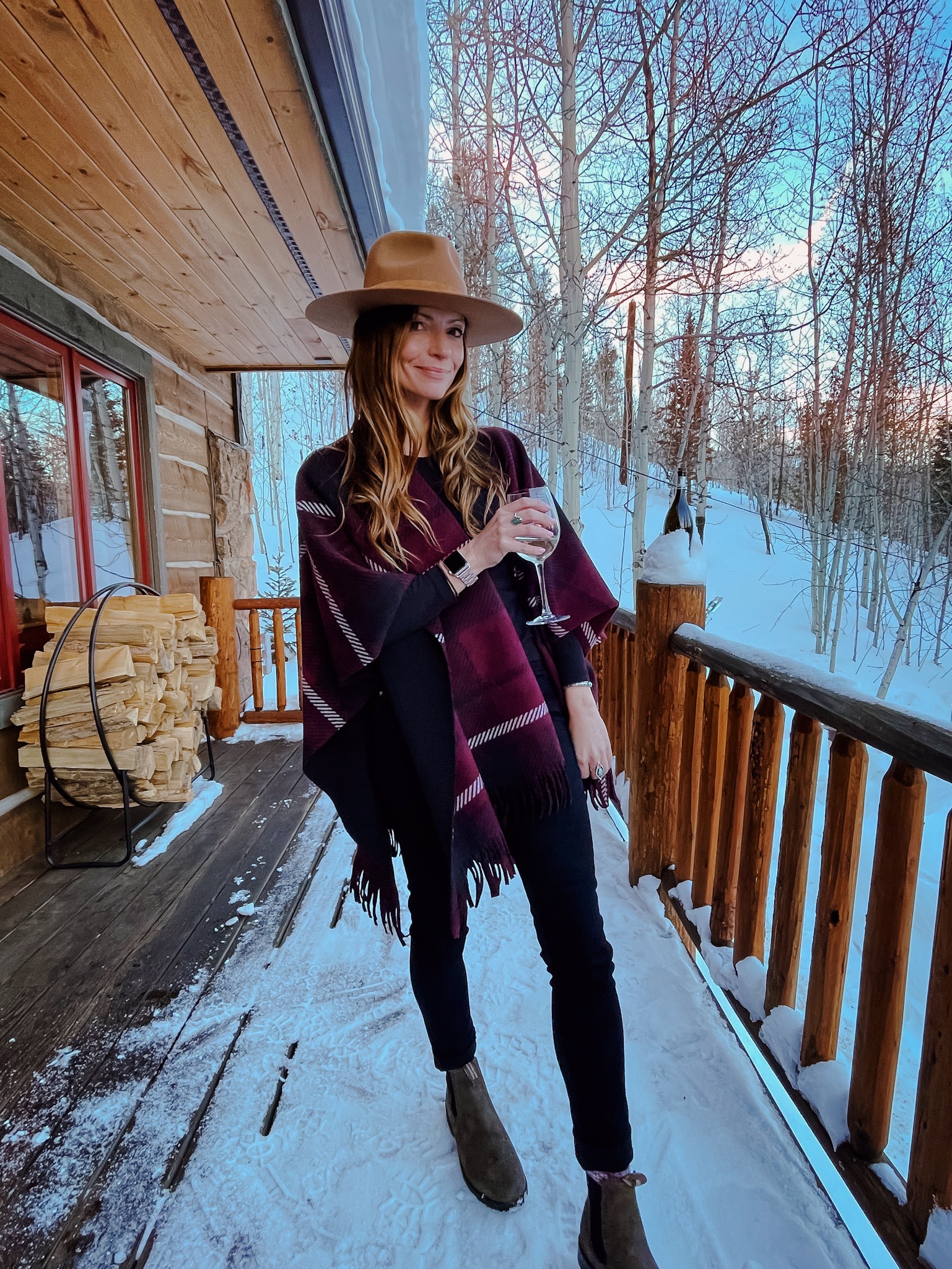 I think this one really depends on how innately sexy a dude ranch is to you. For some people (like me and the over 14.3 billion viewers of the "cowboy" TikTok hashtag) there is almost nothing as sexy as waking up on a ranch surrounded by professional wranglers. And even if you don't have a weird obsession with anyone in a cowboy hat, the ranch has intentionally added in some sleek and adult elements. From the bar in the lodge to the hot tubs by the fire and the seasonal spa over the river – the ranch is rustic yet sleek.
Rating: 7/10
THE VIEWS AND PHOTO SPOTS:
C Lazy U is nestled into the Rocky Mountains with incredible views in all directions – you really can't go wrong. I personally loved the views from the trail ride around the property and cross-country skiing. Borrow some snow shoes in the winter months to explore the trail system or take an ATV ride to the top of a bluff for some trap shooting and incredible mountain views.
Rating: 8/10
BEST SEASON TO VISIT: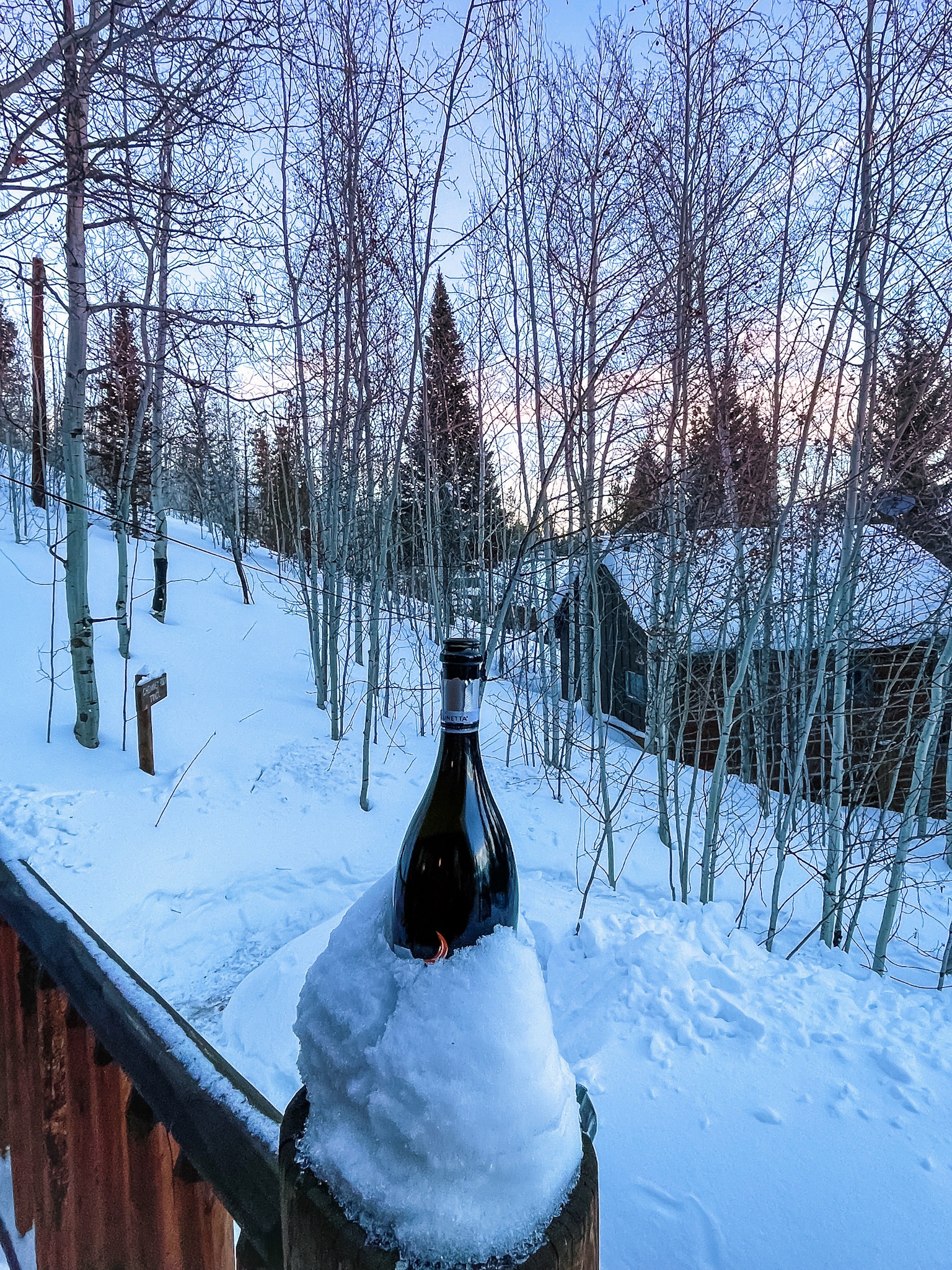 I've only visited in the winter and can say that as someone who honestly abhors winter, I loved it. I completely and unequivocally recommend a winter stay, however nonintuitive it might seem. While I do want to visit during the warmer months (if only to experience the seasonal spa on the river) winter was like a dream. With fewer guests, different activities, and – to be totally honest – fewer families with young children, it was everything I hoped for.
Fall, winter, and spring also have lower rates and fewer requirements for minimum stays, making a visit during those times slightly more economical.
IF I HAD TO COMPLAIN ABOUT ONE THING: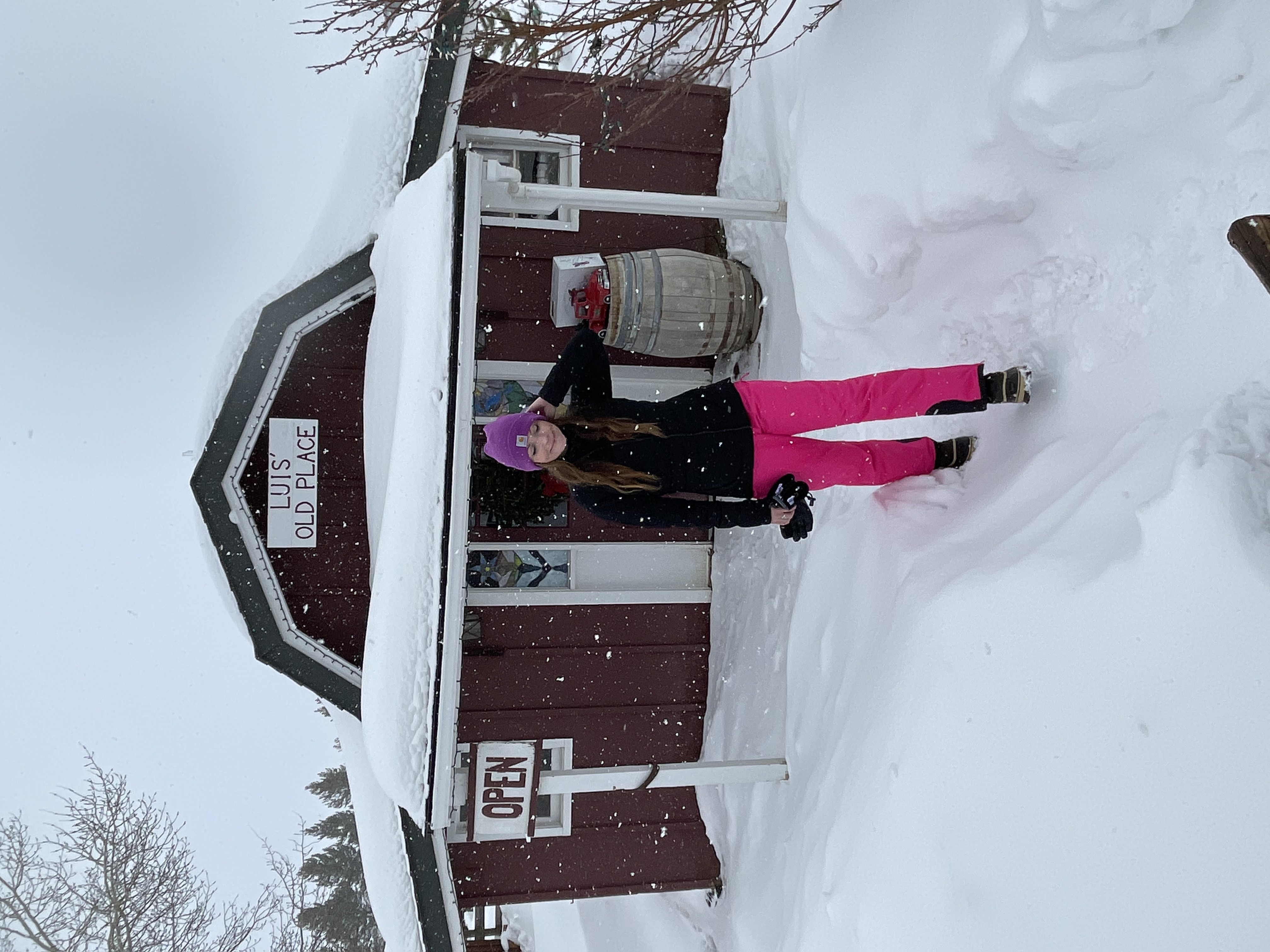 During my obsessive internet research before visiting, I fell in love with the photos I found of the Lazy You Spa. With tents arranged on Willow Creek (and some massage tents situated over the creek with glass floors) I wanted nothing more than to have a massage and relax in a copper tub with the sounds of the creek in my ears. Unfortunately, it is of course only open seasonally so I wasn't able to experience it on my last visit. While there are alternate locations for spa services in the winter, it doesn't compare to the unique vibes of the Lazy You location.
Book Here:


All-inclusive rates start at $525 per person in fall/winter/spring and start at $713 per person in the summer season. Minimum stays are required and vary depending on the season.
INSTAGRAM IMAGES TAKEN AT C LAZY U RANCH: