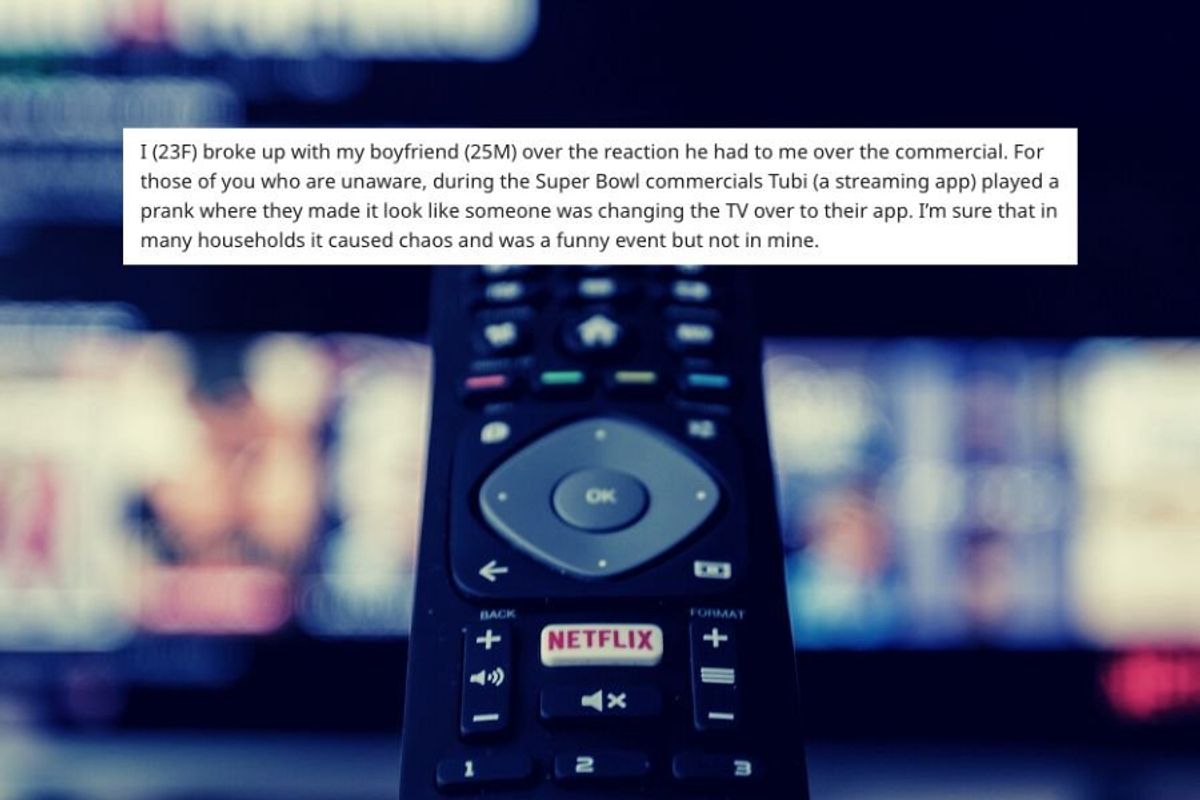 Millions of people across the U.S. freaked out in unison during Super Bowl LVII when a commercial for streaming service Tubi duped everyone into thinking somebody was fiddling with the TV remote. The first few seconds of the ad made it appear as if game coverage was resuming, then suddenly, a smart TV home screen appeared with a cursor clicking on different things, ultimately landing on Tubi.
The brilliant ad clearly got people's attention, as people flooded social media with stories of how everyone in their household asked who was sitting on the remote and disrupting the game. For most people, it was a hilarious prank that ended in shared laughter. But for some, it didn't turn out to be funny at all.
In a now-deleted post shared on Reddit, an unnamed 23-year-old woman described how her 25-year-old boyfriend reacted to the commercial when he thought she was messing with the TV. It's a story filled with domestic violence red flags, and people are sharing it as an example of what abusive relationships can look like in their early stages.
---
"My boyfriend thought I was the one changing the channel and began screaming at me violently, calling me things that I don't even want to write down," the woman shared. "Even as I told him it was a commercial he ignored me and kept blowing up at me and punched a hole in our living room wall."
Red flags: Screaming obscenities and damaging property.
"He eventually realized what actually happened and awkwardly apologized but I was so disgusted over his reaction to a 15 second commercial," she continued. "I feel like if you can't keep your anger in check and get that violent over something so small I don't want to be around for it. We'd been together for over a year, living together for the past 2 months and I've known him to get angry at things sometimes but this really took me off guard and I can't forget how unsafe I felt around him during this."
Red flag: Feeling unsafe with your partner.
She shared that she left the next morning with some of her things and is staying at her parents' house. "I left him a note telling him how I felt and that I didn't think we were going to work out long term," she wrote. "He's been messaging and calling me repeatedly. My parents told me that I'm overreacting since he had a bit to drink and the Super Bowl gets everyone riled up but I don't feel I am. I don't think it's normal to be that angry."
Red flag: Parents excusing violent behavior and not supporting their daughter who feels unsafe.
People in the comments let the woman know that her instincts are spot on. It's not normal to get that angry, especially over a football game.
"Jfc, that ad is not even 10 seconds long. It only took him that much to insult you and punch a wall, ultimately destroying your mutual trust? Yikes, that's scary. You deserve much better than that, mad respect for standing your own ground," wrote Reddit user itsOkami.
"'When someone shows you who they are, believe them the first time.' – Maya Angelou. Believe him, he's got an impressive collection of red flags," wrote Marlievey.
This astute comment from ohsheetitscici received more than 7,000 upvotes:
"Definitely not an overreaction at all! My partner and I watched the same commercial, and we thought one of us was sitting on the remote. When we finally realized it was a commercial, we laughed at how dumb we were and moved on.
"The fact that something that small triggered that intense of a reaction out of your (hopefully) ex is a red flag the size of f**king Texas. You did the right thing, and you are right to protect yourself if you feel unsafe. This is coming from someone who was in an abusive relationship before I met my husband. Trust and believe when I say, the abuse didn't happen overnight. He, in a f**ked up way, did you a favor flipping out like that. Cause you just got a preview of what was to come later down the line."
Flowerino also hit the nail on the head:
"This is absolutely not overreacting. He was the one to overreact. Even if it hadn't been a commercial he'd still not have any valid reason for becoming so angry and ruining a wall. And if he's capable of destroying property over such a small thing as a commercial break, he is not safe to be around. Next time something he found inconvenient happens, it could've been you he'd hit.
"And your parents' comment about his actions being justified because he had a little to drink is disgusting to me. Alcohol should never be used to justify violence in any shape or form."
Others chimed in about how disturbing her parents' reaction was.
"Like 'Hey, Mom? He punched a hole in the drywall. He went from 0 to hole-in-the-wall in less than 15 seconds. Over something he thought I was doing. He wasn't responding to the commercial, he was responding to me. I don't care how many drinks he had; if it's possible for him to become that enraged over thinking I was changing the channel during a commercial break then imagine if there's ever a legitimate reason for him to be angry.'" – -janelleybeans-
"You ARE NOT overreacting! Your parents are UNDER REACTING! I don't care how 'exciting' a GAME is, nor how much alcohol was consumed. That doesn't excuse bad behavior. This would be a definite 'dealbreaker' for me." – Pyewacket62
Hopefully, this woman's story and the comments from people pointing out red flags will not only help her see that her instincts are right, but perhaps help others to recognize patterns of abusive behavior. As many people pointed out, domestic violence doesn't usually escalate to extremes immediately, and there are signs and signals that indicate abusive dynamics in a relationship that everyone should be aware of.
Good for this woman for recognizing that screaming and punching a hole in the wall over a Super Bowl ad is one of them.
If you are in or think you might be in an abusive relationship, get help from the National Domestic Violence Hotline by visiting hotline.org, or calling 1.800.799.SAFE (7233), or texting "START" to 88788.