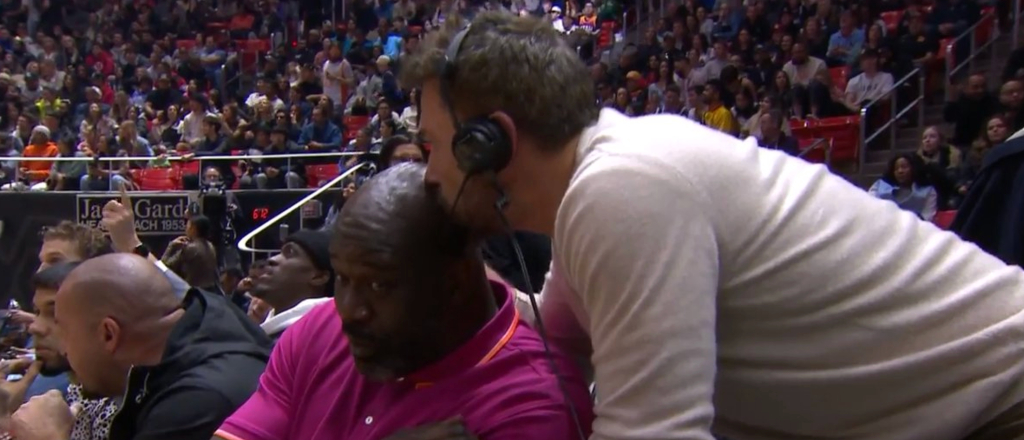 Ben Affleck was part of the Celebrity Game at the NBA's All-Star weekend on Friday night. No, Affleck did not play in the game — the Academy Award winner introduced the players and coaches during the event, and after that was all done, he decided to stick around and take in the worst and most entertaining basketball game of the year.
At one point, Affleck joined Mark Jones and Monica McNutt on ESPN's broadcast, as there was an empty seat due to Richard Jefferson joining the officiating crew during the second quarter. Affleck used his time to discuss his upcoming film Air, which tells the story of how Nike pursued and eventually signed Michael Jordan to an endorsement deal that eventually turned into a sneaker empire. Chris Tucker, who is also in the movie, eventually showed up. The whole thing was pretty fun!
The quarter ended and Affleck had to leave to go do other things during halftime. But before he did that, Affleck turned to the man sitting next to him, as Shaquille O'Neal got courtside seats to the game. He gave the big fella a hug, then leaned over and kissed him on the top of his head.
Lmao Shaq's face after Ben Affleck kissed and rubbed his head pic.twitter.com/8AiycTwf82

— ClutchPoints (@ClutchPointsApp) February 18, 2023
"I wanna go kiss Shaq's bald dome, too, at some point," Jones exclaimed. Sadly, this did not lead to both Shaq and Ben Affleck playing in the Celebrity Game.