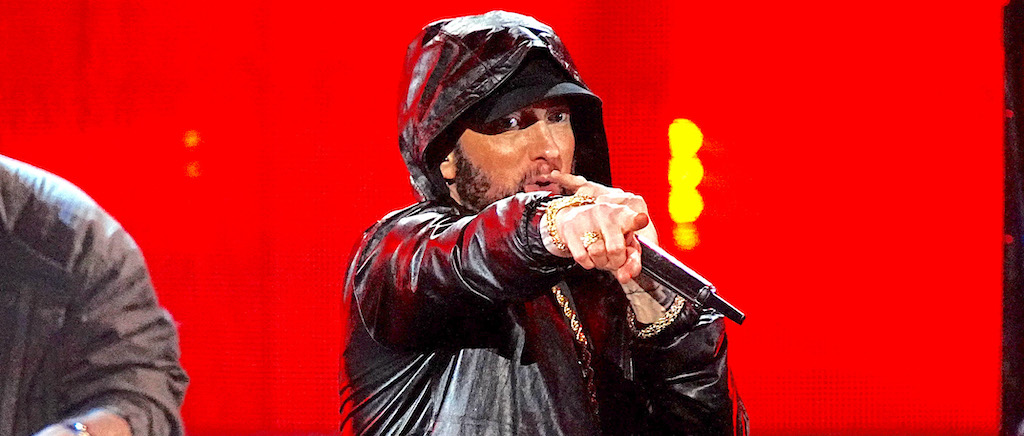 While rap fans are no strangers to their favorite artists' lyrics finding their way onto various newscasts — hello, Ari Melber — a new contender has appeared to quote a rap fave during the news.
Adam Krueger, the chief meteorologist at CW39 Houston, snuck an Eminem bar or two into one of his recent reports after being challenged to do so by fans on TikTok. "One last dry day, but guess who's back, back again? Rain is back, tell a friend," he said in one, referencing the Detroit rap star's 2002 hit "Without Me." He also threw in a line from "The Real Slim Shady," saying, "You're probably thinking, 'Oh wait, no wait – you're kidding. He didn't just say what I think he did, did he?'"
Krueger's TikTok is pretty much dedicated to him sneaking in lyrics from artists in all kinds of genres after being prompted by fan comments, including Rihanna, Miley Cyrus, and Cardi B, as well as movie quotes and even Wordle clues.
Meanwhile, Eminem has popped up in all kinds of random places lately, although he's still as reclusive as ever. David Guetta used AI to add an "Eminem" verse to a song, while Jonah Hill name-dropped the rapper among his top five in a deleted scene from You People.
Story via HipHopDX.