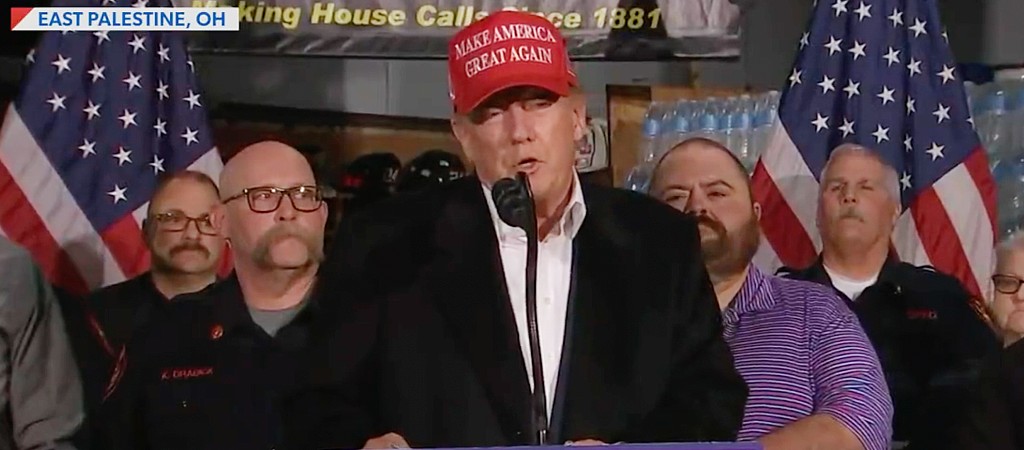 In an attempt to score political points ahead of the 2024 presidential election, Donald Trump paid a visit to the site of the train derailment in East Palestine, Ohio in an effort to distinguish himself from Joe Biden who spent President Day making a surprise visit to Ukraine. Like any good Trump visit, it involved naked shilling for his own brand of water, and of course, a stop at McDonald's where he bragged to employees that he knows the menu better than they do.
The Ohio visit turned even more Trumpian when the former president decided to hold court with the press and ramble about how… he saved football during the pandemic? To hear Trump tell it, he personally brought back both the Big 10 and the NFL just by placing phones calls to commissioners and saying, no joke, "You gotta get this football open."
Here's the full text of Trump's weird football rant:
I don't know if you remember when Ohio State wasn't going to be playing football for another season. They were gonna sit back and watch with the China Virus or COVID or whatever you want to call it. And I called the head of the Big 10, the Big 10 football, and I said, 'You gotta get this football open.' And they were great and they responded and Ohio State played that season. Nobody remembers that, I think, right? Does anybody know? We got that opened very early, and you had a great season of football to put it mildly. So it was a very great honor. The Big 10. That led to the NFL and it led to most of the rest of football in the country. But you led it through Ohio State and Big 10 and we got that done. And I did that very personally. I called the commissioner and he did a good job.
As for what any of this has to do with helping victims of an environmental disaster is anybody's guess. Is Trump going to call the train and say, "You gotta get this town open," because, seriously, what is he talking about?
(Via Aaron Rupar on Twitter)